Review: BOOM X at Segal Centre
While onstage sequels are less prevalent than their cinematic counterparts, one still worries about seeing a sequel. Will it be as good as the first installment? Can I see the second one without having seen the first part? Will this piece have something new to say to audiences? Allow me to put your worries to rest when it comes to Rick Miller's Boom X, the much anticipated follow-up to his one-man show Boom. The answers are: Yes...yes...and yes!
Whereas Boom was a chronicle of four characters' personal histories as they navigated their way through life as the Baby Boomer Generation, Boom X repeats the same format picking up where its prequel left off in 1969, but with four new characters (five if you include Rick as himself). An evocative look at the life and times leading up to 1995, Boom X highlights the pop culture, historic events, and political climate in North America with a spotlight on Montreal. Gen Xers like myself are notoriously nostalgic for the icons of our youth and Boom X's script doesn't disappoint. From Smurfs to Star Wars, Monty Python, Muppets and the radical songs of Much Music, to the more serious and solemn Bill 101, AIDS epidemic, and Polytechnique Massacre, audience members are transported back in time to relive it all. You don't have to have been a 1980s latchkey kid to appreciate the content, though, as I suspect that two hours in the theatre with Miller would likely feel more relevant to today's youth than any MEQ prescribed histoire curriculum.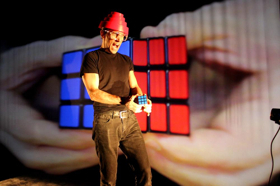 Rick begins his solo performance breaking the fourth wall as he lets the audience know that they are about to see him perform one hundred different characters in just over two hours. Sensationally spry, Miller virtually bolts around the stage using a plethora of media including video and photographic projections on a scrim, a scrolling news ticker, and an onstage video camera for simultaneous broadcasting. Rick's innumerable costumes, Fringe-style props, guitar, harmonica, choreography, dramatic physicality, and vocal prowess serve to quickly transition him from persona to persona. The Rich Little of the new generation, Rick Miller astounds audiences with his highly versatile talent, impressive musicality, and entertaining impersonations. Thankfully, there is a talkback offered after each performance for those especially in awe.
Along with praise for Miller's boundless energy and charisma, virtual applause must be given to Stage Manager (and Dramatug), Craig Francis, who ensures that all these complicated technical details run seamlessly. Credit for this theatrical triathlon also goes to the show's design team: Bruno Matte (Lighting), Nicolas Dostie (Projections), Virginie Leclerc (Costumes and Props), Irina Litvinenko (Multimedia), and again to Rick Miller who apparently wore yet another hat as Composer, Sound Designer, and Set Designer.
If you don't already know the incomparable Rick Miller from his many years of one-man shows including MacHomer, Bigger Than Jesus, and Boom, now's your chance to see him in action. Boom X continues at the Segal Centre (5170 Cote Saint-Catherine) until March 10th. Tickets range from $53 to $67 and can purchased at www.segalcentre.org or 514.739.7944.