The Church Basement Ladies Return to Ames Center Black Box Theatre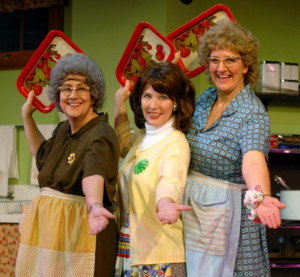 The beloved Church Basement Ladies are back and getting busy with life outside the kitchen. Introducing "Church Basement Ladies: You Smell Barn," the seventh installment in the popular Church Basement Ladies series.
The new show finally answers the burning question: What do Church Basement Ladies do when they're not in the basement? "You Smell Barn" opens September 12, 2018 and runs through February 14, 2019, in a new location -the Ames Center Black Box Theatre in Burnsville, MN.
After the last of the hot dish is served, the coffee pot is emptied, and the JELL-O molds are put away, the steadfast, sturdy Church Basement Ladies head home to their farms, peel off their good girdles and get on with their daily chores. With plenty of crazy antics, loads of fresh laughs, and spanking new original songs, "Church Basement Ladies: You Smell Barn" celebrates rural life in the 1950s and introduces the other lovable folks who inhabit the rural community: Earl, who delivers the mail up and down Rural Route One; Fergus, the hired man; and Tillie, who chronicles the action for the Fish County Weekly. And, at the center of it all are everyone's favorite Church Basement Ladies: Mavis (Greta Grosch), Vivian (Janet Paone), Karin (Dorian Chalmers), along with Pastor E.L. Gunderson (Tim Drake).
Produced by Curt Wollan, Troupe America, Inc., "You Smell Barn" is written by Greta Grosch, with music by Dennis Curley; lyrics by Greta Grosch and Dennis Curley; and inspired by the book Growing Up Rural: You Smell Barn by Janet Letnes Martin and Suzann Nelson.
"I'm always amazed at Janet, Suzann, Greta and Dennis's ability to mine these characters in this setting and consistently produce new and hilarious material," says director/producer Curt Wollan, Troupe America, Inc. "And, this year, not only has the setting of the play changed, but the venue has too. For the first time we'll be entertaining our audiences at the gorgeous Ames Center Black Box Theatre in Burnsville."
"I am very proud of the longstanding partnership between Troupe America and VenuWorks, and we are thrilled that the Ames Center Black Box Theatre will be the home of the newest installment in the Church Basement Ladies series," says Brian Luther, executive director of The Ames Center. We have worked for many years with Troupe America - and in the past have provided rehearsal and performance space to launch its touring shows here. We're excited to continue the partnership by hosting this new Church Basement Ladies show here as well!"
Whether you've seen several versions, or are new to the world of the basement, the seventh in the Church Basement Ladies series is a musical treat for all. Tickets start at $25 for groups of 10 or more and are on sale now by calling 612-322-5767. Single tickets start at $32 and are available at the John and Betty Adamich Box Office at the Ames Center or online.
The Ames Center is a world class arts and entertainment facility boasting a 1,014 seat Main Stage, an intimate 170-seat Black Box Theatre, art gallery, classrooms, meeting rooms and special event spaces.
The Church Basement Ladies shows are a franchise series of musical comedies, set from 1959-1979, focusing on the adventures of three matriarchs who serve their rural community and support each other from the basement of a rural Minnesota Lutheran Church. The original show was launched at Minnesota's Plymouth Playhouse in September 2005, and was so successful that it continued on a two-and-a-half year run, during which it was seen by a quarter of a million people - and thousands more in touring shows across the United States and Canada. Church Basement Ladies is a production of Troupe America Inc.
Related Articles View More Minneapolis / St. Paul

Stories

Shows
More Hot Stories For You