Interview: CEO Alice Schroeder of ZENITH CITY HORROR at Zenith City Horror
This production runs throughout the year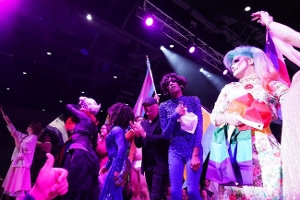 Zenith City Horror is a unique Duluth, Minnesota based production company.
We chat with the CEO/House Mother of the queer production company Zenith City Horror Alice Schroeder [she/her] about the Zenith City Horror and upcoming events.
What inspired you to create your production company Zenith City Horror?
After 15 years being involved in the arts community here in Duluth, MN, I noticed a severe lack of representation and failure to meet the needs of easily exploitable queer artists. The entertainment industry is so intertwined in white cisgender culture, there are not many opportunities for BIPOC/trans artists, and it's important that young people see us. The entertainment industry is also full of rejection and damaging to peoples body image. I wanted to create an artistic environment that was safe for all performers, regardless of gender, sexuality, body size, experience level, race, as well as creating a safe space for all audience members. I want young queer people to see our logo stamped on a venue or event, and know that they are welcome and safe...and most importantly they're not alone in this world.
How does Zenith city Horor support artists?
We provide housing for traveling artists, provide food, advocacy, fair wages, and regular gigs. There is no competition in our business model...it's a wait list style, where our performers work their up the tiers as they're given a platform to hone their craft. We support drag artists, burlesque performers, musicians, and queer/trans theatre actors. We've also just initiated a new style of show that allows vocational training for our drag performers, learning the ins and outs of show direction, budgeting, and technical aspects...so they could go off and start their own show if they want! We want to empower our performers, not exploit them.
What projects and productions do you have coming up that you can share?
We always have multiple shows running continuously throughout the year with titans of industry in Duluth...The Main Club, Bent Paddle Brewery, Wild State Cider, Duluth Cider, Vikre Distillery, Black Bear Casino...This summer we will debuting a live children's show hosted by my drag personality, Ms. Cupcake, which will be featured on stage as well as broadcasted through public access television. I am also in the middle of writing an original theatrical work that will benefit the trans community based off of Mary Shelley's lore of Frankenstein. In December, I was the first drag queen in Minnesota history to have ever put on a drag queen story hour within a branch of The United Church of Christ, and we will be continuing that relationship as well through 2023! All event information is posted on our social media accounts.
When anyone attends your production, what do you hope their takeaway is?
The future of art is changing, the political climate is changing...I hope that audiences see that there is pure talent right in their back yard. You don't need to spend a lot of money in a theatre to see live performance artists. You don't need to be on Ru Paul's Drag Race to be a successful and flourishing drag entertainer. The entertainment industry has ingrained in us what a Star is, and ZCH's mission is to show people that there are so many Stars in this world that don't have voices. We also make our events affordable (sometimes free!), so all household incomes can enjoy queer art!
What are your favorite local spots?
Duluth is so full of amazing different restaurants, shops, and outdoor spaces. I personally enjoy taking a hike around Hartley Nature Center, and The Main Club in Superior, WI, is our main sponsor and an iconic historic gay bar...that's where I like to go to unwind.
Thank you Alice for your time!
For more information on Zenith City Horror, please click the ticket link button below.