BWW Review: MARK TWAIN'S RIVER OF SONG Soothes & Inspires at the Milwaukee Repertory Theater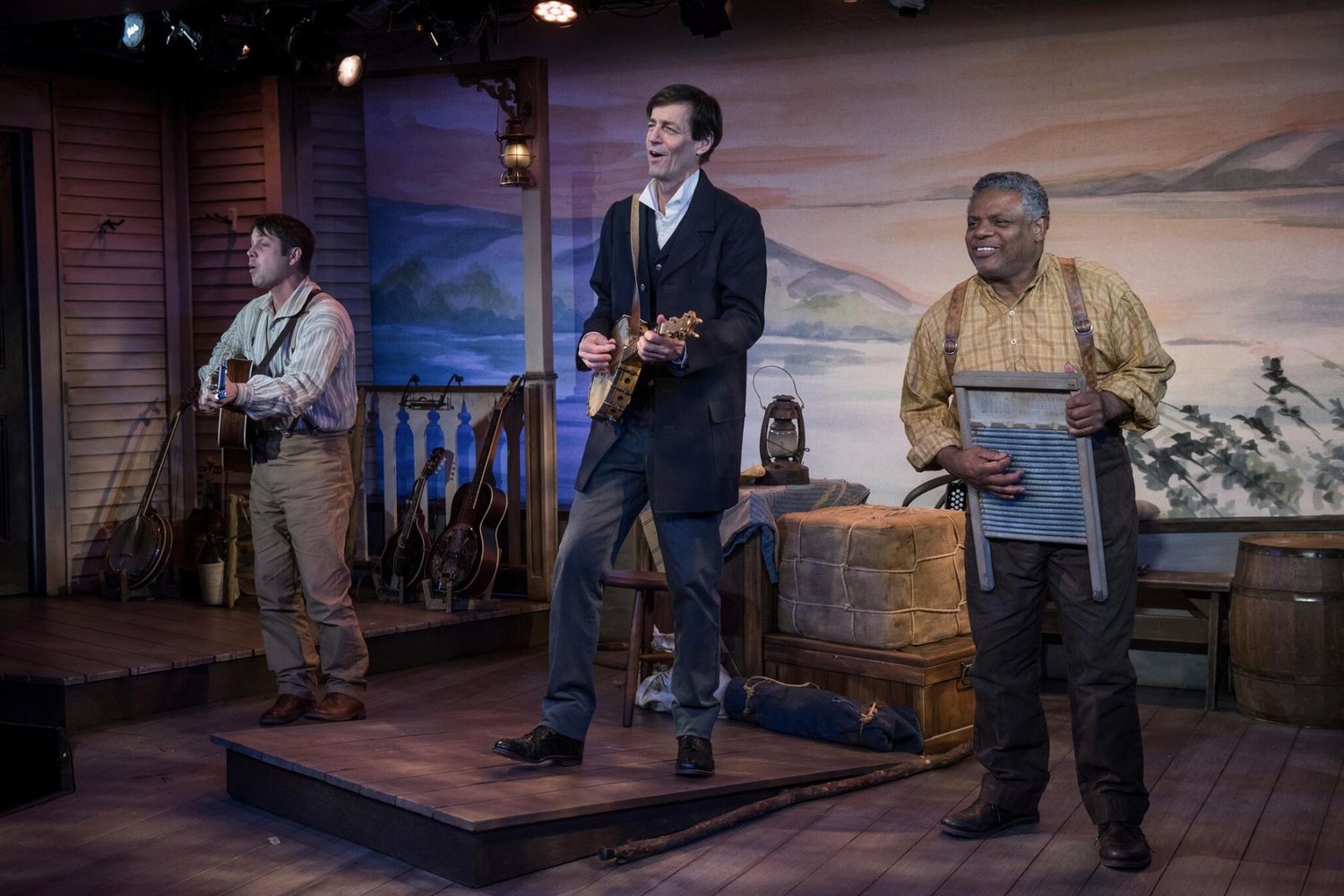 Whitewashed towns, forests of green, golden fields. The snapshots of landscapes and life depicted in Mark Twain's River of Song are stitched together by the mighty Mississippi and woven in song. This world premier production by Randal Myler and Dan Wheetman features three fantastic entertainers bringing over 20 tunes from the days when riverboats ruled the The Big Muddy. Those songs tell the stories of farmers, lumberjacks, boat captains, gamblers, and runaways - their songs often optimistic, sometimes somber.
From the first chords they strum, the terrific trio of Harvy Blanks, David Lutken, and Spiff Wiegand plant smiles on faces and set toes a-tappin'. The three performers take turns on an impressive lineup of instruments: guitar, washboard, mandolin, fiddle, accordion - even a makeshift woodwind whiskey jug and a percussive tap-dancing little wooden man. Special nod to Wiegand, who is the real master of music-making; the range of instruments in his repertoire makes for lots of fun.
While Wiegand brings a youthful, rollicksome energy, Harvy Blanks brings a jovial presence laced with subtlety and soul. His "Sometimes I Feel Like A Motherless Child" is easily the most stirring hymn of the bunch. In other moments, Blanks lights up so brightly, it's impossible not to beam right along with him.
For all the others' charms, David Lutken is the most rousing storyteller of the bunch. Honest and approachable, a natural friendliness shines through his performance. His comforting vocals and soothing cadance inspire cozy feelings of kinship.
Mark Twain's story of Huck and Old Jim was indeed the longest and meatiest of any of the tales Lutken told. Funny, but the titular character of Mark Twain's River of Song doesn't make an appearance until the latter half of Act Two. In the end, I found myself entranced, wishing Lutken would tell just one more story.
This wish for stories to last a little longer carried over to the music, too. I found there were some songs that, just as I began to fall for them, they were over. Though disappointing in the moment to say goodbye to melodies you've only just met, that's the sign of a something good. Leave the audience wanting more.
We actually did get a little more when technical difficulties wreaked havoc in the Stackner Cabaret on opening night. The troupe improvised through a 10-15-minute mic malfunction and played on, filling the space with music and laughter - a testament to not only their talents but to their sticktoitiveness and regard for this work, its creators, and the audience.
It was a treat to spend a couple hours rolling down the river for Mark Twain's River of Song. In a frigid Wisconsin winter, it's nice to take a little journey to the south, accompanied by songs and stories both moving and merry - but mostly merry. There's a wonderful sense of freedom in enjoying a musical theater performance that seems uncomplicated in its mission to lift spirits and bring folks together for a good time.
Be sure to check out the Hootenannys on tap at the Cabaret, where members of the community are invited to bring their instruments out for a post-show jam session with David Lutken! There will be Hootenannys following the January 31, February 21, and March 14 performances, plus a special gathering in the Back Room at Colectivo on Prospect on Saturday, February 9th, from noon-1pm.