Michigan Premiere of HUMAN ERROR to Open at The Purple Rose Theatre Company in February
Performances run from Friday, February 3 through Saturday, March 18, 2023.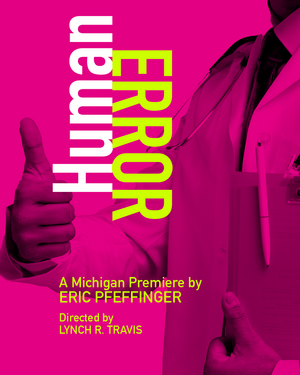 The Purple Rose Theatre Company has announced the second production of their 32nd season, "Human Error" a Michigan Premiere comedy by Eric Pfeffinger. Tickets are on sale now.
Madelyn and Keenan are NPR-listening, latte-sipping blue-staters who are planning a family. Or they were, anyway, until the fertility clinic screwed up and accidentally implanted their fertilized embryo in another uterus - a uterus belonging to a small-government churchgoing NRA cardholder. Can these ideologically hostile couples make it together through nine months of gestation without killing each other?
"Human Error" contains adult content and may not be suitable for children under the age of 13.
Eric Pfeffinger is an accomplished playwright having written both full-length and short plays. Originally, "Human Error" was developed with the support of PlayPenn in Philadelphia and the Lark Playwrights Week, New York City. It was further developed at the Colorado New Play Summit and produced at the Denver Center for the Performing Arts Theatre Company. Eric's plays have been published by Dramatic Publishing and Dramatics magazine. He also co-wrote a novel, is a co-creator for a web series, and he dabbles in comic strips and screenwriting. For more information go to www.ericpfeffinger.com.
Performances run from Friday, February 3 through Saturday, March 18, 2023. Previews, with reduced-price tickets, are available through Thursday, February 9. The press opening is Friday, February 10 at 8:00pm.
Directed by Lynch R. Travis (Southfield), the cast features artists Henrí Franklin (Redford), Alex Leydenfrost (Ann Arbor), Kristin Shields (Ann Arbor), Kevin Theis (Chicago, IL), and Meghan VanArsdalen (Ann Arbor). Set design is by Bartley H. Bauer, properties by Danna Segrest, costumes by Suzanne Young, lighting by Matt Taylor, and sound by Robert W. Hubbard. Patrick Ian McCall is the stage manager.
The production sponsors for "Human Error" are Michigan Arts and Culture Council and the National Endowment for the Arts. Underwriting support for the season comes from the Chelsea Community Foundation, Community Foundation For Southeast Michigan, The Ford Motor Company Fund, The Hamp Family Fund, The Shubert Foundation, and The Matilda R. Wilson Fund. Media sponsors include HOME.fm, JTV, and Michigan Radio.
Ticket Information
All performances will be held at The Purple Rose Theatre Company, 137 Park Street, Chelsea, Michigan 48118. The performance calendar can be found HERE.
Ticket prices range from $29 to $52 with special discounts for students, seniors, teachers, members of the military, and groups (12+). For more information or to make reservations call (734) 433-7673 or go to www.purplerosetheatre.org.
Wearing a mask is recommended while at The Purple Rose Theatre. More COVID safety can be found HERE. Any changes to this policy during the run of "Human Error" will be posted on The Purple Rose website and social media pages.
About The Purple Rose Theatre Company
Founded in 1991 by actor, playwright, musician and Chelsea native Jeff Daniels, the Purple Rose Theatre Company is a creative home for original American plays. In the 168-seat theatre, patrons experience an intimate encounter with live theatre.
The PRTC also provides classes, readings, lectures and tours. It commissions new work from established and early-career playwrights. As a 501(c)(3) not-for-profit professional theatre, the PRTC operates under a Small Professional Theatre agreement with the Actors' Equity Association.
For more information contact PRTC Managing Director, Katie Hubbard at (734) 433-7782 x16, khubbard@purplerosetheatre.org.