ZANNA, DON'T! Extends Through February 18 At Island City Stage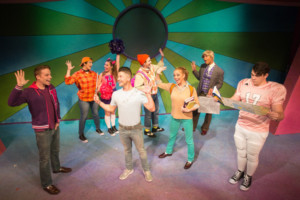 Island City Stage's hit musical "Zanna Don't" has been extended through Feb. 18. The additional performances will be Thursday-Saturday at 8:00 and Sunday at 7:00pm.
With book, music and lyrics by Tim Acito (with additional book and lyrics by Alexander Dinelaris, a former Barry University student) the musical became a surprise Off Broadway hit in 2003 and made a star out of Jai Rodriguez, who went on to be a regular on the popular tv series Queer Eye for the Straight Guy. Island City Stage's production is being directed by Artistic Director Andy Rogow and features Conor Walton, Darcy Hernandez-Gil, Mallory Newbrough, Eric O'Keefe, Sahid Pabon, Casey Sacco, Randall Swinton, and Arrow ZurSchmiede.
Rounding out the production team are musical director Michael Ursua, choreographer Andy Fiacco, costume designer Peter Lovello, lighting designer Ardean Landhuis, scenic designer Natalie Tavares and sound designer David Hart.
"Zanna, Don't!" transports us to the town of Heartsville where being gay is the norm and heterosexuality is taboo. Most of the action centers around the students at heterophobic Heartsville High, where the local magical matchmaker Zanna brings together happy couples; that is until the football team's new quarterback and the captain of the Girl's Intramural Mechanical Bull Riding Team start to discover feelings for each other.
"I've been wanting to direct this show for many years," says Rogow. "I often listen to the score in my car. The music is infectious and the story is just fun and charming. You can't help but feel good when you listen to it."
The production runs through Feb. 18 at Island City Stage, 2304 N. Dixie Hwy, Wilton Manors. For tickets and information go to islandcitystage.org or call the box office at 954-519-2533. Ticket price is $42 for all performances.