Photo Flash: Sneak Peak at Theatre at Arts Garages' 2016/2017 Season
Theatre at Arts Garage is proud to present their 2016/2017 season, which Executive Director Keith Garsson describes as, "Sex, blues and the supernatural." Garsson took over the theatre program last year and created an acclaimed season that thrilled audiences and critics alike with its exploration of the "darker side of love."
"This season we are taking everything a step further," he explained. "Longer runs, larger casts, greater cross-generational appeal. The themes and the canvas we will be working with will be broader."
Genie Croft, who directed two this current season's hits, will again be helming two on next year's shows. Productions will be divided between the mainstage and blackbox. The blackbox will now offer cabaret style seating and allow Bring Your Own Drinks and Food. For ticket informationwww.artsgarage.org or call 561-450-6357.
The Mystery of Love and Sex by Bathsheba Doran
directed by Genie Croft
Oct. 7 - Oct. 30, 2016
A multi-generational comedy about shifting sexual mores
The New York Times called it a ... a perfectly wonderful new play...a tender and funny exploration of the lives of two couples from two generations....so packed with humanity that it seems infinitely larger, like a chart depicting the sexual and emotional anatomy of us all.
Now in college, Charlotte's relationship with her childhood best friend Jonny is raising red flags with her parents. She's Jewish, he's black. So her parents have to scramble to keep up as Charlotte and Jonny's sexual desires complicate everyone's relationships in surprising, compulsive ways.
Cuddles by Joseph Wilde
directed by Keith Garsson
Nov 18 - Dec 11, 2016
A teenage girl has a dark secret in this modern-day gothic tale
New York Times called it ...a sensational little shocker...one of the 10 best plays of the year...
In this satire of modern-day consumerism, Eve is a teenager whose entire existence is known only to her overly protective sister Tabby. But now, Tabby wants her life back and in an instant their whole world changes...and that's not good.
Blues in the Night: A Musical Conceived by Sheldon Epps
directed by Genie Croft
Jan 27 - Feb 19, 2017
Set in a rundown Chicago hotel in 1938, the story focuses on three women's relationships with the same shit of a man, their interweaving stories told through the torch songs and blues of Duke Ellington, Bessie Smith, Johnny Mercer, Harold Arlen, Vernon Duke, Gordon Jenkins and Alberta Hunter, among others.
Breadcrumbs by Jennifer Haley
Directed by Keith Garsson
March 17 - April 9, 2017
A writer's memory jumps between past and present in this supernatural thriller
DC Theater Scene wrote that it's ...a heartbreakingly beautiful new play...
A social worker is assigned to the mysterious Alida, a reclusive fiction writer. In a symbiotic battle of wills, they delve into the dark woods of the past, unearthing a tragedy that shatters their notions of language and loneliness.
Check out a sneak peak of the upcoming shows below:

Wayne LeGette, Janice Hamilton, Jovon Jacobs & Connie Fernandez

Laura Hodos, Avery Sommers, Sandi Stock& Mysterious Man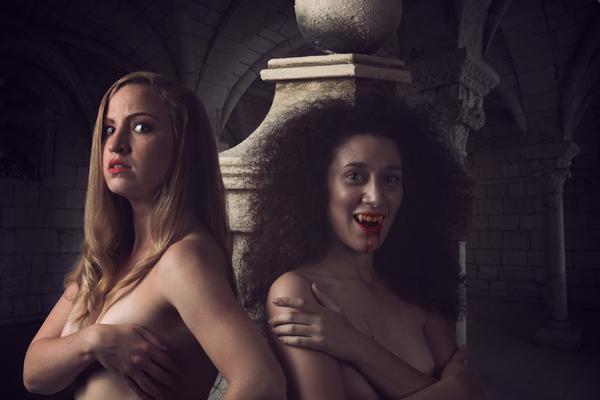 Vera Samuels & Emily Freeman

Jacqueline Laggy & Angie Radosh
Photo Credit: Lloyds Studio