Click Here for More Articles on STEPHEN SONDHEIM
BWW Review: SWEENEY TODD at Adrienne Arsht Center-Like It's Never Been Told Before
Sweeney Todd: The Demon Barber of Fleet Street is a cult classic. People who love this musical don't just love the musical, they LOVE the musical. I, myself, have had a long time love affair with Sondheim's work. Stephen Sondheim has changed the American musical forever. As I sat in the audience on opening night of Zoetic Stage's Sweeney Todd: The Demon Barber of Fleet Street at the Arsht Center, a show I have seen many times, I threw the proverbial gauntlet at the director, Stuart Meltzer. I thought to myself, "Show me something I haven't seen before". I am obsessed with the Angela Lansbury and George Hearn's version. In 2008 at the Arsht Center, I saw a tour of Sweeney Todd where every actor was on stage the whole time and all played instruments. All of us, Musical Theatre Geeks, know the lyrics to Sondheim's songs by heart (a special shout out to the man on opening night sitting first row with a plaid white and purple shirt mouthing every lyric in the show.) The story is as intoxicating as Mrs. Lovett's meat pies.
But I digress... So, I sat in my chair while Stuart Meltzer welcomed the audience and began the speech with how much he loved Sondheim and how thrilled he was to take on one of Sondheim's most challenging works. "We are thrilled to continue our relationship with the work of Stephen Sondheim. Sweeney Todd, arguably Mr. Sondheim's most famous work, is also one of his most challenging. The complexity and beauty of the music is only matched by the brilliantly dark and comedic book by Hugh Wheeler," says Artist Director Stuart Meltzer. And I thought, "Bring it on"! And, that ladies and gentlemen, he did. It was a completely different interpretation to the work. You have never seen Sweeney Todd told like this before. And to us, fanatics of the thriller, that is very exciting.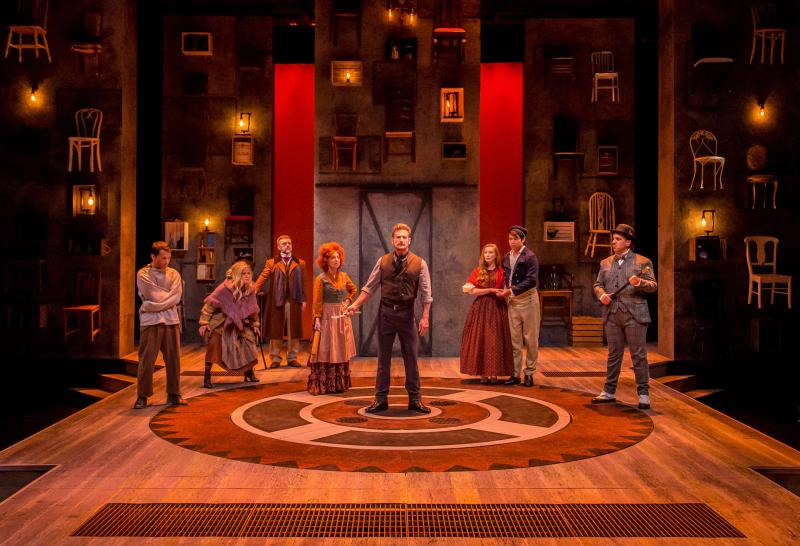 Directed by Stuart Meltzer and starring Aloysius Gigl and Jeni Hacker, SWEENEY TODD tells the story of the obsessively vengeful barber Benjamin Barker and his twisted partnership with the outrageous Mrs. Lovett who together, devise a devilish plot to add a special ingredient to a recipe that has all of London dying for their pies! Sondheim's gloriously gruesome musical combines melodrama and murder with one of the most thrilling scores ever written for the stage. Zoetic Stage's interpretation promises new surprises and a whole new feel to this beloved musical.
One very refreshing choice is that the show breaks the fourth wall. It included the audience in Pirelli and Sweeney Todd's shaving contest as an audience member was brought on stage for a close shave. Although the show is a huge undertaking usually calling for a large ensemble, another very daring choice in Zoetic Stage's version is that there were only eight actors. The characters, when not specifically in the scene, were used as ensemble members moving amongst the audience in the isles and scattered throughout the seats. This also must have been a difficult undertaking for the musical director, Paul Tine, as well as the actors since the show was written for 27 vocalists. There were other very subtle ways the musical is uniquely Zoetic Stages's such as beggar woman being double cast as Pirelli. Judge Turpin's, played by Terry Hardcastle, Johanna (Mea Culpa) was intense as he sang while hitting himself with a belt. My favorite was how the play started and ended with Toby, played by Kevin Teloz, in a strait jacket using the opening moments to cement the fact that we were seeing Toby's memory or rendition of the story in his crazy ramblings. It definitely added to the sinister feeling throughout the musical.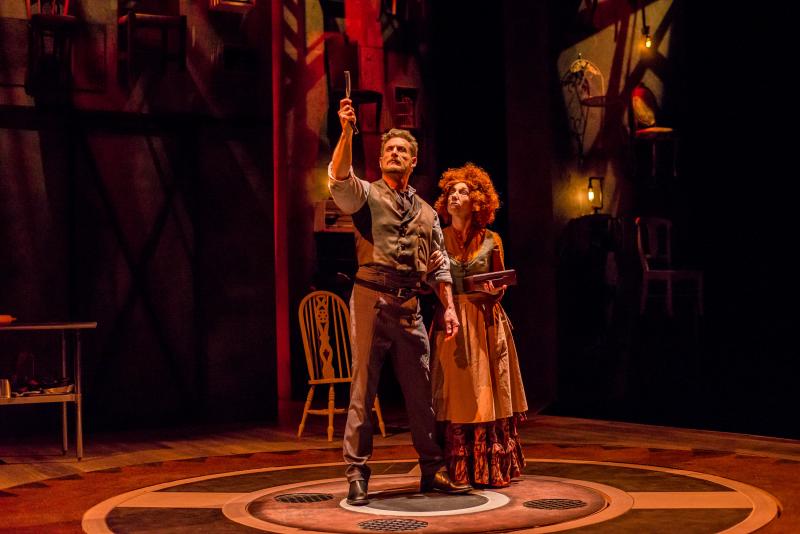 The cast! Aloysius Gigl as Sweeney Todd was delightfully horrifying. His voice is awe-inspiring but what leaves a lasting impression is his fresh-take on the character. To be completely honest at first I thought, he is too handsome to play Sweeney. But he really did a great job of creating a character we all know into something more. It was also fun to watch his interaction with Jeni Hacker, Mrs. Lovett. They played very well off of each other. Henry Gainza as Beadle Bamford was delightfully evil and so much fun to watch. Although the cast of eight were each wildly talented, it was Kimberly Doreen Burns who utterly captured my attention. As I watched her inch in front of my chair with her finger tips vibrating with energy, it was heartbreaking to know what her character had suffered. Plus, her voice is exquisite.
The creative team hit it out of the park. The play's creative team features scenic design by Natalie Taveras, lighting design by Rebecca Montero, costume design by Marina Pareja, properties design by Jodi Dellaventura, dialect coaching by Rebecca Covey and technical direction by BJ Duncan. Amy Rauchwerger is Zoetic Stage's resident stage manager, and Vanessa McCloskey is the Assistant Stage Manager. The show was beautifully conceived from the costumes, who breathed life into the characters, the visually stunning set and lighting which was just as much apart of the story as the actors.
To all Sondheim enthusiast, you will not be disappointed. Come see Sweeney Todd like it's never been told before.
Tickets
Zoetic Stage and the Adrienne Arsht Center for the Performing Arts of Miami-Dade County (@ArshtCenter) are proud to present SWEENEY TODD: THE DEMON BARBER OF FLEET STREET, the modern musical masterpiece by Stephen Sondheim and Hugh Wheeler. Playing March 14 -April 7, 2019 in the intimate Carnival Studio Theater (Ziff Ballet Opera House), SWEENEY TODD closes out Zoetic Stage's 2018-2019 season at the Arsht Center as part of the Center's Theater Up Close Series.
The Arsht Center's 2018-2019 Theater Up Close Series is supported by Adrianne and Jerry L. Cohen, Alan and Diane Lieberman and the Hotel Croydon Miami Beach. Tickets to SWEENEY TODD are $55* and may be purchased through the Adrienne Arsht Center Box Office by calling (305) 949-6722, or online at arshtcenter.org.
*All programs, artists, ticket prices, availability, dates and times are subject to change without notice. Visit arshtcenter.org for up-to-date information.
About the Adrienne Arsht Center for the Performing Arts of Miami-Dade County
Set in the heart of downtown Miami and designed by world-renowned architect Cesar Pelli, the Adrienne Arsht Center for the Performing Arts of Miami-Dade County is one of the world's leading performing arts organizations and venues. Since opening in 2006, the Arsht Center, a 501C3 non-profit organization, has emerged as a leader in presenting innovative programming that mirrors South Florida's diversity as well as a catalyst for billions of dollars in new development in the downtown area. Spotlighting legends and serving as a launch pad for local artists to make their mark on the international stage, the Center presents nearly 400 events each year across its flexible, state-of-the-art performance spaces.
The Center programs several Signature Series, including the largest jazz series in South Florida, a major annual Flamenco Festival, and a robust program of new theatrical works as well as free programming for the community and an arts education program that serves nearly 60,000 children each year. As Miami's new Town Square, the Arsht Center also houses BRAVA by Brad Kilgore, a fine dining restaurant; the Café at Books & Books in the historic Carnival Tower and a weekly Farmers Market.
The Adrienne Arsht Center for the Performing Arts of Miami-Dade County is made possible by the public support of the Miami-Dade County Mayor and the Board of County Commissioners, the Miami-Dade County Department of Cultural Affairs and the Cultural Affairs Council, the Miami-Dade County Tourist Development Council and the City of Miami Omni Community Redevelopment Agency, as well as the State of Florida, Department of State, Division of Cultural Affairs and the Florida Council on Arts and Culture. The Adrienne Arsht Center also receives generous support from individuals, corporations and local, state and national foundations.
Visit arshtcenter.org for more information.
Photos by Justin Namon
Related Articles