BWW Review: MSMT Throws Big, Beautiful 60th Birthday Bash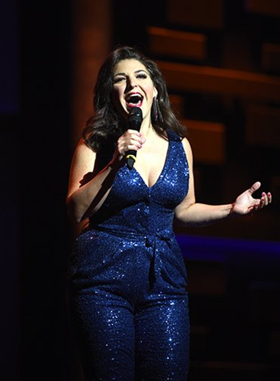 Anniversaries are times to reflect, to evaluate, but also to celebrate. Yesterday with its 60 Years of Musical Theatre: The Best of Maine State Music Theatregala concert, the Brunswick theatre pulled out all the stops with a big, beautiful Diamond Jubilee gala that proved a stunning culmination to this milestone season. And indeed, six decades after Victoria Crandall launched her dream at the Pickard Theater on the Bowdoin College campus, MSMT can boast numerous reasons to celebrate its history, as well as its present accomplishments and future aspirations.
In a matinee and evening stagings that featured musical performances by twenty-one soloists and an ensemble of ten, as well a number of spoken tributes, Artistic Director Curt Dale Clark architected a program that was classy, heartfelt, and rich and deep in the talent it showcased. As with any commemorative event, the program tapped into nostalgia and memory but blended these with a strong sense of the vigorous, energetic, imposing presence this company has become - not only in Midcoast Maine but also as a force in national regional theatre.
Using the Singin' in the Rainset, which serendipitously made an elegant framework for this concert, that was staged, costumed, and lit with style, MSMT presented a steady stream of musical theatre hits, performed by stars who have graced the Pickard stage. They were supported with flair by the seven-person orchestra led by Jason Wetzel. The entire roster of talent was built on intergenerational strength, welcoming artists who have played leading roles in MSMT's history throughout the decades, stars of Broadway and regional theatre who justify the company's mantra of "bringing Broadway to Brunswick." The program offered variety, humor, smooth pacing, and lots of warm charm.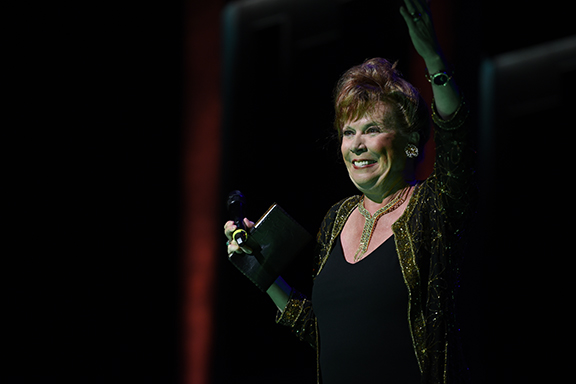 For many in the community who have a long history with MSMT, the return of legendary artists who once made MSMT their theatrical home like Mark Jacoby, who treated the audience to a comic rendition of "The Little Choo-Choo," and K.K. Preece who delivered a saucy "Adelaide's Lament," was cause for celebration. Several beloved actors from MSMT's past who could not attend, among them Bernard Wurger, Larry Raiken, and Connie Schafer, were represented by short written tributes which Curt Dale Clark read with obvious emotion, while Dan Goggin, the creator of Nunsense, (currently running at Portland Stage in a co-production with MSMT) appeared in person with a unique verbal tribute to Victoria Crandall, whom he met when she invested in the original Nunsenseproduction that launched the enduring phenomenon it has become.
Christine Mild kicked off the evening with a blow-them-away rendition of "Happy Days Are here Again," followed by Birdie Katz's sultry "Embraceable You" and Sue Cella's stirring, touching "What They Never Tell You." Chuck Ragsdale created his own amusing MSMT-themed lyrics to "On the Street Where You Live" and teamed up with Erin Maguire to offer a powerful reprise of their number from the 2009 Dirty Rotten Scoundrels,"Love Is My Legs." Maguire also sang a powerhouse rendition of "Cornet Man." Scott Moreau brought his inimitable Johnny Cash back to the stage ("Ring of Fire"); Michelle Bruckner turned up the heat in "All That Jazz;" Mary Stout revisited South Pacificwith a rich-toned "Bali H'ai; and Kate Fahrner sang a virtuosic "Here I Am."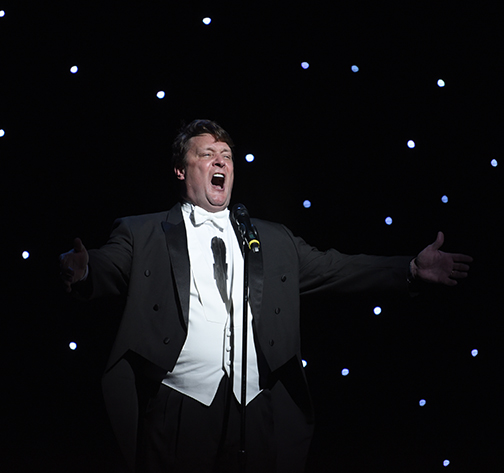 Curt Dale Clark sent chills through the house with the emotional intensity and vocal power of his interpretation of Javert's "Stars," while Marc Robin and Buddy Reeder charmed in their song and dance duet, "Me and My Shadow," bringing down the house with their tap dance fireworks. Closing the first act with impeccable style, Tyler Hanes joined forces with Lauren Blackman to reprise their Mary Poppinsduet. Both Hanes and Blackman returned in act two with very different numbers: Hanes singing a wistful, romantic "All the Things You Are" and Blackman bringing her luminous vocalism "Sing Happy."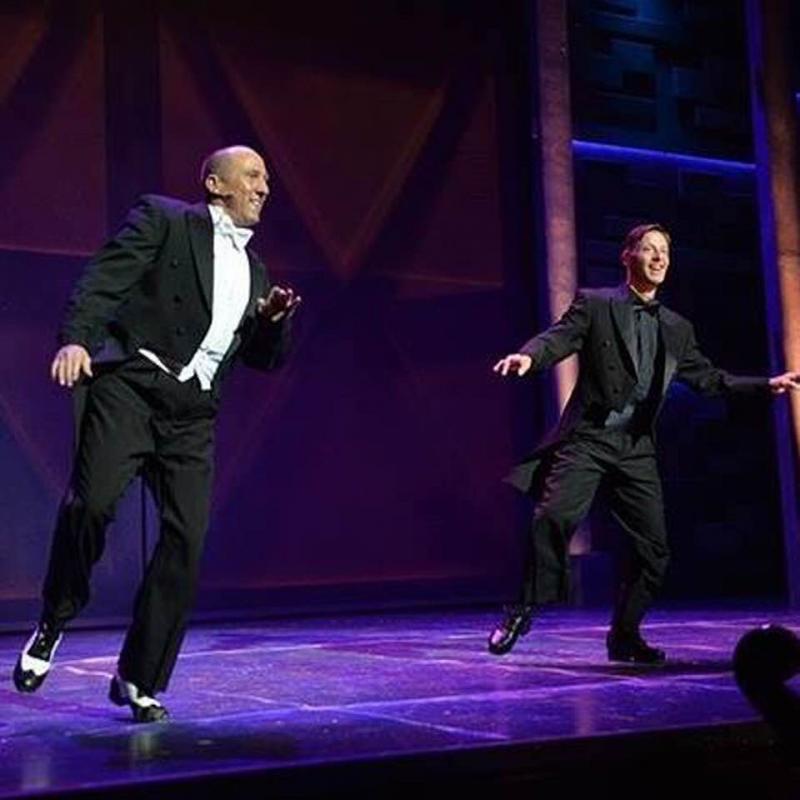 Gillian Hassert demonstrated her considerable vocal range and interpretative skills in a moving account of "Fifty Percent." E. Faye Butler gave showstopping accounts of the jazz standards, "Do Nothing Til You Hear From Me" and "Let the Good Times Roll;" David Girolmo used his mellifluous bass-baritone to keen interpretive effect in "Maybe This Time," while Charis Leos delivered a gutsy, characterful, rousing rendition of "You Can Always Count on Me." Robert Creighton lit up the stage in "Sit Down You're Rockin' the Boat" and a witty interpretation of "Johnny One Note" in which he not only sang the Rodgers and Hart lyrics but jammed on the trumpet with the band.
In addition to the soloists' numbers, the 2018 intern company brought their youthful energy and polished professionalism to four ensemble dance/song numbers from Irving Berlin's I Love a Piano. The presence of these young artists at the beginning of their careers performing alongside Broadway veterans not only spoke to one of MSMT's exceptional strengths, its highly acclaimed Educational Fellowship Program, but it also underscored one of the take-away messages of this gala 60thanniversary concert.
The parade of talent on the Pickard stage admirably represented the company through its many decades and celebrated the longevity, continuity, and creativity of MSMT's achievements. Then, too, as so many of the tributes attested and as the evening's deeply felt ensemble spirit and connection between stage and audience suggested, The Best of Maine State Music Theatre concert celebrated yet another gift that has been no small factor in making this theatre special: the sense of family that pervades the company and unites it with the community.
Photos courtesy of MSMT, Roger S. Duncan, photographer
The Best of MSMT concert ran for 2 performances on August 13, 2018 at MSMT's Pickard Theater, 1 Bath Road, Brunswick, ME. With support from the Maine Arts Commission, Criterium Engineers, and Highland Green and Ocean View at Falmouth.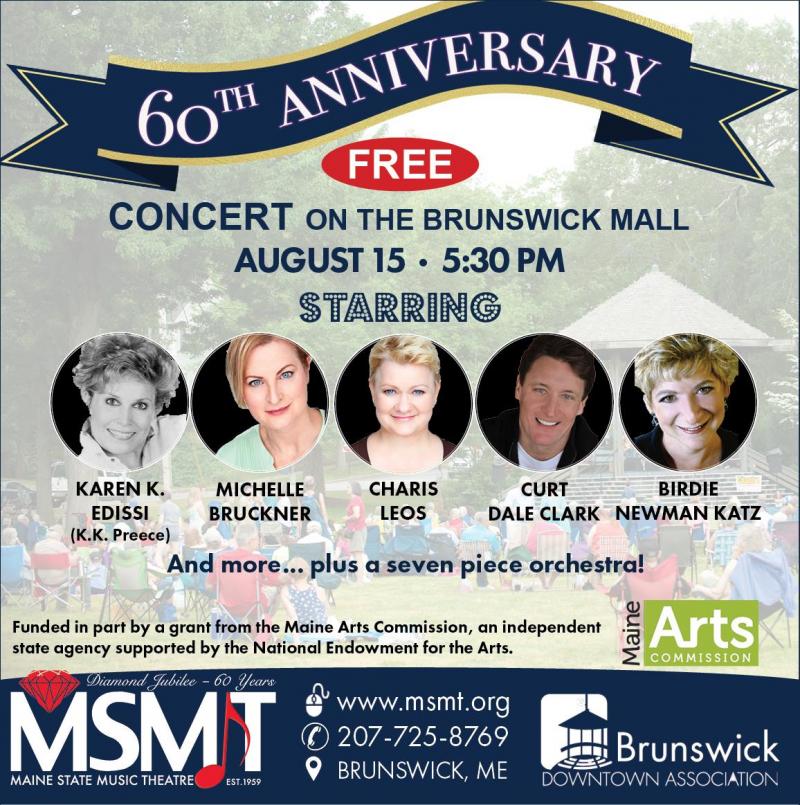 As part of that desire to give back to the community that has supported, nurtured, and taken such pride in its accomplishments, MSMT will partner with the Brunswick Downtown Association tomorrow evening, August 15 for a free Concert on the Brunswick Mall at 5:30 p.m. which will include some of the same performers and numbers from Monday's gala, as well as new selections. (Supported in part by a generous gift from the Maine Arts Commission)
Related Articles View More Maine

Stories

Shows