BWW Interview: When the Fun Was the Music: MSMT and Portland Stage's Co-Production of THE ALL NIGHT STRUT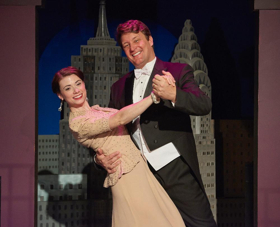 "The All Night Strut will transport you to a time when life was happier, and the fun was the music. This show will prove that it is still about the music. The audience will go nuts for the production; they will eat it alive and want more and more of it."
Curt Dale Clark knows from whence he speaks. The actor, director, author, and Artistic Director of Maine State Music Theatre has had the benefit of performing this songbook of the1930s,1940s, and 1950s in four prior productions, and he is confident that Maine audiences are going to love this production. "It is similar to The Irish," he says of last year's award-winning, sold-out collaboration, Frank McCourt's play The Irish and How They Got That Way, "in that the footprint exists for the show. Different actors populate it each time, but the end result is always the same. It is a huge hit!"
Clark is talking about the second co-production of a musical play which Maine State Music Theatre and Portland Stage have joined forces to produce. The song and dance revue created by Fran Charnas features music of the Great Depression, World War II, and Post-War America. Directed and choreographed by Buddy Reeder with musical direction by Ed Reichert, sets by Anita Stewart, Portland Stage's Executive/Artistic Director, costumes by Kathleen Payson Brown, and lighting by Greg Carville, The All Night Strut stars, in addition to Clark, Missy Dowse, Esther Still, and Bryant Martin with performances running from August 15 - September 10, 2017, at Portland Stage.
The other three cast members concur witH Clark's assessment of the enormous appeal of the show for all generations. "The music is so wonderful, and the styles are so diverse," says Missy Dowse. "Older generations will know the songs, but I think it's important for younger generations to be introduced to this music as well." Esther Stillwell agrees: "There are some well known and less known songs, and I think the grandparents will have memories, but anyone can benefit from hearing them," and Bryant Martin adds that while "the show has a different meaning to the folks who lived through that period, all of us can still appreciate it."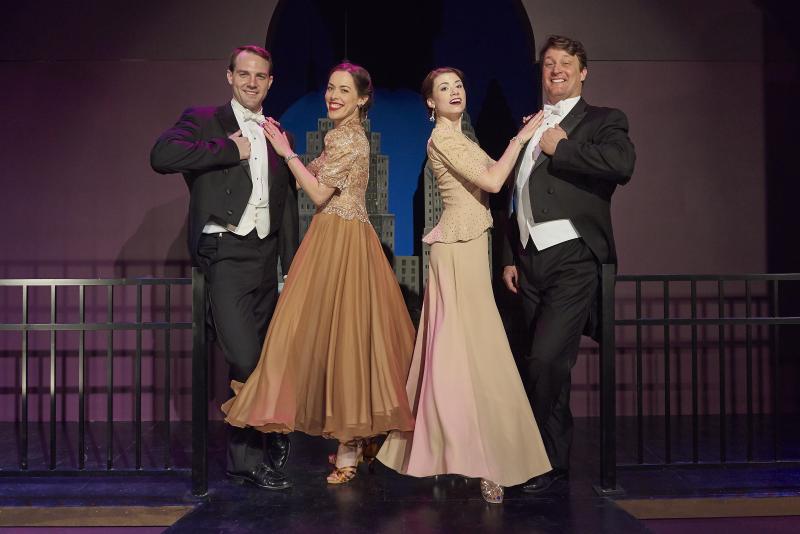 "I think the appeal is in the universality of the music," says Clark. "While it says 30s, 40s, 50s, which suggests three generations, the reality is that things were slower back then without the mass media we have now, so those three decades melded into one another. These songs remained popular for a long time, and the music of each new decade layered over the previous one. The show speaks to a generation still alive, but I am also excited for younger people to hear it and to find out what they think of it."
Though all of the cast members were born decades later, each one recalls his own access point and introduction to these tunes. Calling herself "an old soul," Dowse says, "This music always has spoken to me. My grandfather introduced me to many of the songs, though, in some cases, I am finding new things about melodies I knew before. For example, I had always heard 'In the Mood' played instrumentally by big bands, but I didn't know it had lyrics which are great fun to sing."
Stillwell says she came to know many of the songs in college when she did musical revues or from their use in movies such as "Minnie the Moocher" in The Blues Brothers, but like Dowse, she says she is finding new things about them. "I had never heard 'Minnie the Moocher' sung by a woman, and I love being able to be so bluesy and go through all the octaves in a laid back, epic way."
Martin, who is a history buff, says he had previously heard a number of the songs in documentaries such as Ken Burns' films on Jazz and World War II and by watching Frank Capra movies. Clark says that while the songs are from a different era, he likes to imagine what the composers and lyricists were doing and how the song came into being. "In those days they didn't sit down and say 'I have to write a hit.' They wrote a song and sometimes it became a hit. It was all more organic back then."
The All Night Strut does not have dialogue or scenes, and the narrative is advanced through song and dance, but the music itself contains its own stories in what Clark has described "as little vignettes." Martin describes the arc of that narrative: "Dramaturgically, it tells the story of America's progression through the late Roaring Twenties into the Great Depression and then World War II and the post-war boom years."
Clark likes the way the show moves at a brisk pace through the various periods and styles. "You don't dwell in any one style or place very long, so it keeps everyone interested and allows everyone to have a favorite part. For Clark his favorite section is the series of wartime songs. "The first time I did the show," he recalls, "I was not prepared for people to get emotional. But the truth is time heals everything until music takes you back to where you were during an event, and then you relive that experience."
Like Clark, each of the other three performers enjoys the variety of the music and the opportunity both to shine as an ensemble in tight four-part harmonies and to solo in specific numbers. "The four-part harmony has its own challenges," says Stillwell; it takes accuracy because there is sometimes quite a bit of jazzy dissonance. I love to sing those soulful, jazzy, gospel tunes."
Dowse cites "In the Mood" as one of her favorite moments "because I get to be fun and flirty and 'I'll be Seeing You' because it reminds her of her grandfather who recently passed away.
Clark concurs about the emotional impact of this Fain/Kahal lyric. "It was comforting to those who were waiting for people to return from the war as well as to those in the war because it allowed them to imagine the reunion with their loved ones." Martin enjoys a song like "Operator" with its rock-jazz-gospel overtones, and he feels the dramatic impact of "Brother Can You Spare a Dime?," which he says was the first title his parents asked him about when they heard he was to be in the show.
Clark also talks about the visceral impact of the music. "In its day 'Beat Me Daddy Right to the Bar' was a rallying cry to get up and rush to the dance floor, and that is just what the audience will feel like doing." Or the two nostalgic ballads which are his solos, "A Nightingale Sang in Berkeley Square" and "As Time Goes By," give the singer the opportunity to let the audience experience the music as they remember it - "the way it was meant to be" - and he notes that frequently the audience identifies so strongly that they find themselves singing along. "So it behooves us not to change anything," he quips with a smile.
All the performers speak about the strenuous technical demands of the show. Dowse calls it "non-stop - demanding but rewarding," while Clark agrees that it is "physically demanding on the voice because the songwriters of the era were not thinking of our doing eight shows a week. These melodies were conceived as popular songs sung in single concerts or on the radio."
The musical arrangements by Tom Fitt, Gil Lieb, and Dick Schermesser will be performed by an onstage band led by Ed Reichert on piano, supported by a standing bass and drums. The sound design for the intimate 286-seat Portland Stage will attempt to replicate the sound of these big band singers and performances, featuring a combination of hand held microphones, one large standing SHUR microphone, and some lavalieres for times when the performers are dancing. Director/choreographer Buddy Reeder makes his Portland Stage debut bringing with him his experience working on the Fulton's production under Marc Robin. Clark looks forward to embracing this work anew. He says that every time there is a new director and as, in this case, three out of four new performers, "it becomes a new piece through their whims, ideas, and the twinkle in their eyes."
While Clark is the fervent veteran of this show, Dowse, Stillwell, and Martin (all three in their Portland Stage debuts though Dowse and Stillwell have appeared at MSMT) are all enthusiastic converts. Dowse says she hopes "the audience will be able to escape for a little while, have a good time, and really enjoy the music and themselves."
Stillwell and Martin concur that they want the public to take away "a sense of joy. "Everything people went through in this period and yet they could still write music like this!" Stillwell marvels. Martin continues the thought: "They had just fought a major war and emerged from the Depression, and yet they had joy and optimism. If any generation had an excuse to wallow in their misery, it was the people of that period, but instead they determined they were going to lift up the world and everything around them and hopefully make it a better place."
And one of the ways they were going to elevate the mood, Clark feels, was through music. Just as writing, singing, and hearing those songs proved inspirational for the generations of the 30s, 40s, and 50s, so, too, will The All Night Strut transport today's audiences to their own special memories of times past. "The music will give audiences the same rush they felt then, and everyone from every generation will be having fun and sharing a crazy, thrilling good time with us!"
Photos courtesy Portland Stage and MSMT, Aaron Flacke, photographer
The All Night Strut is a co-production of MSMT and Portland Stage, performed at Portland Stage, 25A Forest Ave., Portland, ME from August 15-26, 2017. Tickets: www.portlandstage.org or www.msmt.org (linked through) 207-774-0465
Related Articles View More Maine

Stories

Shows