BWW Review: MISS SAIGON at The Overture Center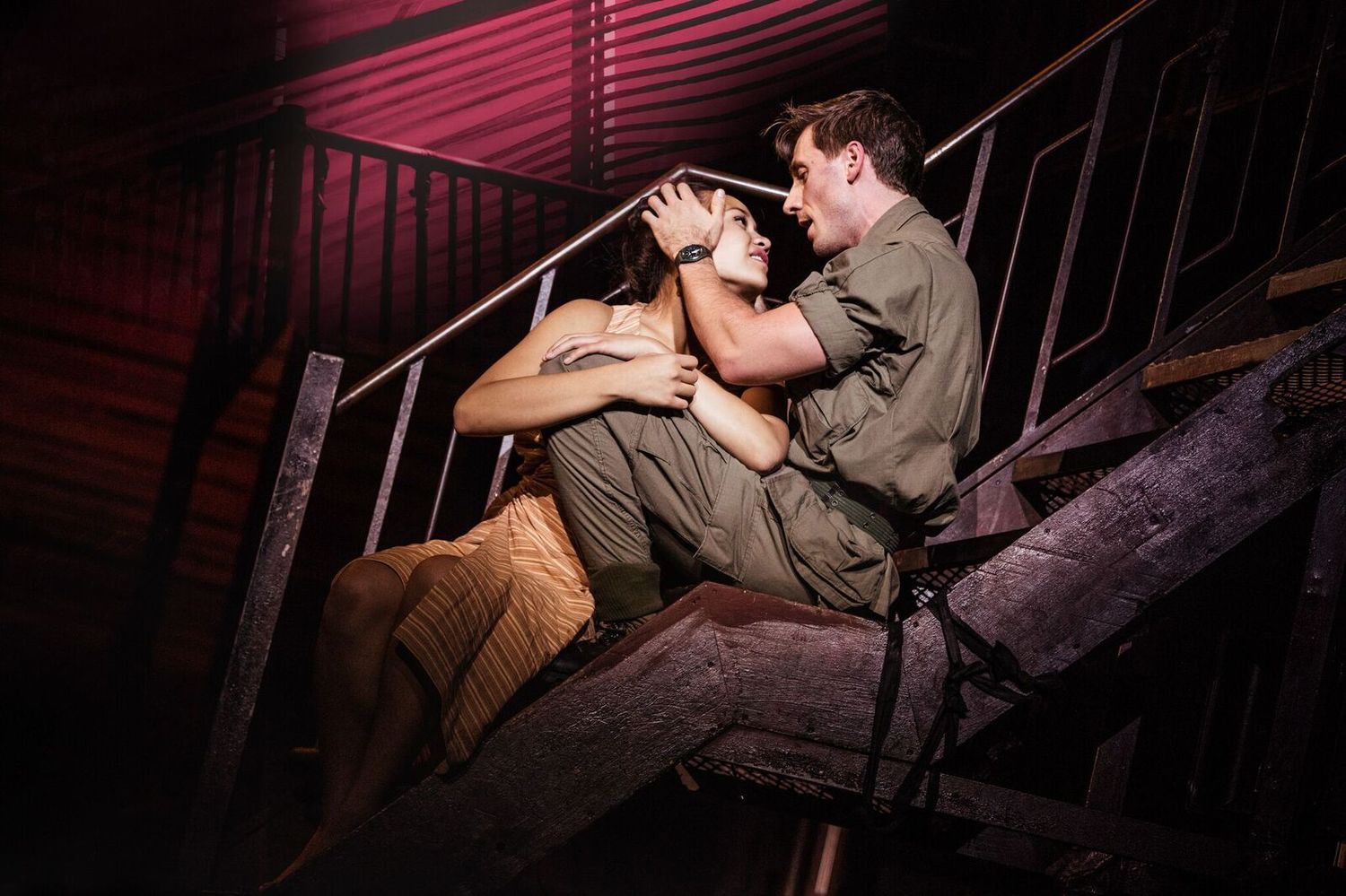 Based on Puccin's Opera, Madame Butterfly, Miss Saigon has had a strong revival, but not without some controversy. As we approached the doors to the Overture Center, we were greeted by a group of Asian students from the University of Wisconsin handing out flyers about the show. These flyers spoke to the racism contained in Miss Saigon. The students were peaceful and stressed that they only wanted to inform the public. I didn't need a flyer to see that this show perpetuates negative stereotypes of Southeast Asian people. The opening number of the show, "The Heat is On" let me know exactly what I was in for. The stage was filled with scantily clad, crotch grabbing, grinding Asian women provocatively enticing a group of stereotypical, rough, hard drinking GI's in Saigon. With references like "The sex toy from Hanoi" we meet The Engineer (Red Concepcion). The Engineer, finds a simple country girl, Kim (Emily Bautista) and forces her into prostitution. Dressed in virginal white, we witness The Engineer forcibly rip off her pants. After asking, "You like this little jailbait?" he sells her to a GI named John (J. Daughtry). John then gives Kim to his buddy Chris, (Anthony Festa). Chris, after taking her virginity, falls in love with her. The feeling is mutual.
The Engineer is an interesting character, with upbeat songs, knowing nods to the audience... you want to like him. He is played to near perfection, charismatic, smart, entertaining, with a bit of smarmy. Yet even with all of that going for him, I can't get past him forcibly tearing the Kim's pants off and selling her (say nothing about the many times he threatens her with a knife or the odd Cadillac he humps), enough to "like" him.
The only person in the show who goes through a change is John. He is our rough and tumble, cigar smoking Marine from the opening scene. At the top of the second act however, John has arguably the best song in the show, "Bui Doi" is sung with gospel bravado, and emotional depth. He is now working to unite the children of Vietnamese women with their GI fathers back in the states.
This is a classic story of an underage Asian prostitute who needs to be saved by an American GI. It screams of inequity, and yes, racism. Don't get me wrong, the show is incredibly well performed and staged. Both Kim and Chris have incredible voices and the vocals are amazing (Unfortunately, I was often unable to understand the words they were singing). The helicopter, a projection, added a fantastic dimension to the tale. However, the tale itself is dated and, I believe, worn out.
In our current climate of political turmoil, I appreciated Chris's line, "Christ, I'm an American, how could I fail to do good". This show, while well put on, made me question why do we do theater, and what are we teaching by continuing to do theater filled with sexism and racist themes? Theater speaks to our universal human experience; it has the power to educate, unite, and transform. Let's not fail to use it to do good
NEWS RELEASE
For immediate release: Thursday, March 21, 2019
Contact: Sarah Knab, Communications Manager | 608.258.4438
Photos and b-roll can be found here.
THE NEW NATIONAL TOUR OF Cameron Mackintosh'S DYNAMITE BROADWAY REVIVAL OF BOUBLIL AND SCHÖNBERG'S LEGENDARY MUSICAL
MISS SAIGON
TO PLAY OVERTURE HALL IN MADISON
The Epic Love Story of Our Time Coming to Overture Center for the Arts April 2-7, 2019; Featured on "The Balancing Act" on Lifetime® Channel
Madison, Wis. - Cameron Mackintosh's acclaimed new production of Boublil and Schönberg's legendary musicalMISS SAIGON - a smash hit in London, Broadway and across the UK and the U.S.- comes to Overture on April 2-7, 2019.
MISS SAIGON tells the story of a young Vietnamese woman named Kim, who is orphaned by war and forced to work in a bar run by a notorious character known as the Engineer. There she meets and falls in love with an American G.I. named Chris, but they are torn apart by the fall of Saigon. For three years, Kim goes on an epic journey of survival to find her way back to Chris, who has no idea he's fathered a son. This new production features stunning spectacle and a sensational cast of 42 performing the soaring score, including Broadway hits like "The Heat is On in Saigon," "The Movie in My Mind," "Last Night of the World" and "American Dream."
Overture Center performance schedule:
Tuesday, April 2 at 7:30 p.m.
Wednesday, April 3 at 7:30 p.m.
Thursday, April 4 at 7:30 p.m. this performance features post-show talkback with cast/crew
Friday, April 5 at 8 p.m.
Saturday, April 6 at 2 p.m. and 8 p.m.
Sunday, April 7 at 1 p.m. and 6:30 p.m.
Prior to making its Overture Center debut, MISS SAIGON will be featured on Broadway Across America's Telly Award-winning collaboration with "The Balancing Act®," the award-winning morning show on the Lifetime® Channel, to round out Season Five of the five-part series Broadway Balances America with MISS SAIGON. This new episode debuts on Monday, March 25 at 7:30 am ET/PT and will re-air on Tuesday, April 2 at 7:30 am ET/PT.
Broadway Balances America introduces the cast and creative team bringing the acclaimed new production ofMISS SAIGON to life. Get to know leading lady Emily Bautista, who plays the iconic role of Kim, and actresses Stacie Bono and Jackie Nguyen as they prepare to tour the country and show incredible strength on stage and off. Hear from director Laurence Connor as he discusses the grand scale and dose of reality that brings this acclaimed new production to life. Host Amber Milt gets a glimpse inside the rehearsal process of this legendary musical that changed Broadway forever and continues to resonate with audiences today.
Cameron Mackintosh said, "It's hard to believe that it has been over 27 years since MISS SAIGON first opened in North America but, if anything, the tragic love story at the heart of the show has become even more relevant today with innocent people being torn apart by war all over the world. This brilliant new production, directed by Laurence Connor and featuring the original dazzling choreography by Bob Avian, takes a grittier, more realistic approach that magnifies the power and epic sweep of Boublil and Schönberg's tremendous score. Of all my productions, despite its popularity, MISS SAIGON is the one that the public has had the least chance to see as it requires such a huge international cast of Asian and Western performers and a vast array of visually stunning sets. Now, for the first time in 17 years, as it continues to wow audiences in major cities around the world, theatregoers across America will be able to see one of the most spectacular musicals ever written in all its glory, in a new production that critics in London and on Broadway have embraced."
MISS SAIGON has music by Claude-Michel Schönberg with lyrics by Richard Maltby Jr. and Alain Boublil, adapted from original French lyrics by Alain Boublil, with additional lyrics by Michael Mahler. The new production is directed by Laurence Connor with musical staging by Bob Avian and additional choreography by Geoffrey Garratt. Production design is by Totie Driver and Matt Kinley based on an original concept by Adrian Vaux; costume design by Andreane Neofitou; lighting design by Bruno Poet; projections by Luke Halls; sound design by Mick Potter; and orchestrations by William David Brohn. Music supervision is by Stephen Brooker and James Moore, with casting by Merri Sugarman for Tara Rubin Casting.
Since its London premiere in 1989, Cameron Mackintosh's production of Alain Boublil and Claude-Michel Schönberg's epic musical MISS SAIGON has become one of the most successful musicals in history. The original Broadway production of MISS SAIGON opened on April 11, 1991 with what was the largest advance sale in Broadway history ($37 million). The show went on to play for nearly 10 years with 4,111 performances and was seen by more than 5.9 million people. MISS SAIGON has been performed in 32 countries, over 350 cities, in 15 different languages, has won over 70 awards including 2 Olivier Awards, 3 Tony Awards and 4 Drama Desk Awards and been seen by over 36 million people worldwide.
The new production of MISS SAIGON opened in London in May 2014 to record-breaking advance sales and critical acclaim. The Daily Telegraph wrote, "This thrilling new production spills out beyond theatre and speaks directly to the times we live in-magnificent performances." The Daily Mail said, "The greatest musical of all-time just got even better!" The London Times called the production "thrilling, soaring and spectacular." NY1 proclaimed, "The new MISS SAIGON soars to the rafters!" And The New Yorker called MISS SAIGON, "A dynamite Broadway revival!"
Cameron Mackintosh announced in 2015 that the production would transfer for a limited Broadway run from March 1, 2017 to January 14, 2018 before launching its national tour at the Providence Performing Arts Center in Providence, RI, in September 2018.
The new production of MISS SAIGON also will play at venues in Germany and Switzerland over the next year. New productions also will open during the next few years in Asia.
The full backstage story of how the new production was created, The Heat Is Back On, is now available on DVD by Universal and is one of the most comprehensive insights into how a big musical is put together that has ever been filmed.
MISS SAIGON is part of the 2018/19 Broadway at Overture Series, presented in partnership with Broadway Across America with additional support from Lexus of Madison. Tickets are available at the Overture Center Ticket Office (201 State Street), by phone (608.258.4141) or online (overture.org). Groups of 10+ may be eligible for discounted tickets; for information, please call 608.258.4159. This show is appropriate for age 12 and older. MISS SAIGONcontains some scenes and language which may not be suitable for younger audience members, including scenes of a sexual nature. Please be advised this performance uses strobe lights, fog, haze and gunshot sounds.
Overture Center for the Arts in Madison, Wisconsin features seven state-of-the-art performance spaces and five galleries where national and international touring artists, ten resident companies, and hundreds of local artists engage nearly half a million people in educational and artistic experiences each year. Overture.org
The John Gore Organization is the leading developer, producer, distributor and marketer of Broadway theatre worldwide. Under the leadership of 13-time Tony Award winning producer and owner John Gore, its family of companies includes Broadway Across America, Broadway.com, The Broadway Channel, BroadwayBox.com, and Group Sales Box Office. The company presents shows in 45 cities across North America as well as on Broadway, Off-Broadway, London's West End, Japan, and China. It has won Tony Awards in every producing category as well as numerous other Drama League, Drama Desk and Olivier awards.
Broadway Across America (BAA) is part of The John Gore Organization family of companies, which includes Broadway.com and The Broadway Channel. Led by 13-time Tony-winning producer John Gore (Owner & CEO), BAA is the foremost presenter of first-class touring productions in North America, operating in 45 markets with over 400,000 subscribers. Current and past productions include Beautiful, Cats, Chicago, Dear Evan Hansen, Groundhog Day, Hairspray, Hello, Dolly!, Million Dollar Quartet, On Your Feet!, The Producers, School of Rock, and Waitress. Broadway.com is the premier theater website for news, exclusive content and ticket sales. For more information, please visit BroadwayAcrossAmerica.com and Broadway.com.
The Balancing Act is a daily morning show created and produced by BrandStar that brings fresh ideas to today's modern woman to help balance and enrich her life every day. Now in its ninth season, The Balancing Act features everything from delicious recipes, style makeovers and dream getaways to parenting tips and the latest news in health and wealth. Tune in to The Balancing Act, America's premier half-hour show for women and about women, weekday mornings at 7:30 a.m. (ET/PT) on Lifetime®. For additional information or to watch an episode, visit:http://www.thebalancingact.com.