The Kentucky Center Presents FRIENDS! The Musical Parody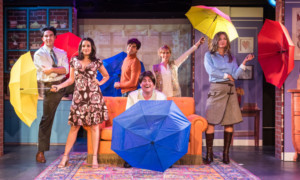 The Kentucky Center presents FRIENDS! The Musical Parody, Friday, March 8, 2019 at 8 p.m.; Saturday, March 9 at 8 p.m.; and Sunday, March 10 at 7 p.m. at The Kentucky Center - Bomhard Theater. Tickets start at $30. Kentucky Center members can call the member hotline at (502) 566-5144. Standard tickets are available at www.kentuckycenter.org/presents, by phone (502) 584-7777, (800) 775-7777, and in-person at The Kentucky Center box office and drive-thru. Please call (502) 566-5111 for information about the range of accessibility options we offer to enhance your performance experience.
"FRIENDS! The Musical Parody" is a hilarious new musical that lovingly lampoons TV's "Friends" by celebrating the wacky misadventures of your favorite group of 20-something pals as they navigate the pitfalls of work, life and love in 1990s Manhattan.
Audience members will experience a seemingly typical day at New York's one and only coffee shop, Central Perk-until an unexpected runaway bride with beautiful hair enters the picture and kicks the whole gang out of second gear, of course! This delightfully naughty confection plucks the best moments from the show's ten-year history and recreates the moments through an uncensored, fast-paced, music-filled romp.
"FRIENDS!" is the creation of Bob and Tobly McSmith, a comedy-writing duo with five critically acclaimed musical parodies under their belt, including "Bayside! The Saved by the Bell Musical" (NY Times Critics' Pick), "90201! The Musical," "Full House! The Musical" starring Perez Hilton, "Showgirls! The Musical," and "Katdashians! The Musical!"
More Hot Stories For You