Photo Flash: Anthony Kearns at NIGHT AT THE PAVILION
Internationally acclaimed Tenor Anthony Kearns brought guests of the Fasig-Tipton Sales Pavilion to a rumbling applause after his impressive performance for the first-ever "A Night at the Pavilion: A Tribute to Kentucky's Horses." The event, hosted by the Equine Health and Welfare Alliance, Inc. (EHWA), was held on July 10 - just two days before the summer yearling sale.
The evening's emcee was Michael Blowen, of Old Friends Equine, an organization that provides "at-risk" race horses with a dignified retirement. In addition to Kearns' talents, guests were treated to a special Bourbon tasting featuring Kentucky's signature distilleries: Jim Beam, Four Roses, Maker's Mark, and Heaven Hill.
During the program, First 
Lady J
ane Beshear provided brief remarks and introduced Mr. Kearns to the audience of V.I.P. guests. Before his performance, Kearns thanked the First Lady for her commitment and congratulated EHWA founding member Dr. Frank Marcum on "his efforts to found, build and grow an organization like EHWA." "EHWA did a fantastic job hosting last Sunday's reception, from organizing the Kentucky Bourbon tasting to showcasing the amazingly talented 
Anthony Kearns
. I know that their organization will make a profoundly positive impact on Kentucky's horse industry," said Mrs. Beshear."This event truly surpassed my expectations in every way. I'm thrilled that so many people came out to support our cause, and I hope that our efforts today will aid in our mission of providing horses with a better life," said Dr. Marcum.During the program, Governor Steve Beshear honored Kearns with the distinguished title of "Kentucky Colonel" - the highest honor awarded by 
The Common
 wealth of Kentucky which honors recipients for their contributions and special achievements. Designated as Kentucky's ambassadors of good will and fellowship around the world, past recipients include President Lyndon B. Johnson, former English Prime Minister 
Winston Churchill
, 
Betty White
, and Mohammed Ali."
Anthony Kearns
 represents what this award is all about. Throughout his career, he's given back to his community as a musical ambassador throughout the world," said Gov. Beshear. "I'm honored to support this wonderful cause which recognizes the needs of these beautiful animals. In addition to my love of horses, Kentucky reminds me of the green grass of Ireland and I was pleased to support EHWA through my music and songs," said Kearns.Accompanied by pianist Edward Arthur of Purdue University, Kearns' eclectic repertoire included Irish music, classical and Broadway favorites and a bit of opera: "La Donna è Mobile" by 
Giuseppe Verdi
, "Ave Maria" by composer Charles-Francois Gounod, the beautiful love song from the North of Ireland, "My Lagan Love," with lyrics by 
Joseph Campbell
, "Younger than Springtime" from the popular musical South Pacific by 
Richard Rodgers
, and the Mexican song, "Granada," by Agustín Lara, covered by artists 
Mario Lanza
 and 
Frank Sinatra
. Kearns invited the audience to join him for a rendition of "Funiculi, Funicula " by Italian journalist Peppino Turco, and "God Bless America," which received a standing ovation. VIPs from Kentucky's horse community turned out for the event including Kentucky Horse Racing Commission members Ned Bonnie and 
John Ward
 (trainer of 2001 Kentucky Derby Winner Monarchos), Thoroughbred trainer Kenneth McPeek (the 14th ranked trainer in North America), and the famed Jockey Jean Cruguet, as well as Craig and Holly Banderoff of Denali Stud. Other special attendants were state legislators Sen. Robin Webb, Sen. Damon Thayer, Rep. 
Tom McKee
, Rep.
Susan West
rom, and Rep. Sannie Overly.Proceeds from the event benefitted EHWA, a Lexington, KY-nonprofit organization whose goal is to develop and maintain a comprehensive network of education, research and support for the basic needs of all horses that allows them a life of dignity.Mr. Kearns will be performing in Cincinnati, Ohio, on August 6, 2011 as part of a tour to promote his new PBS special, "Hallelujah Broadway." On August 18, he will star in the Emerald City Opera production of Die Fledermaus in Steamboat Springs, CO. He recently performed at the Centennial Celebration of the late President 
Ronald Reagan
 in New Orleans, at the William J. Clinton Presidential Center in Little Rock and 
The John F. Kennedy Center for the Performing Arts
. In June, he starred as the lead tenor, "Don Ottavio," in the opera Don Giovanni, at the Lismore Opera Festival. Kearns, who has an international solo career in addition to his work with The Irish Tenors, has 11 CDs to his credit and is a member of The Recording Academy ("The GRAMMYs"). For more information about Kentucky's signature Bourbon industry, please visit www.kybourbon.com and 
www.kybourbontrail.com
.For information about the Equine Health and Welfare Alliance (EHWA), contact Dr. Frank Marcum at 859.227.0879 or visit 
www.equinehealthandwelfare.org
.For more information or to request an interview with tenor 
Anthony Kearns
, contact Kirsten Fedewa at 202.365.6936, or visit 
www.anthonykearnsmusic.com
.
Photo Credit: Neil Sulier and Doug Prather.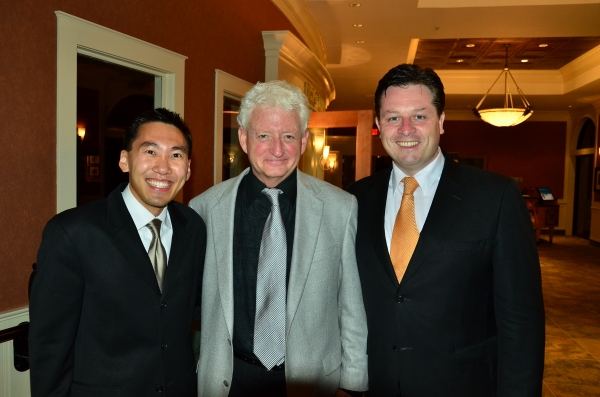 Accompanist Ted Arthur, EHWA founding member, Frank Marcum, and Anthony Kearns

Kentucky Governor Steve Beshear, Anthony Kearns, and First Lady Jane Beshear

Publicist Kirsten Fedewa and Anthony Kearns