Review: VIOLET Embarks on a Journey of Transformation via Love, Courage and the Real Meaning of Beauty at the Actors Co-op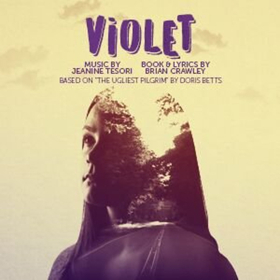 I have been a fan of the productions at the Actors Co-op in Hollywood ever since I started reviewing shows and I can honestly say I have always been thoroughly impressed with the direction, acting, extraordinary scenic and costume design, as well as the overall positive camaraderie of every cast member I have ever spoken with after a performance. So I knew I was in for a treat seeing the Tony-nominated musical VIOLET, and again, my expectations were blown out of the water by the overall excellence of this production, directed with emotional insight by Richard Israel with creative choreography by Julie Hall.
With lyrics and book by Brian Crawley and music by Jeanine Tesori, VIOLET is based on the short story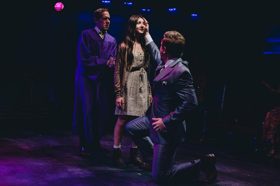 "The Ugliest Pilgrim" by Doris Betts, set against the backdrop of the 1960s Civil Rights movement. At its center is Violet, a country girl from the Blue Ridge Mountains of North Carolina, whom we meet as a young teen sharing the hardships of her early life after being hideously scarred by her father during a wood cutting accident. Young Vi is expertly portrayed by Lily Zager, a student at Millikan Middle School, who is making her professional theatrical debut in this production. Watch out world, Lily is on her way to the top!
Sharing scenes and memories with her younger self during the entire musical is 25-year old Violet,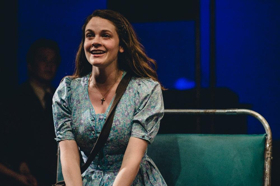 portrayed with both great innocence and insightful common sense by Claire Adams, whom we meet as she is setting off on a journey of hope and discovery aboard a Greyhound bus bound for Tulsa, Oklahoma ("On My Way") where she hopes a TV evangelist can create a miracle and cure her disfigurement. And just how disfigured is Violet that people react to her appearance with so much shock? That is left to your imagination since her scar is often described but never seen, almost as if the real scar is unseen on her soul rather than a physical deformity on her face.
As she travels from city to city, Violet meets a colorful cast of characters both on the bus and at the various stops, learning lessons from each one of them. But ultimately, it is a young black soldier named Flick who teaches her about beauty, love, courage and what it means to be an outsider.
Jahmaul Bakare carries the role to great heights with just the right amount of sensitivity, sensuality and bravado, truly a perfect match for Adams vulnerability and desire to be pretty and loved for who she really is. You will be swept into their love story as it develops, two young people travelling through the South at a time when integration was not a welcome sight. "I've never known a Negro man before," Violet confides to Flick when they first meet. He responds, "I'm just a man like anyone else." That may be true, but I can tell you when Bakare launches into "Let It Sing," his voice raises the roof and will inspire a heartfelt spirituality in each audience member's heart and soul.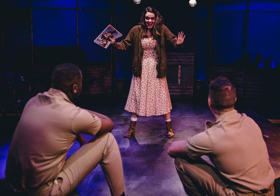 Flick is travelling on the bus with another solider, Monty (Morgan West), who is intent on volunteering for Vietnam. "It's not much of a war," he tells Violet, generating many harrumphs from the audience. When the three have an overnight layover in a small Tennessee town and check into a small hotel run by Flick's landlady friend, the indignant Benai Boyd, who warns Flick about getting involved with a white woman under her roof. The trio goes out for a night of drinking, during which Violet invites Flick to her room, but he refuses knowing it would not be the right thing to do. That decision leads to Monty seducing Violet, and the two of them continuing as a couple for the rest of the trip.
But ultimately, we know who Violet will wind up with, even if it does take years, celebrated with Flick in their duet "Promise Me" when the two find their way back to each other. And in the end, when Violet learns Flick is so much more than "a man like anyone else," you can't help but celebrate that, even amid warnings from both sides of the fence, these two have managed to find their way to each other and into our hearts.
Many of the talented actors in the cast play dual roles, notably Kevin Shewey who steps off the bus as its gruff driver and into the role of the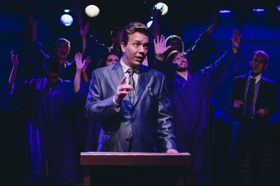 Evangelical Preacher and makes it his own, creating the type of performance that would no doubt draw believers to his sermons. In the most sensational scene of the production, the riotous evangelist's TV sermon, he and Adams are backed by the entire ensemble as the church meeting choir, led by righteous gospel singer Benai Boyd who steals the show with her booming, soulful voice during "Raise Me Up." You truly want his sermon to work wonders for Violet, but she soon discovers he is just man playing to his audience, and it is only her own faith that can truly transform her life.
John Allsopp portrays Violet's father, forever suffering emotionally from the accidental injury he inflicted upon her. He is not a drunk, but a loving father who seems to hurt even more than Violet does, tormented when he realizes how he could have improved her appearance had he been able to afford the expensive surgeries required soon afterwards, but he did what he could to give her the best life possible, given their circumstances.
Another standout in the cast is Lori Berg who morphs from a conservative elderly bus rider to a drunken lounge singer in the blink of an eye, able to slide into her visually stunning short dress and strutting her stuff as she moans that "Anyone Would Do" for the night, generating some of the biggest laughs in the show.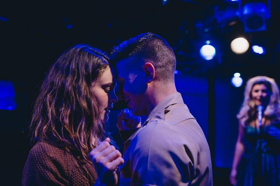 We first meet blonde Lauren Thompson as a bus passenger and later as one of the gospel choir, but it is her bluesy Music Hall Singer rendition of "Lonely Stranger" which inspires Monty into Violet's bed. Other bus passengers and gospel choice singers are portrayed by Patrick Cheek, Matthew Podeyn, and Emuna Rajkumar. Along with Adams and Zager, all these actors allow us to see into Violet's troubled mind, sharing her torment as well as her joys as she travels from her Old Life to her New Life.
A spirited six-piece orchestra, led by Musical Director/Conductor Taylor Stephenson, rock the house with VIOLET's lively bluegrass feeling score,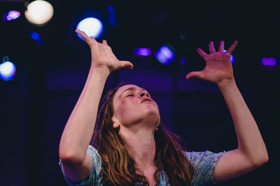 with occasional dashes of gospel, rock, country and R&B, reflecting the journey Violet and her travel companions make from North Carolina across the South, enhanced by Martha Carter's mood-reflecting lighting design. Nicholas Acciani's scenic design works wonders in the small space, especially the movable bus seat benches placed within the first row in the audience on three sides of the stage, all of which roll into place onstage to create not only the bus seats but also are brilliantly added into many songs' choreography.
VIOLET runs through June 17. Fridays and Saturdays at 8:00 pm; Sundays at 2:30 pm. Special added matinee Saturday - June 16 at 2:30 pm. There are no performances June 22, 23 and 24. Two additional shows have been added, Friday - June 29 at 8:00 pm and Saturday - June 30 at 8:00 pm, extending the run through June 30, at Actors Co-op Crossley Theatre, 1760 N. Gower Street, 90028 (on the campus of the First Presbyterian Church of Hollywood) in Hollywood. Adults $34.00. Seniors (60+): $30.00. Students with ID: $25.00. Student Rush Tickets with ID one ticket per customer: $17 Cash Only, available at the Box Office window for select Friday performances 45 minutes prior to curtain. To buy tickets or make reservations please visit www.ActorsCo-op.org or call (323) 462-8460. For more about Student Rush Tickets or Group Rates call (323) 462-8460.
Actors Co-op Crossley Theater, 1760 N. Gower St. 90028 (on the campus of the First Presbyterian Church of Hollywood) in Hollywood 90028. Free parking in the lot across from the theater entrance on Carlos Street east of Gower.
Photo credit: Matthew Gilmore
Related Articles View More Los Angeles

Stories

Shows