Review: THE MOTHERF**KER WITH THE HAT Inaugurates the Gloria Gifford Conservatory in Hollywood
Gloria Gifford is a stage-trained actress from New York City, giving her the necessary background to understand the intricacies of people caught up in a place where the traffic is loud and people live in close proximity to each other, yet still think it's necessary to always be screaming at one another to get the upper hand. Such is the case with the five characters in Stephen Adly Guirgis' 2011 Pulitzer Prize-winning THE MOTHF**CKER WITH THE HAT, an urban comedy now being presented as the inaugural production at the Gloria Gifford Conservatory for the Performing Arts new location on Theater Row in Hollywood.
Taking the author's request to heart, Gifford multi-cast the play to reflect the "beautiful melting pot that is New York City." With a revolving cast, you may never see the same five actors as I am reviewing here, but I can guarantee the multi-ethnic members of her Conservatory will bring their own uniqueness and style to each character during every performance.
THE MOTHF**CKER WITH THE HAT centers on Jackie (Chad Doreck), a former drug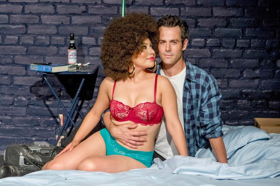 dealer out on parole who is trying to stay clean despite the odds. In the opening scene, we meet his coke-addicted girlfriend Veronica (Nancy Vivar) whom Jackie has loved since 8th grade. He arrives home to give her the good news that he has finally found a job, which begins their celebration leading to the bed where their hot relationship soon explodes into a screaming match with accusations being thrown at her after Jackie sees a man's hat in her apartment that does not belong to him. Realizing her bed smells of Aqua Velva, Jackie wrongly believes he knows who the man might be, causing him to violate his parole by grabbing a gun and running out to find him.
Next we meet Jackie's 12-step sponsor Ralph (Haile D'Alan), a recovered addict who has been sober for 15 years and now ingests healthy food and protein drinks in the same way he used to obsessively drink and do drugs. But we soon learn his dedication to a clean body belies the fact that, underneath, he is entirely willing to backstab anyone for his personal gain. And he will always be addicted to women, any type, any time the opportunity presents itself.
Certainly his put-upon wife Victoria (Lauren Plaxco)
knows how two-faced her husband is after listening him spew life lessons to those he sponsors while knowing full well he puts on a good show for others while cheating on her. One has to wonder why she stay with him, really, but not why she decides to try to seduce Jackie the next time he visits.
Knowing the gun has to be hidden, the two men visit Jackie's supportive cousin Julio (Christian Maltez who shines in the role), who really represents the "heart" in the show,
even when mimicking Jean Claude Van Damme's defense moves. Julio is the reasonable one, the one who can be counted on for whatever is needed. Even when the men are talking about the problems in their lives, Julio's main desire is to be sure his visitors have enough of his wife's empanadas to eat. His presence keeps Jackie's feet firmly planted on the ground when all others seem to be pulling him down to the depths of hell.
Eventually things between Jackie and Ralph come to physical blows when Jackie discovers Ralph has been screwing around with Veronica for quite some time.
Actually, as played by Vivar, it's easy to believe she has lovers all over town who keep her busy all the time! Her phone conversations alone are enough to burn the wires all over town!
And I must warn you, there are many very strong and nasty comments exchanged between all the characters in the play, so be prepared to hear some of the most graphic language ever written. But trust me, you will be laughing all along the way as the flaws in all of us are exposed at the intersection of love and hate.
THE MOTHF**CKER WITH THE HAT. written by Stephen Adly Guirgis, directed by Gloria Gifford,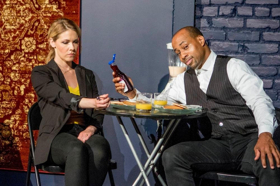 produced by Chad Doreck, Lauren Plaxco and Jade Ramirez Warner for Jamaica Moon Productions, continues at the Gloria Gifford Conservatory, 6502 Santa Monica Blvd. (at Wilcox), Hollywood, CA 90038 through Saturday, August 25. Performances are Saturdays at 8:00pm and Sundays at 7:30pm with a running time of 100 minutes with no intermission. Tickets are $20 and may be reserved by calling (310) 366-5505 or online at www.tix.com
Photo credit: Mathew Caine