Review: THE ELEPHANT MAN Recalls Victorian Era Exploitation of and Fascination with Physically Deformed John Merrick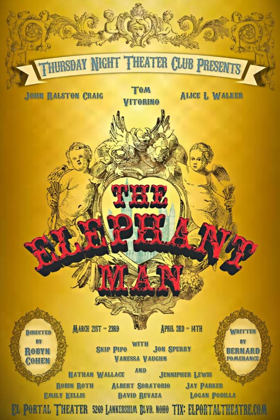 I have always regretted not seeing David Bowie in the title role of THE ELEPHANT MAN on Broadway from 1980-81, when he portrayed John Merrick, a 19th century Englishman who had an unprecedented physical deformation. It was certainly a stroke of genius to cast Bowie as Merrick as reviewers acknowledged he brought an other-worldliness to the role and revealed a sensitivity rarely seen in his music or avant-garde stage personas at that time. And while all the accolades must have warmed his heart, no doubt the end of the run must have been an extraordinarily difficult time for him with the murder of his friend John Lennon close by.
Similar to David Bowie's awe-inspiring physical transformation in the title role on Broadway, the current production of Bernard Pomerance's THE ELEPHANT MAN, a classic true-life tale and heart-wrenching story that depicts the best and the worst of humanity,
presented by Thursday Night Theatre Club at the El Portal in NoHo, features an amazing performance by Tom Vitorino in the title role. His first appearance occurs with Merrick completely covered by filthy rags and laying in the dirt at a travelling Freak Show. But it is Vitorino's physical transformation, dressed only in Victorian-era underwear, as his deformities are described by his friend and savoir, Dr. Frederick Treves (John Ralston Craig), that sets the stage for the incredible production which follows that scene.
For those not familiar with this Tony Award-winning drama, THE ELEPHANT MAN
takes place in Victorian England 1884, based on the real-life events of John Merrick, a 19th century Englishman who was a victim of a rare skin and bone disease called Proteus Syndrome. Abandoned by his parents due to his deformities, Merrick eventually becomes the star of a traveling freak show circuit, managed by a heartless tormentor (Jay Parker) who constantly beats him for disobeying orders.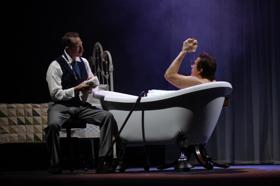 Then, after being discovered by the renowned Dr. Frederick Treves who takes Merrick under his care at a London hospital, Treves is soon astonished by the young man's brilliant mind, unshakable faith, and passionate desire for love, acceptance and romance.

As Merrick learns to trust and communicate with others willing to accept him just as he is, his acquaintance with a beautiful actress, Mrs. Kendal (Alice L. Walker, exquisitely dressed in period-perfect, high class grace by Melissa "Moe" Marks), opens his heart to
experiencing feminine love for the first time. In fact, when she reaches out and removes her glove to shake his hand, Merrick hesitates as no woman has ever touched him before. Merrick's disbelief after that handshake is brilliantly displayed by Vitorino's wide-mouth stare at his just-touched left hand, almost as if I could feel the warmth emanating from it to his just-opened heart. No doubt director Robyn Cohen allowed her own feminine vision of the characters' emotions to shine through during this as well as every heart wrenching scene, including the reason for Merrick's untimely passing in 1890 at the age of 27.
As Mrs. Kendal becomes entranced by Merrick's pure and genuine soul,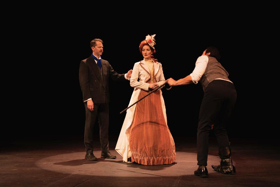 returning weekly to read to and encourage his ever-expanding knowledge, a complex friendship between the three main characters blossoms. Dr. Treves and Mrs. Kendal struggle to protect Merrick from the severity of his worsening condition, as well as from a world of opportunism and exploitation that make achieving a normal life seem all but impossible. Perhaps Treves' biggest opponent is the hospital's administrator (Skip Pipo) whose demands are almost as brutal as the beatings Merrick received during his early life.
Other actors of note include Jon Sperry as Bishop Howe whose counsel is frequently sought out,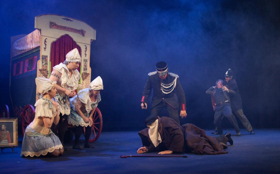 and the three lovely ladies who portray multiple characters from the Pinheads who also travel with the freak show to high class society ladies who follow Mrs. Kendal's lead and befriend the hospitalized Merrick (Jennipher Lewis, Robin Roth, and Vanessa Vaughn). Nathan Wallace charmed the audience during his opening speech as Snork, a hospital orderly (and policeman) who returns quite often to assist other orderlies/policemen (Albert Soratorio, Logan Padilla, David Revana) with the many Lillian George set design changes necessary during the performance. No doubt lighting designer Bo Tindall's blue-lit lengthy scene transitions were necessary to allow the cast to change costumes.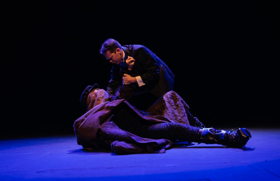 Thursday Night Theatre Club's production of THE ELEPHANT MAN by Bernard Pomerance runs March 21 - 23 and April 3 - 14, 2019, directed by Robyn Cohen and co-produced by Tom Vitorino and Alice L. Walker, at The Historic El Portal Theatre at 5269 Lankershim Blvd. in No. Hollywood, CA. 91601. Running time: 135 minutes (including one intermission). Tickets range from $25-$55, available by phone at (818) 508-4200 or at www.ElPortalTheatre.com Additional information about Thursday Night Theater Club at www.ThursdayNightTheaterClub.com
Photography by David Ruano and Jason Ross Levy
| | |
| --- | --- |
| Vote Now for the 2022 BroadwayWorld Los Angeles Awards | |
| voting ends in | |