Review: SHE LOVES ME Musically Shares a Timeless Tale of Mistaken Identity and Romantic Love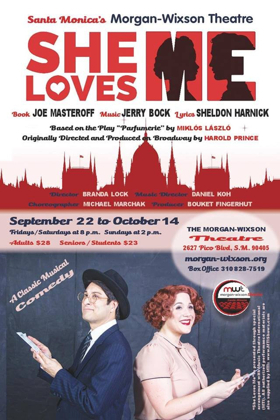 The world of dating has certainly changed in today's online dating world where selfies are shared to identify the chatters before ever meeting. But those of us who remember being set up on a blind date by family or friends who describe the upcoming potential match as the "be all to end all," certainly understand how disappointing the first meeting can be when the sight-unseen person shows up and in no way matches the description or personality expected.
So let's go even farther back to the days before photo sharing, computers, social media, and even television to when sets of "lonely hearts" looking for love communicated with each other via written letters in which their persona being presented in no way could ever match the real person behind the words. After all, if you could write about yourself as the fantasy lover you wished you were, as opposed to a real person filled with quirks, anxieties, tempers, neuroses, fears, and insecurities that you are, wouldn't you rather present the best possible and most romantic partner to attract a potential life partner? Of course you would.
SHE LOVES ME, the 1963 Broadway musical with book by Joe Masteroff, music by Jerry Bock, and lyrics by Sheldon Harnick, was based on Miklos Laszlo's 1937 play, Parfumerie,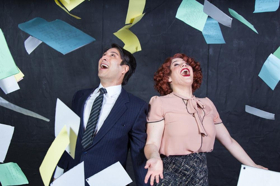 a warm, gentle comedy that follows the tangled dating life of perfume shop employee Georg Horvath whose dating life goes awry when he discovers that the stranger he has fallen in love with through a secret correspondence is none other than Amalia Balash, a co-worker with whom he constantly bickers. This universal tale about mistaken identity and romantic love went on to become the inspiration for the classic films The Shop Around the Corner, In the Good Ole Summertime, and Nora Ephron's 1998 box office hit You've Got Mail in which Tom Hanks and Meg Ryan took their secret romance online through emails.
Set in a 1930s European perfumery, the family-friendly musical SHE LOVES ME is being presented at the Morgan-Wixson Theatre as the opening production of their 2018-19 Mainstage season,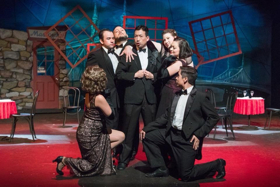 directed by Branda Lock with a loving devotion to romance and picture-perfect staging to highlight the everyday nature of the secret admirers' lives between scenes as the multi-talented ensemble members come and go about their own daily errands, with vividly harmonic music direction by Daniel Koh (who shines as the Café Imperiale head waiter who goes all out to create "A Romantic Atmosphere" for lovers), cute and clever choreography by Michael Marchak on an abstract movable set designed by Tristan Griffin lit colorfully by Bruce Starrett, with all characters costumed to historical perfection by MarLee Candell.

The captivating jewel-box of a musical follows Georg (Aric Martin, whose rubbery-faced athleticism is on full display throughout) and Amalia (Emily Rose Lezin, whose operatically trained soprano raises the entire cast to greater heights),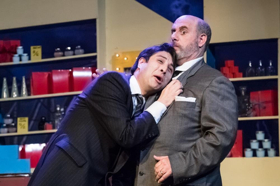 two feuding perfume shop clerks who don't see eye to eye, while both find comfort in their anonymous romantic pen pals, not knowing their respective correspondents are actually each other. Chaos ensues as a web of mistaken identity and hilarious encounters finally bring the soulmates together, leading Georg to realize the animosity between the two may have been nothing less than love in disguise, thanks to the insights from his friend (and co-worker) Ladislov Sipos (Terry Delegeane).
And what an endearing assortment of other perfume shop co-workers these two have, including the boss Mr. Maraczek (Michael Heimos) who mistakenly fires Georg believing his secret affair is with his wife,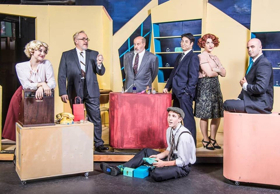 spunky and way-too-easy cashier Ilona Ritter (Kristen Daniels who sparkles every moment onstage, especially during her ode to finding romance via "A Trip to the Library"), romantic lothario Steven Kodaly (Jordan Segal) who turns out to be a Nazi informant, and the young bicycle messenger Arpad Laszlo (perhaps self-named by the original writer), played to comedic enchantment by Mira Costa High School ninth-grader Logan Rice who manifests youthful determination to get a job while singing "Try Me." And be sure to notice each time any customer leaves the shop as all the clerks line up and musically thank the patrons out the door! If only our current shopping experience could still be so pleasant and customer-friendly, perhaps Mom and Pop businesses as well as large department stores would still be thriving.
With a melodic and witty score by Jerry Bock and Sheldon Harnick, SHE LOVES ME radiates pure romance through some of the most iconic numbers in musical theatre, including "Vanilla Ice Cream," "Tonight at Eight" and the title song "She Loves Me" during which Aric Martin literally jumps for joy as Georg in the throes of new love during Act 2.
In fact, what excites director Branda Lock about this musical is how deeply dimensional and heartwarmingly relatable the couple's story is, especially set in a time, 1938 Budapest, Hungary, when the world seemed like a very dark place. "Discovering the obstacles people create for themselves, overcoming them, and in turn discovering true love is a beautiful story in and of itself-but doing all that in a world of war, racism, hatred, and danger is a precious one."
I encourage everyone to please speak to that positive outlook as you write your next email, Facebook post, or Tweet, and perhaps our own world will head in a much better direction.

SHE LOVES ME continues through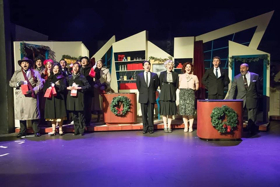 October 14, 2018 on Fridays and Saturdays at 8 p.m., Sundays at 2 p.m. at The Morgan-Wixson Theatre, 2627 Pico Blvd. in Santa Monica 90405. Free parking available at the Venice Family Clinic, 2509 Pico Blvd. just west of the theatre. Reserved seats available at www.morgan-wixson.org or by phone at 310-828-7519 or by email at mwtboxoffice@gmail.com. Adults $28, Students and Seniors $23. Recommended for ages 8 and up.
All Photos Courtesy of JDCPhotography and Brian Norris