Review: MUTT HOUSE: THE MUSICAL Celebrates Acceptance and Unconditional Love
Featuring 18 original songs and a cast of ten (6 dogs and 4 humans), the world premiere of MUTT HOUSE: THE MUSICAL at the Kirk Douglas Theatre in Culver City recounts the story of quirky outsider Eddie Corbin (Ryan McCartan) who has managed to find a place to call home in a neglected downtown animal shelter. But when the city threatens to close the shelter, Eddie must do something he's never done before - stand up for himself and fight for what's right. With the help of six zany mutts, he faces his fears and makes an unexpected human connection in the process with Hannah Matthews (Claire Adams), a senator's daughter just beginning her political career as the new assistant to Mayor Jenkins (Heather Olt, who also portrays the town's dog catcher Officer Jackie). It's a fun and furry musical tale for animal lovers of all ages, created and written by Tony Cookson, with music and lyrics by John Daniel, Tony Cookson, Robb Curtis Brown and David O.
Directed by Ryan Bergmann with a real flair for the heartfelt comedy and true love which exists between dogs and humans, the shelter's resident pooches include a cool, salsa-dancing Chihuahua named Pepe (Gabriel González); a loyal-to-the-bone, shaggy mutt who goes by the name of Donna (Amanda Leigh Jerry), who shines while singing "When He Sniffs Me," an ode to the pull between lovers everywhere; a haughty, pedigreed and super sexy French Poodle called Sophie (Valerie Larsen who also portrays the elderly bloodhound Joanie in the opening scene);
a rambunctious pit bull who answers to Bradley (Garrett Marshall); a handsome, man-about-town Labrador named Digger (Ben Palacios); and a pudgy Corgi called Max (Max Wilcox) who sings the show-stopping number "I'm Lying Here (Scratch Me)" that will make you want to run home and do just that to your favorite four-legged family member waiting for you there!
Music director Anthony Lucca (with a rocking 5-piece band) and choreographer Janet Roston infuse each of the mutt's numbers with just enough canine characteristics to keep paw-loving audience members thoroughly entertained and laughing with delight.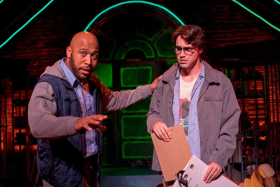 Beginning with Eddie and the dogs opening numbers "Get Me Out of Here" and "All You Need," I guarantee you will fall in love with each of these rogue characters longing to be free. Songs celebrate the unbreakable bond between man and his best friend from the dogs proclaiming "Eddie's Got Your Back" when the going gets tough, to Eddie's confession that "When You Hear Barking, I Hear Words Instead," proving to even the embattled shelter's manager Gerry (Boise Holmes) that the universal need for unconditional love is why the facility must survive.
Costume designer Allison Dillard is to be commended for her canine-appropriate apparel
which definitely suggests the breeds (especially the curly poof-wigged poodle) while allowing for the athletic movements necessary for the pooches. Scenic designer Stephen Gifford, lighting designer Matthew Brian Denman, and sound designer Cricket S. Myers have created a world in which the caged mutts can move freely, dancing about in their movable cages frequently, all the while knowing the door to the rainbow bridge looms large behind them.
The show's creator, Tony Cookson, a dog lover who has welcomed many rescues into his heart and home,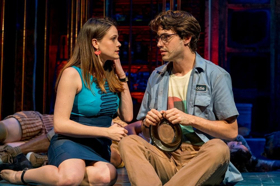 admits the idea for MUTT HOUSE: THE MUSICAL came to him in a dream over seven years ago. And now he hopes the themes of acceptance, tolerance, and love in it will shine a little light into your day during these unsettling times. Perhaps "we can learn a lesson from our four-legged friends who show up for each other and embrace their differences."
MUTT HOUSE: THE MUSICAL continues through August 5, 2018 with performances Wednesdays - Sundays at The Kirk Douglas Theatre,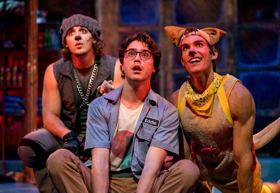 located at 9820 Washington Blvd., Culver City, CA 90232. Free parking underneath Culver City City Hall with validation in theatre lobby. Tickets range from $39 - $59, available by calling 213-628-2772 or centertheatregroup.org/tickets/kirk-douglas-theatre/guest-productions/mutt-house-the-musical/
Photo credit: Daren Scott