Review: MAMMA MIA! Celebrates the Power of Family, Friendship and the Universal Need for Love and Acceptance
Somewhere
in the world tonight there are 7 performances of the hit musical MAMMA MIA! onstage entertaining audiences. In fact, the show based on the music by Swedish pop group ABBA, has become so popular that the only continent where a regional or touring production has not occurred is Antarctica, and the show has set the record for premiering in more cities faster than any other musical in history. And after seeing the current 3-D Theatricals production, it's easy to see why audiences continue to fill theaters to experience the fun, spectacle, great music, and overall happy atmosphere generated by this feel-good musical.
This sunny, funny, international sensation unfolds on a Greek island paradise when on the eve of her wedding, a young woman's quest to discover the identity of her father brings three men from her mother's past back to the island they last visited twenty-one years ago. Non-stop laughs and explosive dance numbers, along with the magic of ABBA's hit songs that include "Super Trouper," "Dancing Queen," "Knowing Me, Knowing You," "Take a Chance on Me," "Thank You for the Music," "Money, Money, Money," "The Winner Takes It All," and "SOS," combine to make this enchanting show a trip down the aisle filled with theatrical magic.
Now being presented by 3-D Theatricals as the last show in its 2017-2018 season, as well as the last musical the group will stage at the Redondo Beach Performing Arts Center, MAMMA MIA! features an astoundingly talented cast led by Sophina Brown as Donna Sheridan and Flynn Hayward as her daughter Sophie. Their amazing voices as well as their polished stage presence ignite this musical's ability to promote a message of female positivity, the healthy family dynamic of single parenthood, and universal need for love and acceptance.
Both Donna and Sophie have two female BFFs who support them,
playing up the power and importance of close-knit female friendships supporting each other's life choices. The day before Sophie's wedding to her handsome fiancé Sky (Clayton Jones), she shares intimate details from her mother's diary with her closest friends Ali (Tatiana Monique Alvarez) and Lisa (Renna Nightingale) during the sexually charged "Honey, Honey," after which she confesses to inviting her mother's three lovers to her wedding, explaining no doubt one of them is her father. But which one?
Donna begins receiving guests at her Greek taverna, assisted by her two, young staff members Pepper (Noah Rivera) and Eddie (Ernie Figueroa). The first to arrive are Donna's long-term best friends, Tanya (Janna Cardia), a Rich Woman who has been married and divorced three times, and Rosie (Candi Milo), an unmarried, carefree woman. The trio used to comprise a disco-era girl group called "Donna and the Dynamos" and catch up while singing about their lives during the rousing musical romp "Money, Money, Money."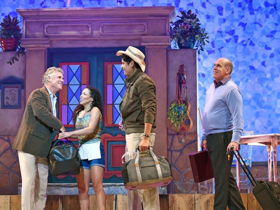 Later that day, Sophie's three possible fathers arrive: Sam (an American architect portrayed by gray fox Martin Kildare), Harry (a British banker and former headbanger portrayed by Corky Loupe), and Bill (an Australian writer and adventurer portrayed by tall, dark and handsome Michael Cavinder). Sophie convinces the men not to tell Donna that she invited them, causing Donna to be incredibly surprised to see her three ex-lovers there at the same time. Sharing her confusion by singing the show's title song to the men who stand frozen in place causes Donna to leave in tears.
Back in her room, she explains the situation to Tanya and Rosie who comfort and cheer her up by convincing Donna that she can still be the girl she once was with the energetic "Dancing Queen" which takes them (and, most likely, the entire audience) back to their carefree younger days when life was a lot less complicated.
As the wedding approaches, each of the three men realize why Sophie has brought them there, causing each to volunteer to walk her down the aisle. But wisely, it's her mother Donna who gets that honor while Tanya keeps her self occupied in the pews with her latest boy toy Eddie and Rosie almost derails the priest who walks in on her seducing Bill on the floor after their rousing duet "Take a Chance on Me."
And all the while, Sam is hatching a plan to win Donna back, a wish that becomes reality when Sophie makes a life-changing decision at the altar. It's a comic series of events, brilliantly staged by director David F.M. Vaughn, choreographed by Dana Solimando, with a rocking band led by musical director Allen Everman. While Stephen Gifford's set design seemed to be suffering a bit during scene changes, lighting designed by Jean-Yves Tessier, sound design by Julie Ferren, and colorful costumes designed by Alexandra Johnson added greatly to the overall professionalism of the entire production.
And of course, what would MAMMA MIA! be without the post-curtain call encores of the flashy ABBA disco selections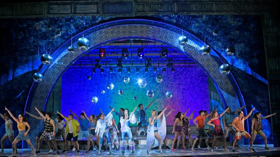 "Dancing Queen" and "Waterloo" which got the entire audience up on its feet dancing and singing along with Donna and the Dynamos and Sophie's trio of fathers, all six dressed to the nines in metallic spandex body suits, which at first generated huge laughs from the audience as well as other cast members as they performed the entertaining closing extravaganza under 21 overhead disco balls! No doubt you will walk out of the theater feeling rejuvenated and ready to sing a few ABBA songs on your way home.
3-D Theatricals presents the international smash hit musical MAMMA MIA! August 3-12, 2018 at the Redondo Beach Performing Arts Center at 1935 E. Manhattan Blvd. in Redondo Beach, CA 90278, with tickets from $25-$105 available online at www.3dtheatricals.org, and August 17 - 26 at the Cerritos Center for the Performing Arts at 12700 Center Court Drive, Cerritos, CA 90703., with tickets from $40-$85 available online at www.Cerritoscenter.com OR www.3dtshows.org.
Available tickets for sale at both on-site box office locations one hour prior to each performance on Fri/Sat at 8pm, Sat at 2pm and 8pm, Sun at 2pm, with a Thursday, August 23 performance at 7:30 pm in Cerritos. Free onsite parking at both locations.
Photo Credit: Caught in the Moment Photography