Review: JOCASTA: A MOTHERF**ING TRAGEDY Offers an Intriguing Modern Staging of the Classic Greek Tragedy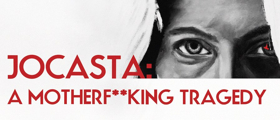 The Ghost Road Company is one of Los Angeles' premiere theatre ensembles dedicated to the creation of new work for the stage. The company is unique in its approach, having developed its own methods of collaborative development over many years. So when I heard they were re-imagining the story of Oedipus, calling it JOCASTA: A MOTHERF**ING TRAGEDY conceived and directed by Brian Weir, I was intrigued to say the least. But after seeing the show, I am not quite sure how to write about it other than to say it was visually stunning to watch but confusing to the point of distraction.
Developed in workshop by the company,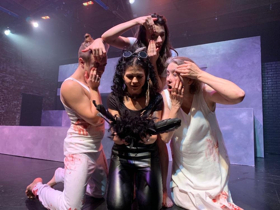 the show features an alcoholic tattoo artist, a kid who's been swimming laps for 25 years, an ex-con, and a woman who believes she can see the future and wants to help Jocasta when she is awakened from a dream into a literal nightmare, discovering her husband Oedipus is also her son. According to the company, this at once disturbing and darkly comic theatrical work explores modern feminism, the nature of fate, and what it takes to regain control of one's own destiny.
Said director Weir, "We started creating this play long before the #metoo movement. As each misdeed comes to light, as each woman steps forward, it highlights the insight of the Greeks who wrote so adeptly about human psychology.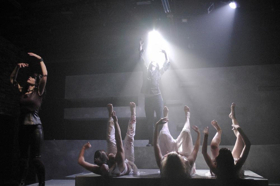 For this play, I wanted to focus on Oedipus' wife/mother, the one character who did no wrong but paid the price ten-fold. I also wanted to shine a light on some of the other much-maligned female characters, to show how women have paid for the actions of men for time immemorial."
His vision is staged on a magnificent, gray monotone set designed by Francois-Pierre Couture and brilliantly lit by Brandon Baruch, with costume design by Vicki Conrad, sound design by Cricket Myers, original music by Jakob Berger, and fight direction by Ronnie Clark. But as to really understanding his staged story, I must admit to being a bit confused.
All the actors were very accomplished in their portrayals in this very modern take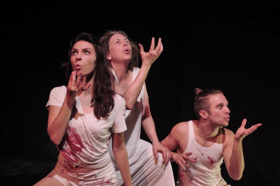 on the classic Greek tragedy. Opening with a clothed lovemaking scene between Jocasta (Jen Kays) and her husband and soon-to-be-discovered son Oedipus (Max Faugno), the three fates (Katharine Noon, Christine Breihan and Adam Dlugolecki emerge from under their bed via a hidden set compartment to warn us that danger is approaching. The same is true for the visionary seer Casandra (Kimberly Glann) who tells Jocasta her husband is really her son, thus setting Jocasta on a search for the truth.
Of course, those Jocasta consults confirm the tale,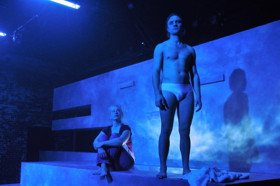 from Chrys (Adam Dlugolecki) the swimmer who confesses he was the man who took the baby Oedipus from the castle when he was born to prevent him from growing up and fulfilling the prophecy that he would grow up to kill his father and marry his mother. Realizing the need to consult the Sphinx (Katharine Noon who appears as a medical patient attached to an IV), Jocasta solves the famous riddle and is told to seek the truth from her current husband about an accident he caused on the near-by road years ago.
Jocasta is shocked and decides to confront Oedipus on whether or not he ever killed a man while travelling,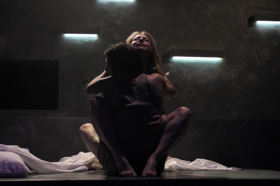 knowing she can prove who he is by asking for a DNA test. In this modern take, he confesses there was a car accident at a crossroads in which a man was killed but Oedipus had no idea who that man was. And as the dead man, Laius, was the leader and husband of Jocasta, Oedipus was given the right to marry her without knowing he had killed his father and would marry his own mother. And once they both know the truth, no one is safe in this tale of woe.
Adding into the mix is Medea (Christine Breihan who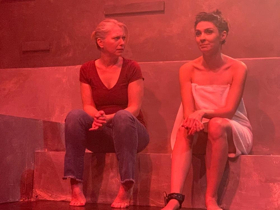 appears wearing an ankle-tracking device to let us know she is incarcerated for killing her own children), to whom Jocasta admits, "I am fu**ing my own son," to which Medea asks, "Is the sex good like it was with my husband, Jason?" Their conversation sums up the problem with "life is a series of shitty, fu**ing choices." Of course, she has no problem encouraging Jocasta that the only way out may be in killing her own child just as she did.
Other scenes in which the Fates intercede include teasing Oedipus with dolls and covering each other with blood to reflect the gruesome truth that your dreams are dangerous when you remember them,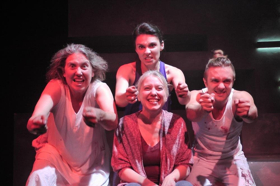 especially since we cannot tell the difference between what we want and what we need. Weir's intriguing staging is a true star of the show, but I am happy to say it was over in a short once-act just 70 minutes long.
JOCASTA: A MOTHERF**ING TRAGEDY runs on Friday, Saturday, and Sunday nights through February 10 at the Broadwater Main Stage in Hollywood. All seats are $25 and are available online at www.ghostroad.org or by calling (310) 281-8341. The Broadwater Main Stage is located at 6322 Santa Monica Boulevard in Hollywood, 90038. This production is definitely not for children.

Production photos courtesy of Ghost Road Company