Review: Hilarious Off-Broadway Hit DIXIE'S TUPPERWARE PARTY Arrives at the Kirk Douglas Theatre
For those of us around in the days before the internet took over the shopping world, we can certainly remember the glorious gatherings we attended which were hosted by family or friends in order to sell the newly-invented hard plastic and practically indestructible storage items forever known as Tupperware. Perhaps, like me, you remember how much fun it was to make popsicles out of whatever liquid you wanted by using the Tupperware Popsicle Maker. But even better, how much fun it was at the hosted parties where you could chat and gossip while learning how to use each item properly, decide on what you wanted and order it, then wait anxiously for the hostess to deliver the items to you when received.
For those of you who have no idea what I am talking about, or those who want to go back to those fun days when (mostly) women would gather in each other's homes,
chit chat over coffee (or something a bit stronger) while discussing the many uses of Tupperware rather than look for it alone while online in a dark room, rush over to the Kirk Douglas Theatre in Culver City to be a part of DIXIE'S TUPPERWARE PARTY, the hilarious off-Broadway one-woman comedy written by Kris Andersson starring Dixie Longate which took the theater world by storm and garnered a prestigious Drama Desk Award nomination. I guarantee you will be laughing from start to finish, and perhaps even more since Dixie greets her party guests in the lobby beforehand and sells Tupperware there following most performances.
Dixie Longate is the fast-talking, gum chewing, ginger-haired Alabama gal who is bringing your grandma's Tupperware party into the 21st century as she demonstrates the many alternative uses for the iconic plastic kitchen staple. Filled with outrageously funny and often bawdy tales, heartfelt accounts about her time in jail and how selling Tupperware saved her afterwards,
bringing her international fame and fortune, Dixie includes audience participation and a little bit of empowerment and homespun wisdom, resulting in DIXIE'S TUPPERWARE PARTY leaving your heart a little bigger and your food a little fresher. In fact, did you know the average family throws out $400 worth of vegetables each year by not storing them properly?
Grab one of Dixie's special elixirs in a Tupperware sippy cup from the lobby bar and don a name tag provided at a table close by before the show as many audience members, especially four very lucky ones selected to sit on the stage and participate during the party, are often called upon to answer questions and share their thoughts about life and, of course, personal stories about Tupperware memories from your own childhood. I shared how I remember helping set up parties my Mom and Aunt often held since the hostess(es) always received a gift of free Tupperware based on the number of items sold at their party. And you might even win one of the Tupperware raffle prizes if Dixie pulls your name tag number out of a Tupperware container during the show, giving you a chance to go up onstage and be an even bigger contributor to the fun!
Be ready to sing-along to Dixie's theme song, "I've Got That Tupper Feeling All Over Me" when the words are flashing on the giant screen above the set. With Dixie reacting her way through each show with her seemingly effortless sass and style,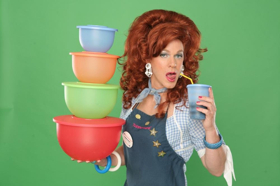 no two performances will ever be the same - other than her speech getting more slurred as time passes thanks to her 16 oz Tupperware tumbler, item #469, getting emptied and re-filled with her own brand of "happy" juice. "And look how safe the cup is," she quips. "It won't leak since the little hole on top seals up when you take the straw out, just like..." a certain part of a woman's most private anatomy. So please remember this show contains adult content and language and is more appropriate for children ages 16 and up.
And remember, Tupperware products are guaranteed for life, so Dixie promises to replace any items bought from her for as long as you own them! "And these bowls," she shares, "helped put my three kids through school so keep buying them!"
Produced by Down South LLC, Louise Hall Beard, and Joe Everett Michaels and directed by Patrick Richwood, DIXIE'S TUPPERWARE PARTY features costumes designed by Miss Longate
and lighting designed by Richard Winkler, offering you approximately two hours of unprecedented, uninterrupted laughter and fun through December 30 at the Kirk Douglas Theatre, 9820 Washington Blvd., Culver City, CA 90232 as part of the 11th season of the national tour. Nightly performances except dark Monday and Tuesday, with weekend matinees. Tickets start at $35, available by calling (213) 628-2772 or online at www.dixiestupperwareparty.com. There is three-hour FREE covered parking at Culver City City Hall (enter on Duquesne) with validation in the Douglas lobby, so bring your parking ticket with you.
Photo Credit: Bradford Rogne
About Tupperware and Tupperware Parties
Tupperware pioneered the direct marketing strategy made famous by the Tupperware party.
Brownie Wise (1913-1992), a former sales representative of Stanley Home Products, developed the strategy. Tupperware was known-at a time when women came back from working during World War 2 only to be told to "go back to the kitchen" -as a method of empowering women, and giving them a toehold in the post-war business world. During the early 1950s, Tupperware's sales and popularity exploded, thanks in large part to Wise's influence among women who sold Tupperware in their homes. Tupperware is now sold in over 100 countries. More info at www.tupperware.com