Review: ALEICHEM SHOLOM! Shares the Wit and Wisdom of his Yiddish Stories with Music and Laughter
Perhaps you were first made aware of Sholom Aleichem's characters when you saw FIDDLER ON THE ROOF for the first time. Its main character, Tevye the Milkman, is one of Aleichem's most beloved characters, with many short stories written about the character's trials and tribulations first published as stories in Yiddish papers in Europe. In fact, by the year of the storyteller's death in 1916, more than 600,000 of his Tevye stories has been sold in China alone. And even though his stories seem so simple and endearing on the surface, the bittersweet wisdom and suffering endured by an age-old culture being displaced from its homeland overflows with a universality that, even to this day, enlightens and entertains people from many backgrounds and countries all over the world.
ALEICHEM SHOLOM! The Wit and Wisdom of Sholom Aleichem, a new musical written by the internationally acclaimed team of Chris DeCarlo and Evelyn Rudie with lilting songs by Ben Weisman, is now playing at the Santa Monica Playhouse. It follows the life of the beloved Yiddish story-teller and everyone is his entourage, especially his wife, spinning tales of his loves and losses, his fame and his failures, his travels, his travails and the tremendous joy and optimism that kept him going against all odds.
DeCarlo and Rudie play many characters, donning incredibly detailed costumes, to take an in-depth look at the joyous and poignant events that inspired the foolish philosophers, philosophical fools, comical shtetl folk, and not-so-comical scoundrels that populated Sholom Aleichem's world. In it we learn that Sholom Aleichem wrote from dawn till dusk, his pen never still, the characters swirling and whirling about in his mind, dancing from his thoughts to the page to the hearts of readers all over the globe. In addition to being the "father of modern Yiddish literature" and one of the most widely read authors of all time,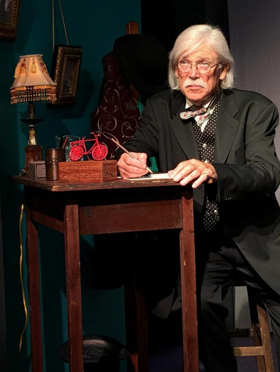 he was also a great lover of music, a lyricist, a poet, a speaker, a mischief-maker, the class clown, a romantic in spite of himself, and a consummate mimic.
The new musical stars veteran performer Chris DeCarlo, who once again assays the role of the beloved author, a characterization which has been enjoyed by more than a quarter of a million audience members, and Evelyn Rudie, who has created and portrayed more than three dozen Sholom Aleichem characters in over 2,000 performances to date. DeCarlo's amazing portrayal of Aleichem is the heart of the show, for it is his sharing of all the people he has encountered in his life (or imagination) that populate the many humorous or heartbreaking tales shared in this musical. As he literally switches hats, vests, ties and jackets, new characters emerge to share their lives with us. Costumer Ashley Hayes is to be commended for her many dazzling, historically correct and beautiful ensembles worn so stunningly during the show.
Rudie most often portrays his wife (or kvetchy mother-in-law) to a tee, trying to balance her husband's great writings and touring schedule with the need for their financial survival. An educated feminist before the term was even created, she lets us see the rock keeping the dreamer's life on the ground as his fame carried them via train to points unknown during their lifetime of spreading joy to those unaccustomed to freeing their hearts and souls to journey through the world of Yiddish story-telling.
This bold and bittersweet, raucous and romantic musical comedy celebrates the great man's 102nd yahrzeit, journeying through his loves and losses, the controversy surrounding his stories and plays, his fame and his failures, his passionate involvement in the creation of a new homeland, his travels, his travails and the tremendous joy and optimism that kept him going against all odds and touched the hearts of millions of audiences and readers across the globe.
No doubt you will be just as captivated as I was during this 90-minute journey through the life, loves and laughter of the world's most beloved Yiddish humorist, as you are treated to an in-depth look at the family, fools, comical shtetl folk, and conniving scoundrels that populated Sholom Aleichem's real and fantasy worlds, thanks to director Arthur R. Tompkins and the brilliant portrayals by Chris DeCarlo and Evelyn Rudie.
Performances sell out quickly so order your tickets well in advance of the shows on Saturdays at 7:30pm, Sundays at 3:30pm, when ALEICHEM SHOLOM! The Wit and Wisdom of Sholom Aleichem returns for yet another extension July 14 through September 23, 2018, in the Other Space Theater at Santa Monica Playhouse, 1211 4th Street in Santa Monica, CA 90401. General admission: $35. Available by calling the box office at (310) 394-9779 ext 1 or online at https://www.showclix.com/event/aleichem-sholom
Photo credit: Cydne Moore