Review: A NIGHT WITH JANIS JOPLIN Celebrates the Queen of Rock and Roll's Glory Days and Early Blues Influences
In 2015, I first experienced the wonder and authenticity with which Mary Bridget Davies brings the soul and spirit of Janis Joplin to the stage in A NIGHT WITH JANIS JOPLIN, conceived, written and directed by Randy Johnson with choreography by Patricia Wilcox. I am happy to report that show is still going strong with new Music Director Brent Crayon on keyboards at the helm of a rocking band, including Michael Abraham and Alex Prezzano, two incredible guitarists featured in several of the evening's numbers, as well as a horn section (Sean Fran, Aaron Smith, and Chase Fleming), who made sure to keep the blasting us into the past honoring the life of an ordinary girl from Port Arthur, Texas, who rose to fame doing what was born inside her from the depths of her soul.
A NIGHT WITH JANIS JOPLIN stars the incredible Mary Bridget Davies who in 2005, auditioned and landed the lead role for a touring production of LOVE, JANIS and then went on to tour Europe with Joplin's original band, Big Brother and the Holding Company before forming her own self-named band that tours in festivals and clubs worldwide. After releasing her band's first album in 2012, Davies took over the lead role in A NIGHT WITH JANIS JOPLIN on tour and stayed with the show when it moved to Off-Broadway before its Broadway run in 2013-2014,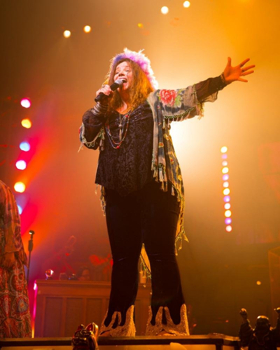 for which she was nominated for a Tony Award for Best Lead Actress in a Musical.
Like a comet that burns far too brightly to last, Janis Joplin exploded onto the music scene in 1967 and, almost overnight, became the Queen of Rock 'n' Roll. Davies carries on and mimics the unmistakable raspy voice filled with raw emotion and tinged with Southern Comfort to a tee, her stage presence making it easy to see what made Joplin a must-see headliner from Monterey to Woodstock and beyond even to this day, so many years after her too-soon passing at the age of 27. After listening to Davies' sharing of Janis' life, it is easy to think the rock legend died from not only from drugs and alcohol but from her lonely co-dependent longing for a man to share her life, equaling her love of the spotlight and adoration received from a live audience, which she could never find. Davies' renditions of Joplin favorites, including "Summertime," "Piece of My Heart," "Cry Baby," and "Me and Bobby McGee" among others, ignite the stage and audiences alike with a passion no man in her life could ever match.
And now this incredibly talented Janis Joplin doubleganger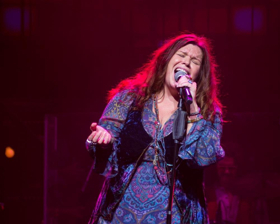 has returned to the stage after giving birth to her first child in late 2017, still with her uncanny resemblance to Joplin and ability to sing and mimic her physicality so thoroughly, you will walk out of the La Mirada Theatre for the Performing Arts feeling as if you have just witnessed Joplin's long-awaited return to the stage in all its glory.
The show also celebrates Joplin's early life in Port Arthur listening to recordings of Broadway show tunes and blues greats Nina Simone, Odetta, Etta James, Bessie Smith and Aretha Franklin, women who spoke to her soul in a way no other music could. Each of these blues greats is brought to life thanks to Davies' 4-woman Joplinaire back-up singers, each of whom could star in their own tribute show,
Aurianna Angelique (Odetta, Bessie Smith), Ashley Támar Davis (Aretha Franklin, Nina Simone), Tawny Dolley (Etta James and the show's Dance Captain), and Jennifer Leigh Warren as a featured Blues Singer who, along with the other three Joplinaires, portrays the early girl group The Chantels. The women as well as and with Davies, accompanied by an outrageously hot band that rocks the house, will get you up on your feet dancing and leaving you begging for more when the show ends!
Kudos must be given to the entire creative team, each adding to the overall 60s rock show magnificence of the production,
especially lighting designer Ryan O'Gara whose colorful combinations and attention-grabbing spotlight enhancements of each singer during solos highlighted the artistic brilliance of each one, Darrel Maloney's projections designs mimicking the psychedelic light shows so popular at concerts at the time, costume designer Amy Clark for her historical accurate hippie and early female entertainers semi-formal performance apparel, Leah Loukas for assisting in authenticity with her hair/wig/and makeup design, Brian Prather's multi-level scenic design on which Davie's roared up or down the curved staircase to reach the spotlight center stage on both levels, Josh Bessom for his sound design which filled every inch of the theater with the type of music we will never forget.
As an additional way of honoring the memory of Janis Joplin's early mentor and friend, playwright and director Randy Johnson dedicates the current production of A NIGHT WITH JANIS JOPLIN
to "The Spirit, Life and Legacy of Aretha Franklin" who during her lifetime called Janis Joplin, the Queen the Rock and Roll, the best singer other than herself, the Queen of Soul. And with Ashley Támar Davis, Mary Bridget Davies perform a duet by the two Queens in "Spirit in the Dark" as the Act 1 finale that honors both these legends who I wish I had seen together when they were both among us on Earth. R.I.P. Queens - you will always be remembered by music lovers worldwide throughout history thanks to your media appearances and recordings which will live forever in your honor.
A NIGHT WITH JANIS JOPLIN, presented by La Mirada Theatre for the Performing Arts and McCoy Rigby Entertainment (celebrating its 25th Silver Anniversary at the theatre) in association with T&D Productions, LLC,
runs through Sunday, October 7, 2018 with performances on Wednesdays & Thursdays at 7:30pm; Fridays at 8:00pm; Saturdays at 2:00pm & 8:00pm & Sundays at 2:00pm, at La Mirada Theatre for the Performing Arts, 14900 La Mirada Blvd in La Mirada with on-site free parking. At certain performances, the role of Janis Joplin will be performed by Paige McNamara who has toured the country and world in the touring companies of several Broadway hit shows and regionally in the title role of A NIGHT WITH JANIS JOPLIN.
There will be an Open-Captioned performance on Saturday, September 29 at 2pm and an ASL-interpreted performance on Saturday, October 6 at 2pm. Talkbacks with the cast and creative team will be on Wednesday, September 19 and Wednesday, October 3.
Tickets range from $20 - $84 (subject to change) and can be purchased at La Mirada Theatre's website, www.lamiradatheatre.com or by calling the La Mirada Theatre Box Office at (562) 944-9801 or (714) 994-6310. Student, Senior and group discounts are available. $15 Student Tickets available for the first 15 performances of the production.
Photo credit: Jason Niedle