Photo Flash: Unbound Productions Announces Line-Up for 4th Annual WICKED LIT
Unbound Productions Executive Director Jonathan Josephson, Artistic Director Paul Millet, and Producing Artistic Director Jeff G. Rack have announced the plays that will be included in WICKED LIT 2016, the company's 8th annual immersive theatre event that will for the 7th year take place at Mountain View Mausoleum and Cemetery in Altadena, California. The production will run from October 1-November 12, 2016 and feature world premiere adaptations of HP Lovecraft's From Beyond adapted by Trey Nichols (The Car Plays), directed by Jeff G. Rack (The Fall of the House of Usher, WL15); Anansi and the Demons adapted by Jonathan Josephson (The Grove of Rashomon, WL15, 2016 Samuel French Off-Off Broadway Festival), directed by Jaime Robledo (The Ebony Frame, WL15; Astroboy and the God of Comics, SacRed Fools); and Ellen Glasgow's The Shadowy Third, adapted by Paul Millet (The Fall of the House of Usher, WL15), directed by Bruce Gray (Black Coffee, Theatre 40). The frame for the show will be Camp Mountain View, written by Josephson and directed by Millet. The frame includes pre-show performances as well entertainment during the evening's two intervals.
Time Out Los Angeles calls Wicked Lit "One of the best Los Angeles
Theater Productions
for fall 2016!" WL15 was recognized as "Ovation Recommended" by LA
Stage Alliance
, WL14 received the Ovation Award for "Best Sound Design - Large Venue," and both WL13 and WL14 were named the "Best Halloween Event of the Year" by Hollywood Gothique. "We're adding several new components to our production this year including puppetry... and some other surprises we're not quite ready to reveal," said Rack, who also oversees the production design and special effects for the event. "We are thrilled to bring back old friends and excited to add great theatre artists such as Trey and Bruce, who are new to WICKED LIT but well known to LA theatre audiences." Said Millet, "Last year was the first time that one of our shows was Ovation Recommended - that means a huge amount to us as a theatre company. For WICKED LIT to be recognized by the Los Angeles theatre community as one of the upper echelon theatre productions in the region - regardless of content, venue, or anything else - it's very special and very humbling. It's a testament to the great work that the 50+ actors, designers, crew and creatives bring to the cemetery." From Beyond, Anansi and the Demons and The Shadowy Third, are the 28th, 29th and 30th plays to receive their world premiere from Unbound Productions. Several of these plays have been produced by schools and theatre companies across the country and around the world including England, Scotland and Cameroon.

"We are also very proud of the fact that our shows continue to broaden in terms of theatrical diversity, both in terms of manner-of-storytelling, as well as the international impact of our source material," said Josephson. "Last year, one of our plays was inspired by a Japanese story that featured an all Asian and Asian-American cast. This year, we are featuring a play that is adapted from West African folk tales, and another that is drawn from the work of pioneering female author Ellen Glasgow, one of the most talented American short story-writers of the early 20th Century. It is, and always will be, important to us that we bring a wide range of unique, creative voices to our productions."

For the past three years, WICKED LIT has played to 100% capacity drawing over 8,000 patrons to Altadena during that time. The immersive event has been named one of the best Halloween events of the year by LA Magazine, NBC Locals (Los Angeles). Thrillist and Theme Park Adventure, and listed as the best in immersive/outdoor theatre in Southern California by Time Out Los Angeles snd Culture Spot LA. Terry Morgan of Stage Raw called WICKED LIT "An autumnal treat! For those who want to celebrate Halloween in an unusually theatrical way, this event won't disappoint." Pasadena Weekly said "I think of WICKED LIT as a treasure to start the holiday season. You should too."
The cast for WICKED LIT 2016 breaks down as follows: Anansi and the Demons:
Chairman Barnes
, Ariel Brown, Eric Cire, Chioma Nwosu,
Guy Picot
,
Jacquelin Schofield
and
Tory N. Thompson
; From Beyond: Dusy Hess,
Eric Keitel
,
Richard Large
and Richard Mooney; The Shadowy Third: Brooke Clendenen, McKenzie Eckels,
Paul Myrvold
, Michael Perl and Hannah Whiteoak; Camp Mountain View (the frame for WL16): Jennifer Novak Chun, Kevin Dulude, Meghan Lewis and
Sam Silvers
tein.

WICKED LIT 2016 will run seven weeks and feature the popular behind-the-scenes "Backstage Experience" for an additional fee. This fundraising initiative allows a small number of guests to receive insight from the creators of the show while touring the Mausoleum.

WICKED LIT audiences will experience three short plays as they are led through the grounds of the mausoleum and cemetery by Storyguides. WICKED LIT is a walking show - patrons must be able to comfortably walk a minimum of 2,000 steps and climb stairs in order to experience this production. WICKED LIT 2016 may contain mature themes, theatrical violence, and sexual situations - the production is recommended for audiences ages 16+. The running time will be approximately 2 hours and 45 minutes including two intervals.
The first WICKED LIT production was staged in 2009 on the grounds of Greystone Mansion in
Beverly Hills
. Since that time, nearly 15,000 patrons have enjoyed full productions of adaptations of authors such as
Edgar Allan
Poe, H.P. Lovecraft,
Mark Twain
,
Charles Dickens
, Robert E. Howard,
Washington Irving
,
Robert Louis
Stevenson, Sir
Arthur Conan Doyle
, and many others at Greystone Mansion, Mountain View Mausoleum and Cemetery and numerous installation events throughout Southern California. The mission of Unbound Productions, the theatre company that produces WICKED LIT, is to reimagine timeless stories for new audiences by creating immersive, theatrical adaptations of literature. Visit wickedlit.org for complete pricing and scheduling details. WICKED LIT is also on Facebook.
THE PLAYS
HP Lovecraft's From Beyond
Adapted by Trey Nichols
Directed by Jeff G. Rack When a great discovery turns deadly, a highly regarded scientist is forced to choose between trusting his eyes or following his brain in order to survive. Included as a staged reading as a part of last summer's installation of The Monkey's Paw, this cerebral play is quintessentially Lovecraftian and intensely supernatural.
Anansi and the Demons
Adapted by
Jonathan Josephson
Directed by Jaime Robledo
Adapted from the canon of Anansi stories and Ashanti proverbs Anansi is a trickster and a storyteller. He is also the de facto leader of his village when traditional hierarchies go south with the presence of the Ambassador. Now the Ashanti are starving and the colonists are to blame... it is time to wake the demons, but can they be controlled?
Ellen Glasgow's The Shadowy Third
Adapted by Paul Millet
Directed by
Bruce Gray
A shy young girl. An insane mother. A good-hearted doctor with only the best of intentions. One of these things is not as it seems. Or perhaps two. Maybe all three? The frame for WICKED LIT 2016:
Camp Mountain View
Written by
Jonathan Josephson
Directed by Paul Millet
Welcome to Wicked Lit Talent Night at Camp Mountain View, an autumnal retreat for the living, dead and un-dead! Even though the camp is run by a vampire, a ghost, a werewolf and a zombie, your safety is our utmost concern. Enjoy storytelling around the campfire, ghostly arts and crafts, apparition archery and more. And no matter what the counselors say - you do not want to see their tents.

PERFORMANCES AND TICKETS:
October 1 - November 12, 2016, Limited engagement!
September 29 (preview)
Saturday-Sunday, Oct 1-2;
Thursday-Sunday, Oct 6-9;
Thursday-Sunday, Oct 13-16;
Wednesday-Sunday, Oct 19-23;
Thursday-Monday, Oct 27-Oct 31
Thursday-Sunday, Nov 3-6
Thursday-Saturday, Nov 10-12
All performances will begin promptly at 7:30 p.m.
Tickets range from $40-75, see website for details.
Backstage Experience passes will be available for an additional $25.
For more information go to wickedlit.org or call (323) 332-2065.
Mountain View Mausoleum & Cemetery
2300 N. Marengo Ave. Altadena CA 91001
AMPLE FREE PARKING ON THE GROUNDS
Please consult a map before driving to the Mausoleum

WICKED LIT PHOTOGRAPHY AND VIDEO
Photos: http://unboundproductions.org/photos/
Video: https://www.youtube.com/UnboundProductionsLA

PLEASE NOTE:
DO NOT ENTER FROM FAIR OAKS AVE ~ YOU MAY GET LOST - PLEASE PLAN AHEAD
THIS IS A WALKING PRODUCTION THAT TAKES PLACE AT NIGHT
PLEASE WEAR COMFORTABLE, SOFT-SOLED SHOES
SOME SCENES STAGED OUTSIDE ~ PLEASE DRESS ACCORDINGLY
THIS PRODUCTION IS MEANT FOR MATURE AUDIENCES AND WILL BE SCARY!
PLEASE INQUIRE ABOUT TRIGGER WARNINGS -
SEATING IS LIMITED - THESE SHOWS WILL SELL OUT!
ABOUT UNBOUND PRODUCTIONS
Founded in 2008 by Jonathan Josephson, Paul Millet and Jeff G. Rack, Unbound Productions is a nonprofit theatre company whose mission is to reimagine timeless stories for new audiences by creating immersive, theatrical adaptations of literature. Since our first full production of Wicked Lit in 2009, over 17,000 patrons have enjoyed our immersive theatre events at venues ranging from Mountain View Mausoleum and Cemetery, to Pasadena Museum of History, to Barney's Beanery in West Hollywood. Unbound has also presented staged readings at Long Beach Comic Con, Pasadena Art Walk, the West Hollywood Book Fair, NoHo Lit Crawl, The Chance Theatre, The Echo Theatre Company, and many other venues and events. Unbound has produced 26 world premiere plays throughout its history, some of which have gone on to be produced at venues across the country as well as Scotland, England and Cameroon.
ABOUT WICKED LIT
The scope of Wicked Lit is to create dynamic new adaptations of classic horror literature. Over 15,000 patrons have enjoyed Wicked Lit productions and installations since Wicked Lit 2009 at the haunted Greystone Mansion in Beverly Hills. From 2010-2015, Wicked Lit has been staged at Mountain View Mausoleum and Cemetery in Altadena where audiences walk through the hallways of the mausoleum and among the headstones in the cemetery as our plays are staged all around. Unbound has also produced special installations of Mark Twain's A Ghost Story (Los Angeles Millennium Biltmore Hotel in conjunction with the 2011 Theatre Communications Group National Conference), Edgar Allan Poe's The Tell-Tale Heart (LA Mart in conjunction with ScareLA), and The Doll (Strub Mansion at the historic Mayfield Senior School in Pasadena). Since 2008, Unbound has also mounted over 100 free staged readings of Wicked Lit plays at libraries, schools, festivals, and special events all over Southern California including the Huntington Library and Botanical Gardens, NoHo LitWalk, Pasadena ArtWalk, West Hollywood Book Fair, Long Beach Comic Con and theaters such as The Chance Theatre, The Antaeus Company, The Blank Theatre Company, High Street Performing Arts Center, and many others.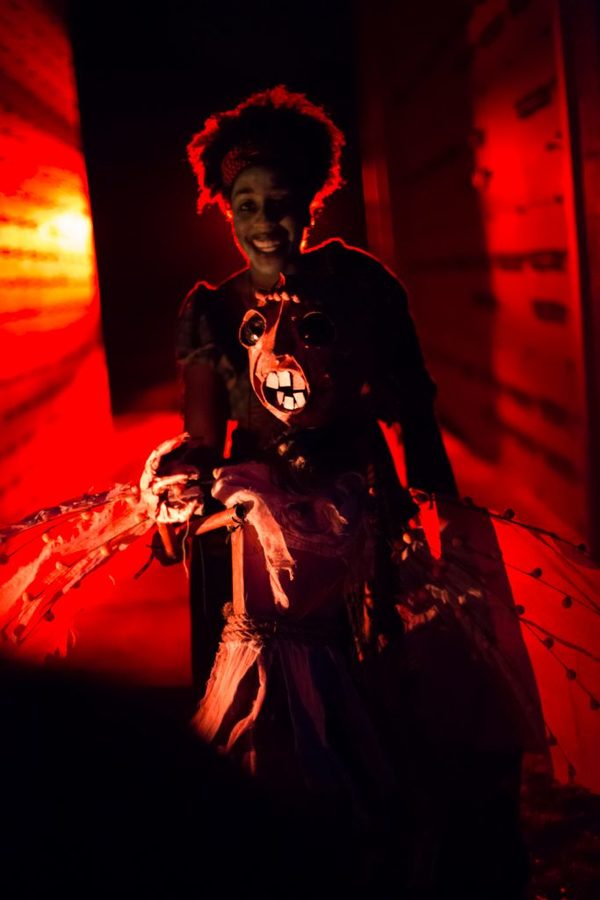 Ariel Brown

Jacquelin Schofield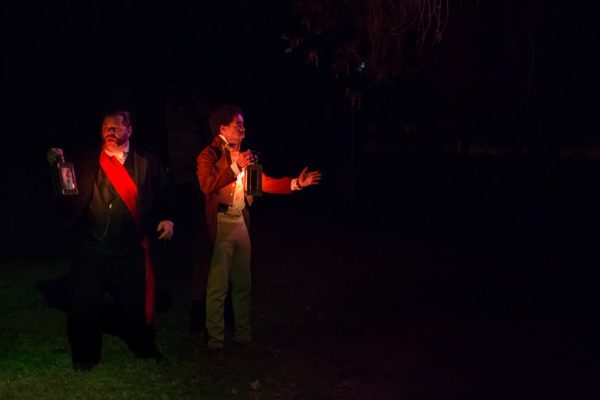 Chairman Barnes and Tory N. Thompson

Company of The Shadowy Third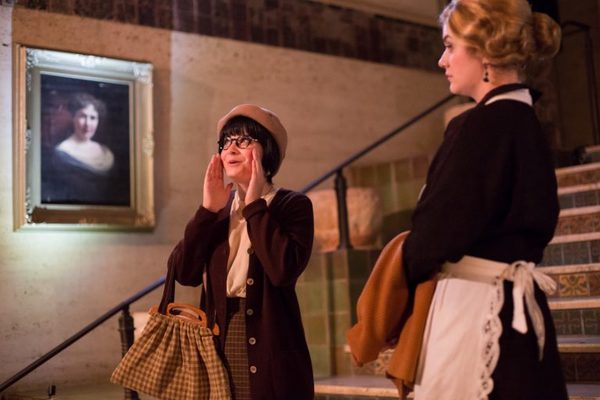 Brooke Clendenen and McKenzie Eckles

McKenzie Eckels, Hannah Whiteoak, and Michael Perl

Sam Silverstein

Kevin Dulude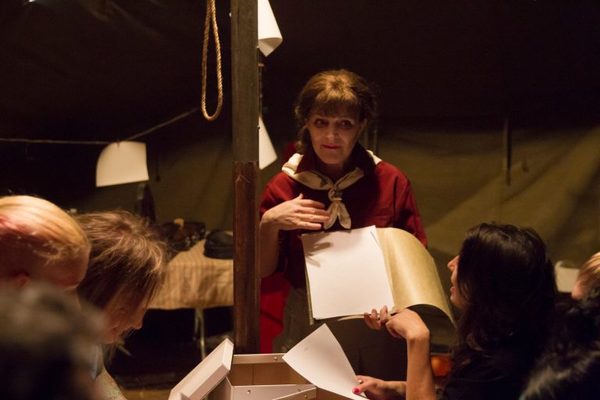 Jennifer Novak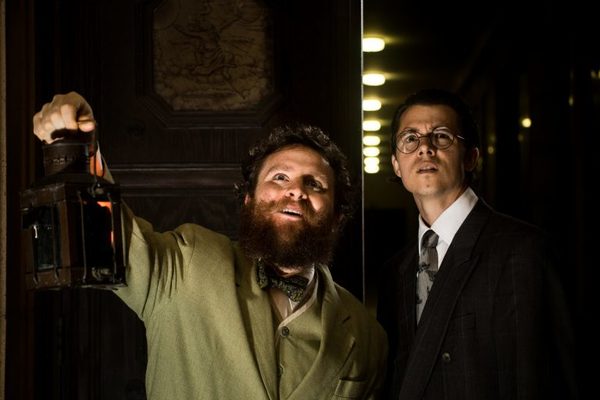 Dusty Hess and Eric Keitel

Dusty Hess and Eric Keitel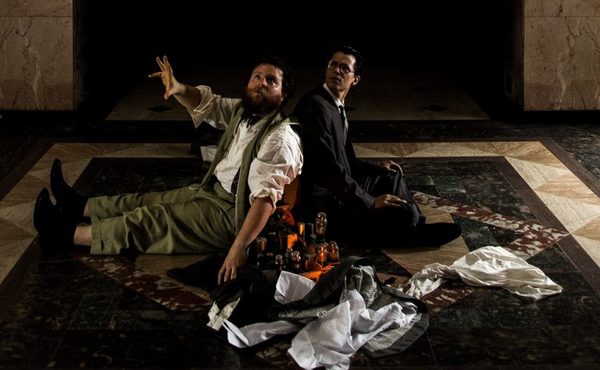 Dusty Hess and Eric Keitel
Photos: Daniel Kitayama and John Thvedt