Photos: Meet the Cast of THRONES: THE MUSICAL PARODY, Now in Los Angeles
Six Actors! 51 Roles! Six Seasons! Royal Mile Entertainment will present the Los Angeles Premiere of THRONES! THE MUSICAL PARODY, written by Chris Grace, Zach Reino, Al Samuels, Nick Semar and Dan Wessels, choreography by Kimberly McVicar and directed by John Flynn. THRONES! THE MUSICAL PARODY runs through Sunday, December 20 at the Hudson Mainstage Theatre, 6539 Santa Monica Blvd. in Hollywood. Scroll down for a sneak peek at the cast in character!
As Leslie, Jen, Ross, Brad, Tom and Nicole gather for the season finale of "Game of Thrones," they soon find out the ultimate travesty: that Leslie does not watch the show. Over the course of 90 minutes, the group bands together to act out all six seasons (read: spoilers) for Brad, including dashing men battling White Walkers, ravishing women riding fire-breathing dragons, the infamous Walk of Shame, and so much more!
THRONES! THE MUSICAL PARODY (from the creative team behind 50 Shades! The Musical Parody, which recently played the Kirk Douglas Theatre and members of the critically acclaimed and world-renowned "Baby Wants Candy"). THRONES! THE MUSICAL PARODY debuted to completely sold-out performances at the 2015 & 2016 Edinburgh Fringe Festival, followed by a sold-out, limited run at London's Leicester Square Theatre. It is currently playing to sold-out crowds in Chicago at the Apollo Theatre where the production.
The Cast of THRONES! THE MUSICAL PARODY features Albert Samuels, Leslie Collins, Jessica Joy, Zach Reino and Chris Grace.
Tickets and more information about the show are available at www.plays411.com/thrones or by calling (323) 960-5770.
Photo Credit: Garrett Palm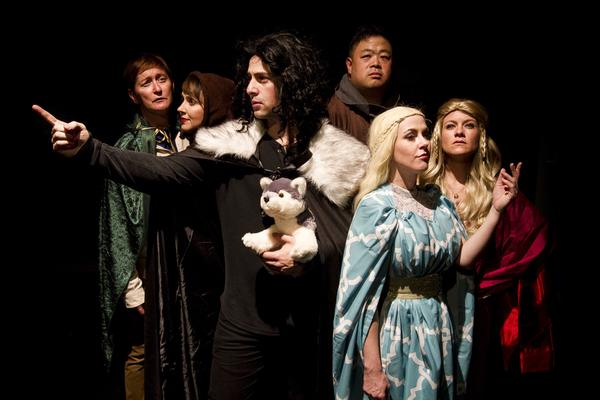 Albert Samuels, Leslie Collins, Jordan Stidham, Chris Grace, Jessica Joy and Meghan Parks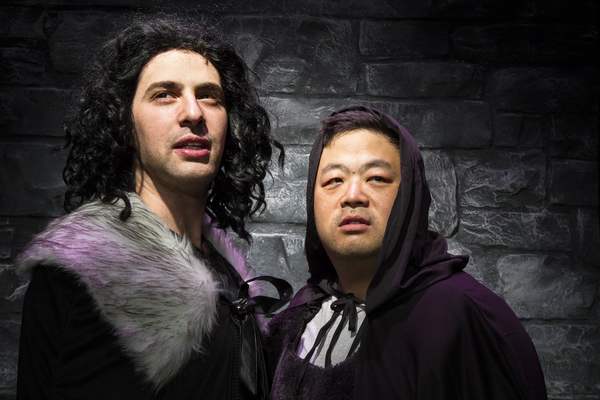 Jordan Stidham and Chris Grace

Meghan Parks, Chris Grace, Jordan Stidham, Leslie Collins, Albert Samuels and Jessica Joy