Photo Flash: First Look at MainStreet Theatre's THE MAGIC FINGER
MainStreet Theatre Company presents its final show of the season - the west coast premiere of Roald Dahl's The Magic Finger. British Playwright David Wood did the adaptation, which premiered at Imagination Stage in Bethesda, MD in 2013. Mr. Wood has continued to work on the play, and MainStreet is producing a brand new version. Abigail Deser is the director. The production will play two school performances today, May 2nd, and open to the public tomorrow, Saturday, May 3rd at 4pm. The strictly limited engagement will run through Sunday, May 18th only. BroadwayWorld has a first look at the cast in action below!
People familiar with Roald Dahl's imaginative, whimsical and fantastical classics (Charlie and the Chocolate Factory, James and the Giant Peach, Matilda, etc.) will love The Magic Finger, an adventure about a girl with special powers. When Lucy senses injustice, she gets angry and when she gets angry her Magic Finger heats up and then, well, ANYTHING can happen. When Lucy gets upset with her best friend William and his family for shooting ducks for sport, she points her Magic Finger at them and turns them all into bird-size people while the ducks become the size of humans. Lucy's indignation turns the world into a place where the powerless are in charge and the powerful are taught a very big lesson. Show is recommended for ages 7 and up.
The cast of The Magic Finger will feature Lib Campbell as Lucy, and Doug Harvey as her friend William. Eric Curtis Johnson and Natalie Hope MacMillan will play William's parents, Mr. and Mrs. Gregg. Louis Lotorto, Amir Levi and Gina Torrecilla play several characters including the human sized ducks who move into the Gregg's Farmhouse. Cast members will also serve as puppeteers.
The creative team of (almost) all women includes Scenic Designer Sibyl Wickersheimer, Lighting Designer Jaymi Lee Smith, Costume Designer Ann Closs-Farley, Sound Designer Cricket Myers, and Puppet Designer Michelle Zamora. Prop Design is by Kevin Williams. Julie Haber is Production Stage Manager. Mireya (Murry) Hepner serves as producer for the City of Rancho Cucamonga's MainStreet Theatre Company.
Director Abigail Deser is a director, teacher, acting and writing coach. She has directed many award-winning productions across the country including at Steppenwolf Theater Company, where she directed Closer, This Is Our Youth and Disappeared. She spent many years as Associate Artistic Director at the Ojai Playwrights Festival working on new play development, dramaturgy, and directing projects including Susan Miller's award-winning A Map of Doubt and Rescue, TD Mitchell's Beyond the 17th Parallel, Lee Blessing's Flag Day. In L.A., Abigail has directed productions at Theatre@ Boston Court, Echo Theater Company, and at LA Phil's Disney Hall. Her previous productions at MainStreet were Kevin Kling's Lilly's Purple Plastic Purse and Steven Dietz' Honus and Me.
The Magic Finger will play performances on weekends for family audiences (Saturdays at 1pm and 4pm and Sundays at 1pm, except for opening weekend when there is only one performance on Saturday, May 3rd at 4pm), and on weekday mornings for school groups, through May 18th. Supported by the Rancho Cucamonga Community and Arts Foundation, the opening performance on May 3rd at 4pm is "Foundation Family Saturday," and all tickets are $9.50.
An Opening Night Party Package is available for $20, which includes a ticket to the show and the post- performance party. For regular performances, tickets are $18 for adults and $16 for children (age 12 and under), and for seniors (age 60 and up). New this season are the Foundation Family Flex Packs - tickets are $12 each if purchased in packs of four or more for the same performance. Storytime will be performed on May 3, 2014 at 10:30 AM. Geared for ages 3 +, all tickets are $5.00. To purchase tickets for either show, call (909) 477-2752 or go to www.LewisFamilyPlayhouse.com. The box office at the Lewis Family Playhouse is open Monday through Friday from noon to 6pm and Saturday from 10am to 6pm. Free parking is available.
Photo Credit: Mark Campos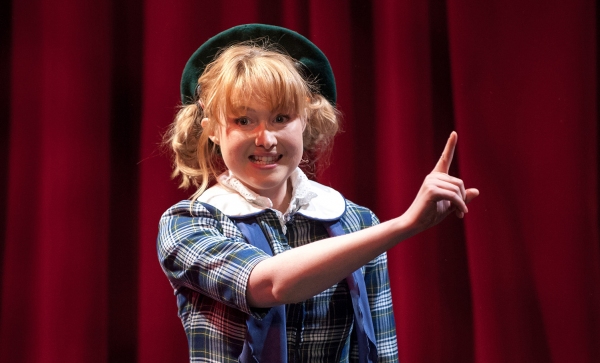 Lib Campbell

Eric Curtis Johnson, Lib Campbell and Doug Harvey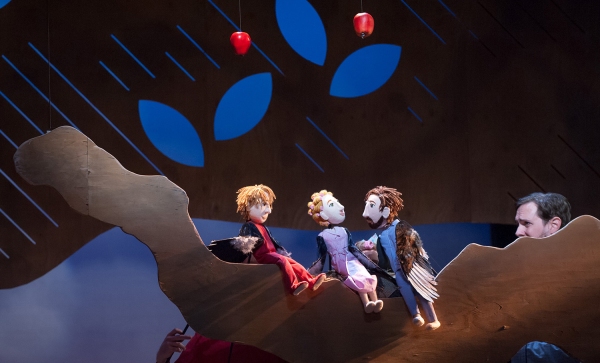 Doug Harvey, Natalie MacMillan and Eric Curtis Johnson

Doug Harvey and Lib Campbell

Amir Levi, Gina Torrecilla, Louis Lotorto, Doug Harvey, Natalie MacMillan, Eric Curtis Johnson and Lib Campbell