Photos: First Look at Ciaran McCarthy, Heather Lundstedt O'Neill and More in The Barn Stage's CAROUSEL IN CONCERT
Presented by The Barn Stage Company, in association with Temecula Presents, this gorgeous production of Rodger's and Hammerstein's CAROUSEL IN CONCERT take the Old Town Temecula stage for three nights only! A collaboration with the Temecula Valley Symphony puts a beautiful 32-piece orchestra directly on stage for all to enjoy. The show runs one weekend, Thursday, Saturday and Sunday at the Old Town Temecula Community Theater in Old Town Temecula. BroadwayWorld has a first look at the cast onstage below!
Glorious songs, a postcard New England seaside setting and a spiritually uplifting story of love and redemption have kept Carousel among the most beloved American musicals ever created. CAROUSEL IN CONCERT is directed by J. Scott Lapp (Murder For Two, Hunchback Of Notre Dame), with Musical Direction by John Mario Di Costanzo and choreography by Gary Iversen.
In a Maine coastal village toward the end of the 19th century, the swaggering, carefree carnival barker, Billy Bigelow, captivates and marries the naive millworker, Julie Jordan. Billy loses his job just as he learns that Julie is pregnant and, desperately intent upon providing a decent life for his family, he is coerced into being an accomplice to a robbery. Caught in the act and facing the certainty of prison, he takes his own life and is sent 'up there.' Billy is allowed to return to earth for one day fifteen years later, and he encounters the daughter he never knew. She is a lonely, friendless teenager, her father's reputation as a thief and bully having haunted her throughout her young life. How Billy instills in both the child and her mother a sense of hope and dignity is a dramatic testimony to the power of love. It's easy to understand why, of all the shows they created, CAROUSEL was Rodgers & Hammerstein's personal favorite.
The show is performed by an all-star-cast. Ciarán McCarthy joins the cast as Billy Bigelow. Born in Dublin Ireland, Ciarán trained in New York at the American Musical and Dramatic Academy. He was seen in the 1st National Tour of The Wedding Singer, and is also a major player in the For The Record Series out of Los Angeles. In the role of Julie Jordan, is Heather Lundstedt O'Neill. Audiences may remember Heather as Brenda Strong in Catch Me If You Can, or as Marian Paroo inThe Music Man at Moonlight Amphitheatre. Emily Lopez plays Julie's best friend, Carrie Pipperidge. Emily recently starred as Carrie in the reimagined, immersive Carrie the Musical in Los Angeles to great acclaim. In the role of Enoch Snow isJason Webb (Jean Valjean in Les Miserables, Captain Walker in The Who's Tommy and Bobby Child in Crazy for you).Vonetta Mixson joins the cast as Nettie Fowler. Previous credits include Sylvia in All Shook Up with Moonlight, Dolly Gallagher Levi in Hello, Dolly! and Motomouth Maybelle in Hairspray.
The rest of the company includes Tracy Ray Reynolds, John Campbell, James C. Mulligan, Grandison M. Phelps III, Jason Wesley Greene, Miranda Rose, Jonathan Sharp, Nicholas Alexander, Jerry Alexander III, Johnny Fletcher, Chelsea Nicole Ally Lawton, LukeMonday, Maureen Russell, Emily Chelsea, Leif Corbeil, Karin Gittins, Jack Taylor French, Lori Eve Marinacci and Ethan Park.
The creative team also includes Tyler Poe (Assistant Director), Chelsea Nicole (Assistant Choreographer), Matthew Herman (Scenic Design), Misti Soper (Costume Design), Zach Simons (Lighting Design), and Diane David (Production Stage Manager).
For tickets and more information, go to www.TheBarnStageCompany.com.
Photo Credit: Stan Fry

Emily Lopez (Carrie Pipperidge) and Heather Lundstedt O'Neill (Julie Jordan) in 'Mister Snow'

Heather Lundstedt O'Neill (Julie Jordan) and Ciaran McCarthy (Billy Bigelow) in 'If I Loved You'

Jason Webb (Enoch Snow) and Emily Lopez (Carrie Pipperidge) in 'When The Children Are Asleep'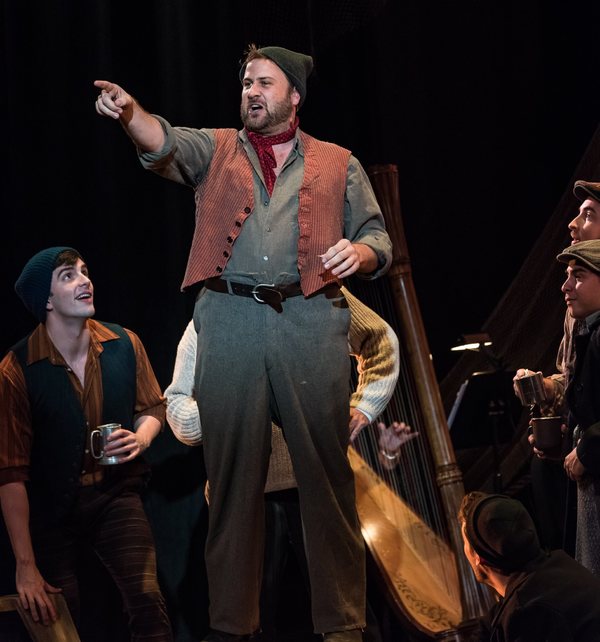 James C. Mulligan (Jigger Craigin) with the men of the ensemble in 'Blow High, Blow Low'

Ciaran McCarthy (Billy Bigelow) sings Rodgers & Hammerstein's Masterpiece 'Soliloquy'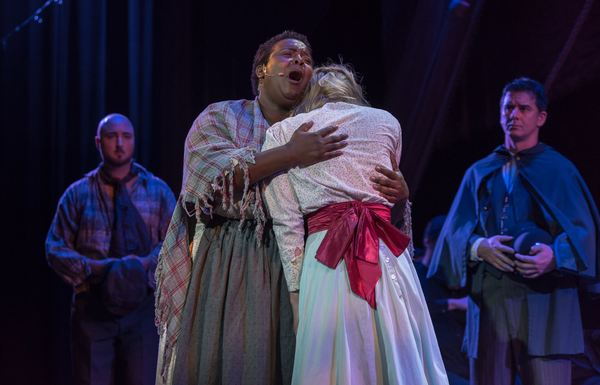 Vonetta Mixson (Nettie Fowler) sings 'You'll Never Walk Alone' to Heather Lundstedt O'Neill (Julie Jordan)

Miranda Rose (Louise), Jonathan Sharp (Carnival Boy) and the ensemble of CAROUSEL in concert