Photo Flash: CHICO'S ANGELS Celebrate 10 Years Onstage
Last night Kay Sedia, Frieda Laye, and Chita Parol with the entire cast, past cast members and the audience celebrated their 10th year on the Los Angeles stage. Scroll down for photos of the festivities!
In "Pretty Chicas All in a Row" the Angels are hired to unravel the mystery of murdered contestants in the Miss Kumquat Pageant. Cecil Kumquat hires Chico's Angels to find the killer and save his pageant. Kay and Chita go undercover as contestants all while trying not to stick out. Frieda and Bossman find themselves posing as a reporter and cameraman. The Angels are determined to solve the crime, get their story and take the crown! Chico's Angels: Pretty Chicas All in a Row directed by Kurt Koehler.
Chico's Angels was co-created and co-written by Oscar Quintero and Kurt Koehler.
Pretty Chicas All in a Row runs through August 4, 2013, with two new shows added: Wed, July 31 and the Saturday Aug 3rd - 2pm show. Tickets on sale at http://chicosangels.tix.com.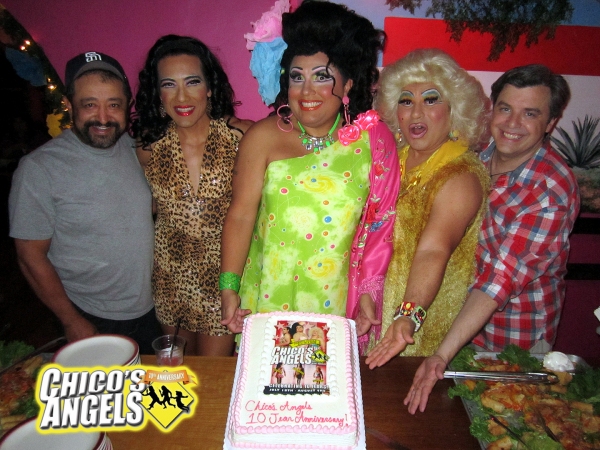 Alejandro Patino "Bossman" (The Bridge); Chita Parol, Kay Sedia (co-creator), Frieda Laye, Kurt Koehler (co-creator/director)

Chita Parol& Kay Sedia cutting the cake

Kay Sedia with Kevin McNamara "Buck Nekid" checking out the Kay Sedia's cake face!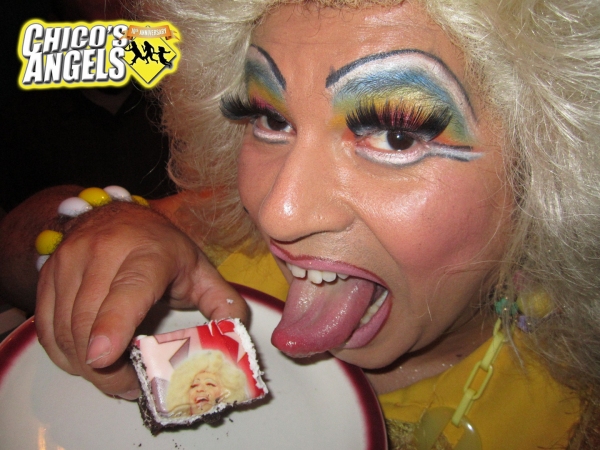 Frieda Laye with her cake face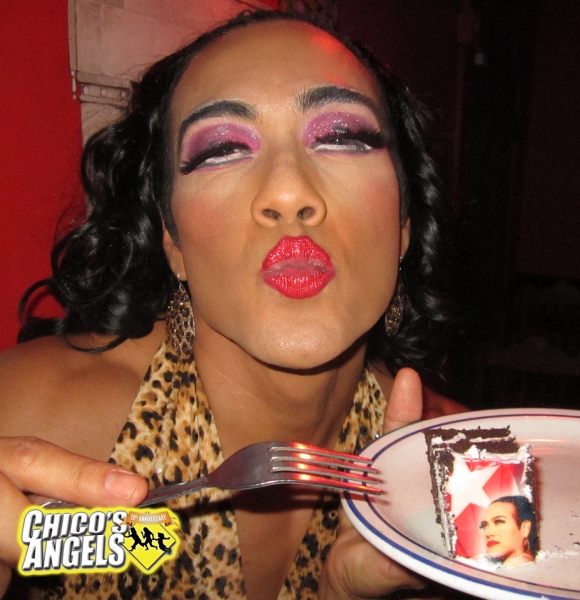 Chita Parol kisses with her cake face

Chico's Angels Cake

Frieda Laye, Kurt Koehler with Terry Ray (The Gaydar Gun)