Photos: By George Productions Presents 'I'd Rather Be Right'
By George Productions presents the Los Angeles Premiere of the 1937 Broadway musical comedy hit, I'D RATHER BE RIGHT, opening at the Hudson Mainstage Theatre on April 26th, 2008.  Music and lyrics are by Richard Rodgers and Lorenz Hart and the book is by George S. Kaufman and Moss Hart.  

In this political fantasy, Franklin D. Roosevelt meets a young couple in Central Park and desperately tries to balance the budget so that they can get married.  Coming along for the fun are his Cabinet, the Supreme Court, and his mother, Sara.  George M. Cohan originally starred as FDR and James Cagney memorably recreated a scene from the show in the film Yankee Doodle Dandy.
The delightful Rodgers and Hart score includes the standard "Have You Met Miss Jones?" and "Off the Record". The show was never recorded, so the audience will be hearing much of this score for the first time. This 70th Anniversary Production of I'D RATHER BE RIGHT is directed and choreographed by
William Mead
(Tip-Toes) with musical direction by Brian O'Halloran, scenic design by Victoria Profitt, costumes by A. Jeffrey Schoenberg, and lighting by Jeremy Pivnick.
Michael Donovan
, CSA, served as casting consultant.Joe Joyce is featured in the role of FDR. Also in the cast are
Walter Beery
, Thomas Dolan, Kristen Heitman, Carol Herman, Matt Kubicek, Alli McGinnis, Nancy Dobbs Owen, Lyndie Renee, Dan Spector, Christina Valo, Stephen Vendette, Tom Walz, and Kimberly Wood.Richard Rodgers and Lorenz Hart teamed up in 1919 and first won notice for their score for The Garrick Gaieties. They continued on Broadway through 1943 contributing scores for Dearest Enemy, A Connecticut Yankee, Jumbo, On Your Toes, Babes in Arms, The Boys from Syracuse, Pal Joey and 22 others. After Hart's passing, Rodgers teamed up with Oscar Hammerstein and continued his string of hits.
George S. Kaufman wrote the book for the Marx Brothers' musicals The Cocoanuts and Animal Crackers, plus the Gershwin musicals Strike Up The Band, Of Thee I Sing and Let 'Em Eat Cake. He also directed the original production of Guys and Dolls.
Moss Hart wrote the books for Irving Berlin's Face the Music and  As Thousands Cheer,
Cole Porter
's Jubilee and Kurt Weill's Lady in the Dark. He directed the original productions of
My Fair Lady
and Camelot.Director/choreographer
William Mead
directed our production of Gershwin's Tip-Toes. He was discovered on the Ted Mack Amateur Hour and put into the stage show at Radio City Music Hall as a solo guest artist when he was 11. Highlights of an early TV and film career include Bye, Bye Birdie and Guess Who's Coming to Dinner. Mr. Mead was Gower Champion's assistant and a featured dancer in the LA production of Annie Get Your Gun. He helped create the LA Free Shakespeare Festival at the Ford Amphitheatre and conceived and directed Glad to Be Unhappy, the Lyrical Life of Lorenz Hart which was nominated for a 2001 Ovation award for Best Musical.Joe Joyce (FDR) appeared on Broadway in Swinging on a Star and off-Broadway in Pageant and Forever Plaid. He toured in the national companies of The Mystery of Edwin Drood and La Cage Aux Folles. LA credits include three shows at Reprise: Bells Are Ringing, Wonderful Town and Strike Up the Band, and he has appeared on TV in Everybody Loves Raymond and Ellen. By George Productions produced last year's revival of Gershwin's Tip-Toes at the Whitefire Theatre. It was named in honor of the many "Georges" who created musical comedy: George M. Cohan, George S. Kaufman, George Gershwin, George Abbott and George Balanchine. By George's goal is to produce quality productions of lost or neglected musicals focusing primarily on the first half of the twentieth century.    
I'D RATHER BE RIGHT runs April 26 through June 1, 2008. Preview performance is April 24 & 25, with opening night April 26. Performances are at the Hudson Mainstage Theatre at 6539 Santa Monica Blvd. in Hollywood, Thursdays, Fridays and Saturdays at 8 PM, Sundays at 3 PM. Tickets are $30. Running time is 120 minutes with intermission and concessions available. Wheelchair access. Allow time for street parking. For reservations, call (323) 960-4429 or RESERVE ONLINE:
www.plays411.com/bygeorge
.

Joe Joyce

Stephen Vendette, Joe Joyce, and Christina Valo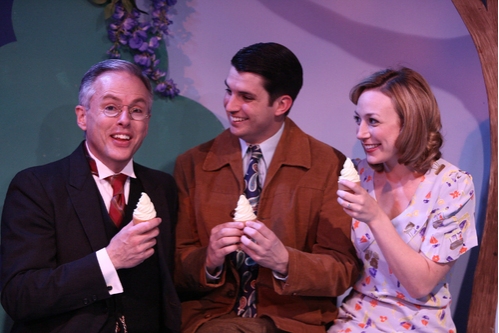 Joe Joyce, Stephen Vendette, and Christina Valo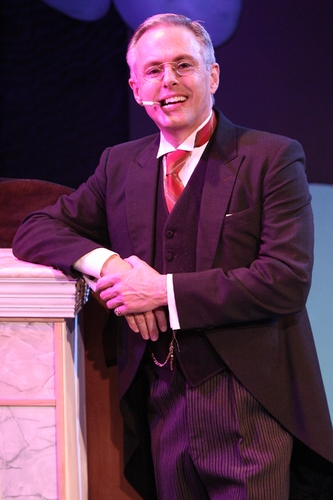 Joe Joyce
Photos by Michael Lamont.