Photo Flash: A Look Back At (mostly)musicals' Celebration Of The New Year And Their 4th Birthday At Vitello's
(mostly)musicals returned to Upstairs at Vitello's on Monday 1.8.18 to kick off 2018 - and the start of their 5th season - with their 27th edition, songsforaHAPPYnewyear, a night of all HAPPY songs! Scroll down for photos of the performances.
Led by 3-time Ovation Award winner Gregory Nabours at the piano, the evening featured a stellar array of talent including Broadway's Kerry O'Malley (INTO THE WOODS, WHITE CHRISTMAS, ON A CLEAR DAY...), Cornelius Jones Jr. (THE LION KING, THOU SHALT NOT), Michael-Leon Wooley (LITTLE SHOP, 5 GUYS NAMED MOE, THE MUSIC MAN), and Sharon McNight (Tony nominee, STARMITES). The show also featured favorite LA performers, including Alli Miller (Cherry Poppins), Amanda Kruger (HOME ALONE at Rockwell), Domonique Paton (FROZEN: Live at the Hyperion), Katy Harvey (Ariel in THE LITTLE MERMAID at Cupcake Theatre), Marc Ginsburg (world premiere: LEVI!), Mark Jacobson (I AM FRANKIE on Nickelodeon), Matthew Valle (world premiere SKULLDUGGERY at Sacred Fools), Randy Guiaya (NEXT TO NORMAL at East West Players), and more - plus Jessica Reiner-Harris and Victor E. Chan (original Crush in FINDING NEMO: The Musical) who were in the very FIRST edition on 1.8.14 (back at Don't Tell Mama in WeHo)!
They sang songs new and old from (mostly)musicals - the only rule was NO SAD SONGS! The main show was followed by an open mic afterparty hosted by Mark Jacobson, featuring even more local talent.
For more information, visit www.mostlymusicalsLA.com, or find #mmLA on Facebook, Twitter, and Instagram at /mostlymusicals.


Matthew Valle and Alli Miller 'You're Just in Love' (photo: Amy Francis Schott)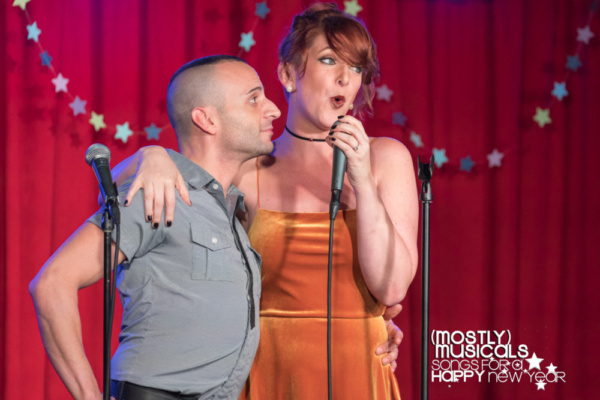 Matthew Valle and Alli Miller (photo: Karl Sonnenberg)

Mark Jacobson 'The Folks Who Live on the Hill' (photo: Karl Sonnenberg)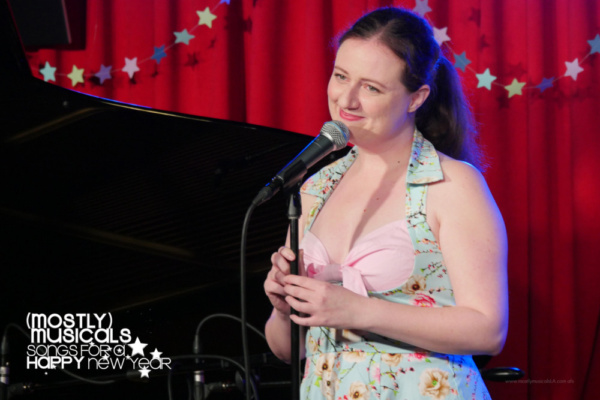 Jessica Reiner-Harris "Happy Working Song" (photo: amy francis schott)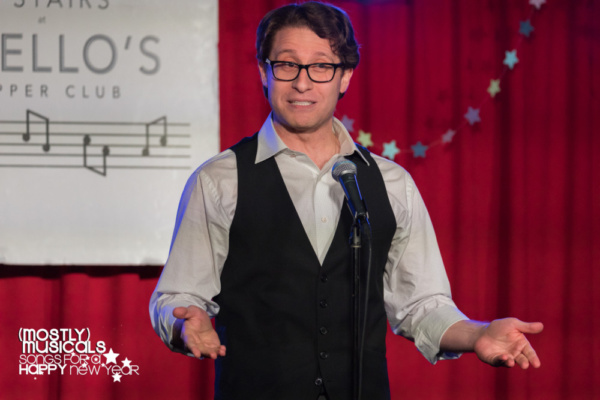 Marc Ginsburg "Museum Song" (photo: Karl Sonnenberg)
Domonique Paton "How Far I'll Go" (photo: amy francis schott)

Amanda Kruger "Calm" (photo: Amy Francis Schott)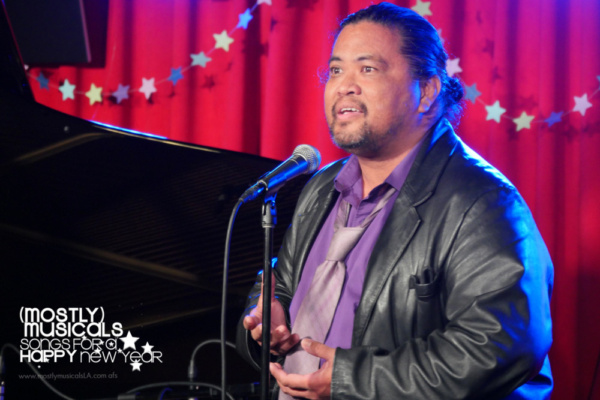 Victor E. Chan "On This Night of a Thousand Stars" (photo: amy francis schott)

Katy Harvey and Gregory Nabours (photo: Amy Francis Schott)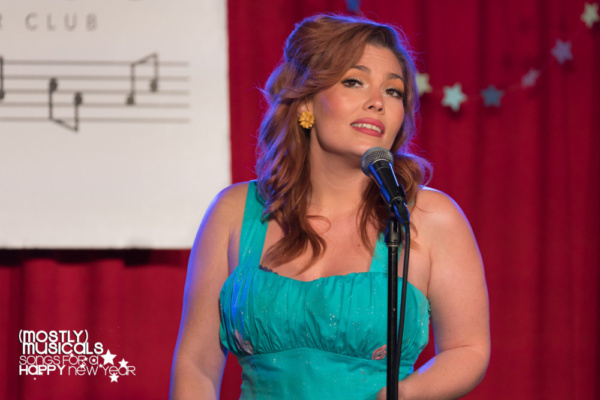 Katy Harvey "Get Happy" (photo: Karl Sonnenberg)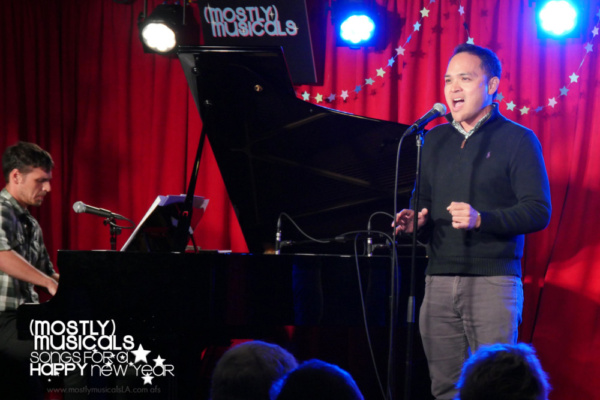 Randy Guiaya "First You Dream" (photo: amy francis schott)
Alli Miller "Blow Gabriel Blow" (photo: amy francis schott)
Sharon McNight 'Santa Lost a Ho' (photo: Karl Sonnenberg)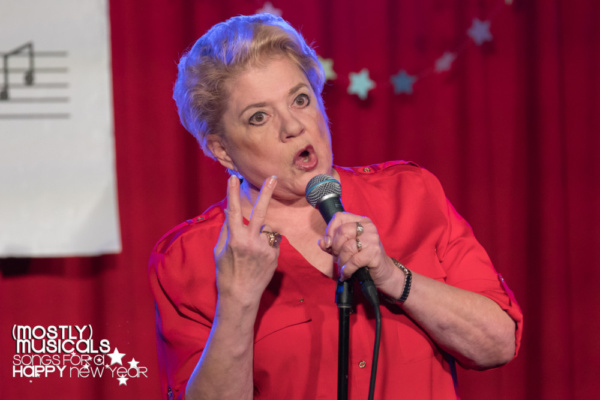 Sharon McNight (photo: Karl Sonnenberg)

Cornelius Jones Jr 'Wait for It/The Room Where It Happens' (photo: Karl Sonnenberg)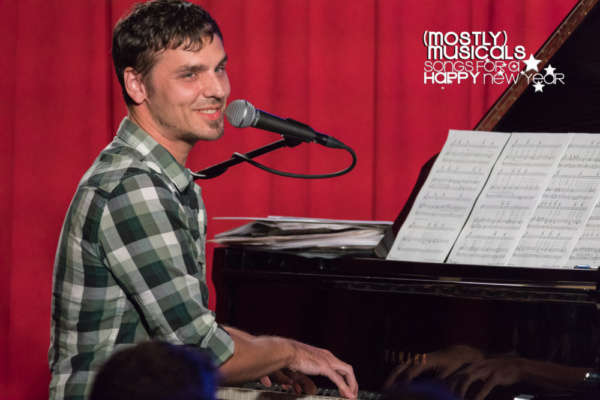 Gregory Nabours 'Rhode Island Is Famous for You' (photo: Karl Sonnenberg)

Michael-Leon Wooley 'Caldonia' (photo: Karl Sonnenberg)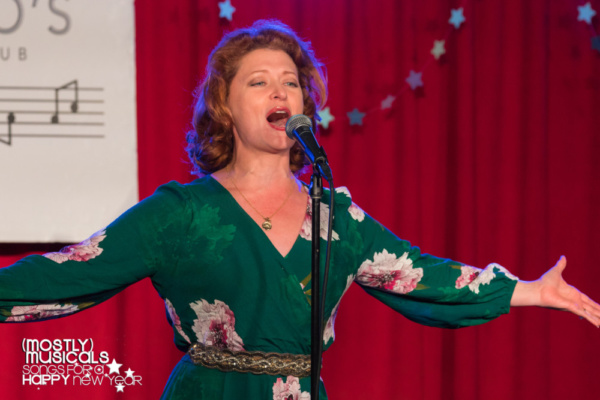 Kerry O'Malley 'I Had a Ball' (photo: Karl Sonnenberg)

Jessica Reiner-Harris and Victor E. Chan lead the closing sing-along: 3 Dog Night's 'Joy to the World' (photo: Karl Sonnenberg)

The (mostly)musicals #27 family: front: Gregory Nabours, Victor E. Chan, Domonique Paton middle: Katy Harvey, Jessica Reiner-Harris, producer Amy Francis Schott, Amanda Kruger, Alli Miller, Cornelius Jones Jr. back: Sharon McNight, Kerry O'Malley, Mark Jacobson, Randy Guiaya, Michael-Leon Wooley, Marc Ginsburg (photo: Eric Cornwell)
More Hot Stories For You