Click Here for More Articles on NEIL PATRICK HARRIS
Photos: On the 'Blue Carpet' for Disney's WORLD OF COLOR
Stars from the world of film, television and the stage walked the "blue carpet" on June 10, 2010 to celebrate the World Premiere of WORLD OF COLOR, the brand new nighttime show at Disney California Adventure park in Anaheim. A show five years in the making, WORLD OF COLOR combines water, music, fire, lights, animation, and a lot of Disney magic and storytelling to wow its audience with a 25-minute spectacle that rises from the waters of Paradise Bay.
Greeted by international press, the world premiere event brought the likes of Oscar®-winner
Geena Davis
, Terri Hatcher (
Desperate Housewives
),
Jamie Lee Curtis
(
Freaky Friday
,
You Again
),
John Stamos
(who just signed on to do a guest arc on Season 2 of
Glee
),
Wayne Brady
(host of
Let's Make A Deal
),
Peter Facinelli
(
Twilight
movies,
Nurse Jackie
),
Vanessa Hudgens
(
High School Musical
),
Cameron Mathison
(
All My Children
),
Rob Morrow
(
Numbers
),
Jake Pavelka
(
The Bachelor
), Jason Segel (
How I Met Your Mother
),
Richard Sherman
(co-composer for
Mary Poppins
), Chelsea Staub and Nic
Ole Anderson
(both from
Jonas
),
Jodi Benson
(the voice of Ariel on
The
Little Mermaid
), and Diego Boneta (
90210
, ABC Family's
Pretty Little Liars
). Also there garnering some of the loudest cheers were three young cast members from ABC's hit TV sitcom
Modern Family
: Rico Rodriguez, Nolan Gould, and
Sarah Hyland
. Though many of the celebrities chose to bypass the press line to greet the fans instead, many spoke briefly to reporters (including Broadway World) before being rushed away to have dinner before the premiere showing. Among those stopping by BWW:
John Stamos
, who spoke about being cast in Season 2 of GLEE, and
Wayne Brady
, who will star in the much anticipated all-star Hollywood Bowl presentation of RENT, directed by
Neil Patrick Harris
.Beaming to reporters,
Richard Sherman
spoke about his and his brother Bobby Sherman's long history with
Walt Disney
, most notably their collaboration on many memorable scores including
Mary Poppins
. The theme song to
Disney's Wonderful World of Color
, which is once again rebooted for this brand new show. "These current geniuses have put together the most incredible show," exclaims Sherman.  "I owe a lot to Mr.
Walt Disney
." Besides huge Broadway success of the stage version of
Mary Poppins
, Sherman is proud of the legacy he and his brother have within the Disney pantheon, including penning the song that somehow manages to get stuck in people's heads when they ride one particular ride. "We also wrote 'It's A Small World'... People either want to kiss us or kill us for that one!" jokes Sherman. Jason Segel took a break from his duties on the upcoming
Muppets
feature film (he is a producer, co-screenwriter, and star) to see the latest Disney spectacular. "Disney is always continually topping themselves, so I'm sure this will be as fantastic as anything else they've ever done. I'm just excited to be here!"All My Children's
Cameron Mathison
(who also showed off his dancing prowess on
Dancing with the Stars
) talked about tackling a stage musical someday. "I was lucky enough to do a one-night benefit event of PIPPIN with
Rosie O'Donnell
and
Ben Vereen
a few years ago, and it was really one of my favorite things I've ever done!" recalls Mathison. "Now, I'm not known around town as a singer... not really anywhere except maybe in my shower. But, hey, you never know... if I can learn how to dance, maybe I can learn how to sing, too." "My relationship started with Disneyland was when I was a child," explains
Jamie Lee Curtis
who came with her daughter Annie. "I'm old school! My favorite thing at Disneyland was something called the
Carousel of Progress
." She went on to reveal that her teenaged son's favorite Disney film is
Mulan
, and proceeded to sing verses from "I'll Make A Man Out of You!" to the smiles of the press line.
Jodi Benson
, who voiced Ariel on
The Little Mermaid
was excited to hear her mermaid counterpart will be a huge part of WORLD OF COLOR. Her voice is also featured in Disney/Pixar's
Toy Story 3
which opens June 18.Days before walking the blue carpet, news broke that
John Stamos
(fresh off of BYE BYE BIRDIE on Broadway) has signed on for a guest arc on the upcoming season of the hit Fox show GLEE to play Emma's dentist boyfriend. "Isn't that great? I'm ecstatic!" he exclaims. So are we poised for a showdown with
Matthew Morrison
? "You know, Matt's such a good singer, so I hope they don't have me singing too much with him," jokes Stamos. "He's so good...a good singer and dancer. I'm an actor who sort of sings and sort of dances... but, you know, I can move around a little bit!" To prepare for the role, Stamos is spending the rest of the summer by "singing and dancing and working out every day." The actor is grateful for the opportunity... "When this gift is given to you, I want to be ready for it and be respectful of it."
Wayne Brady
was ecstatic seeing Broadway World on the blue carpet. "I follow you guys on Twitter!" declared the actor. I asked Brady how preparations were going for Hollywood Bowl's RENT. "Well, we haven't had a [full] rehearsal yet. I've had one rehearsal on my own to go through all of the music. You know, I've been cast in RENT a lot of times over the years, but haven't been able to do it. So this time, it was amazing, and I was slapped in the head with the reality: it's a lot of work!" The actor went on to explain that his role as
Tom Collins
requires more than just being on stage to sing "I'll Cover You" and "Santa Fe." "We're all singing the entire score!" he reveals. "I was, like, 'oh!' I'm singing it all! I never leave the stage! So, it's a lot of work, but I can't wait!" Brady also can't wait to work with the talented cast (which include
Aaron Tveit
,
Nicole Scherzinger
and
Vanessa Hudgens
) and the show's director,
Neil Patrick Harris
. "I worship that cat!" boasts Brady of Harris. He also wanted to sing the praises of Disney-trained Hudgens who will take on the role of Mimi. "I was so happy to hear that she got [the role], because I think it's great for people to see her outside of the world that's been built around her...as a Disney kid. I say give her a chance to be a woman! And she needs to be to [play Mimi]. I'm so happy for her." As for Brady's opinion of the Pussycat Doll and current
Dancing with the Stars
champ that will play Maureen? "Nicole! Nicole—well, I don't want to slaughter [pronouncing] her last name—Scherzinger...which means, 'hey, I'm hot!'... she's going to be a part of an awesome cast! There are even members of the ensemble that are stars in their own right! So people better be ready!" For more information on WORLD OF COLOR, playing nightly at Disney California Adventure park, visit the official web site at
www.disneyland.com
, call 866/60-DISNEY or view the Disney Parks blog at
disneyparks.disney.go.com/blog
.
Photos by JC Orellana.


Cast members and fans on the blue carpet

Richard Sherman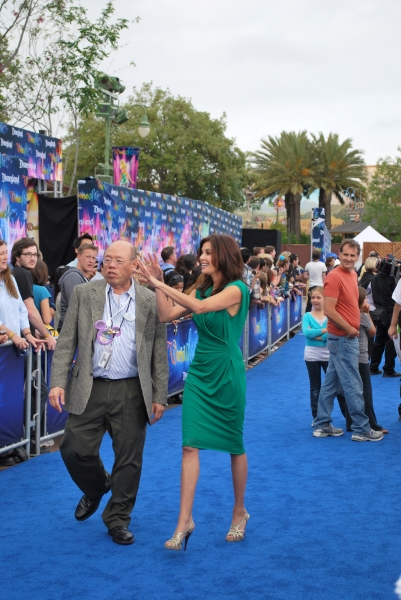 Terri Hatcher is escorted down the blue carpet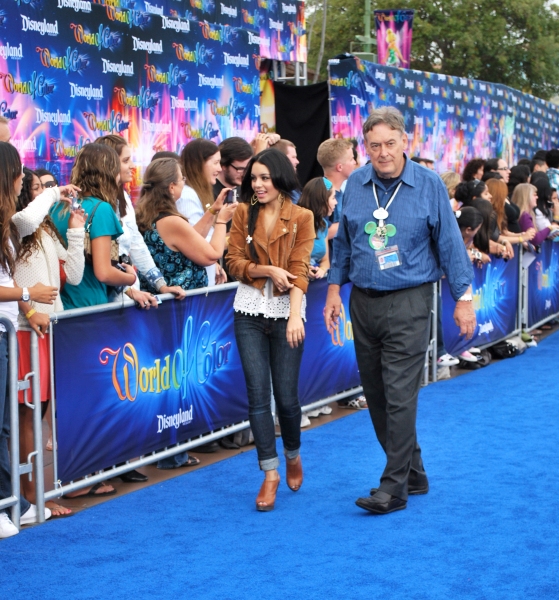 Vanessa Hudgens is escorted down the blue carpet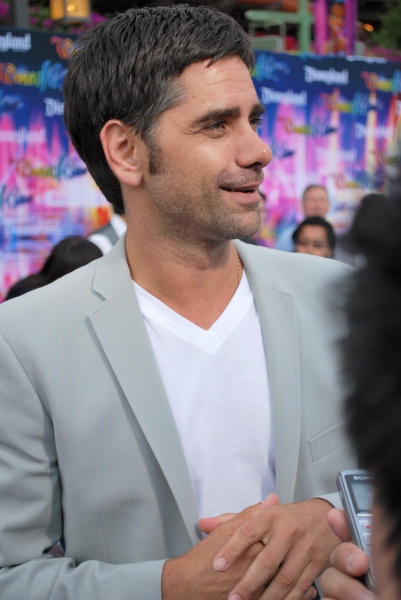 John Stamos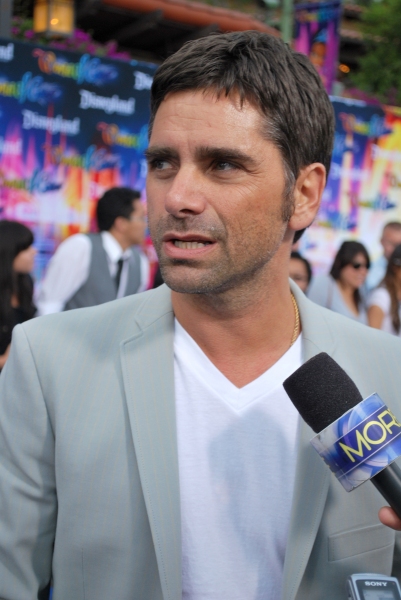 John Stamos

Wayne Brady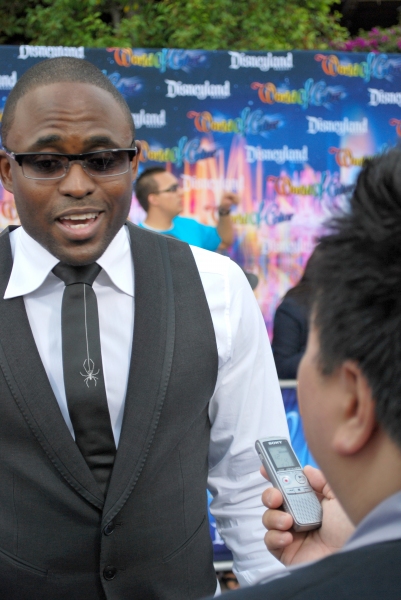 Wayne Brady talks with BWW's Michael Lawrence Quintos

Peter Facinelli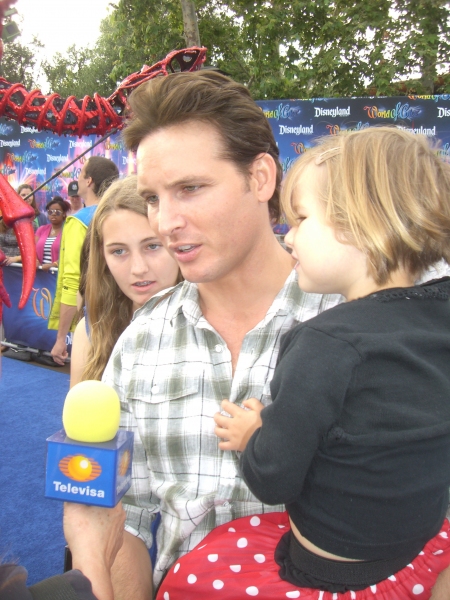 Peter Facinelli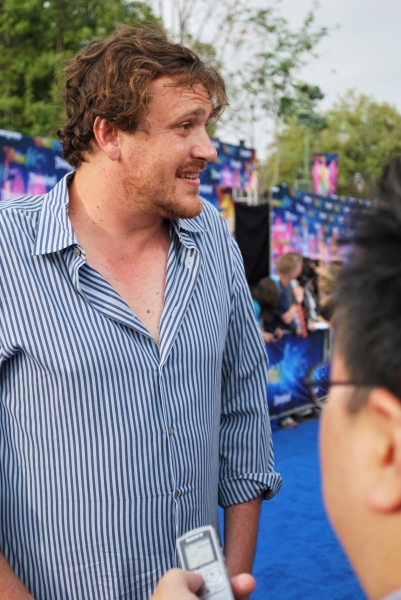 Jason Segel

Jamie Lee Curtis with daughter Annie

Cast members and fans on the blue carpet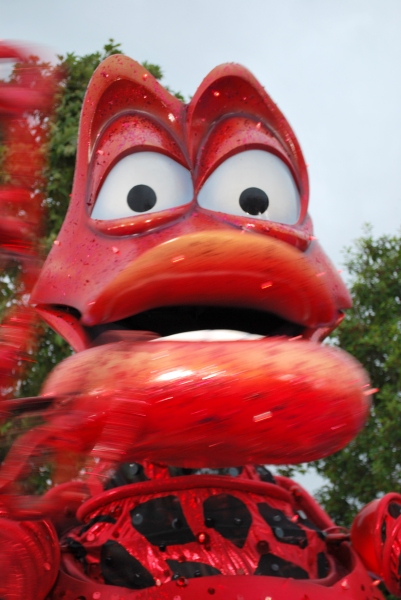 Sebastian from The Little Mermaid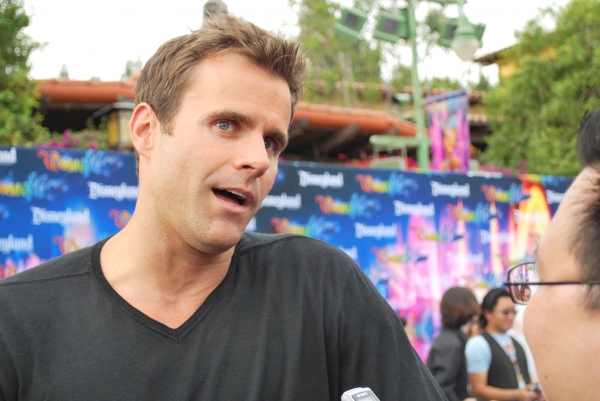 Cameron Mathison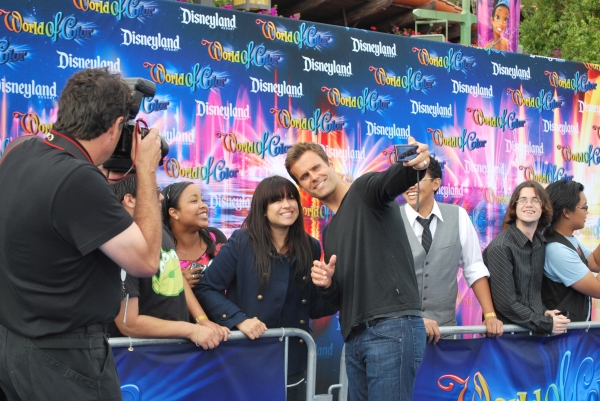 Cameron Mathison with fans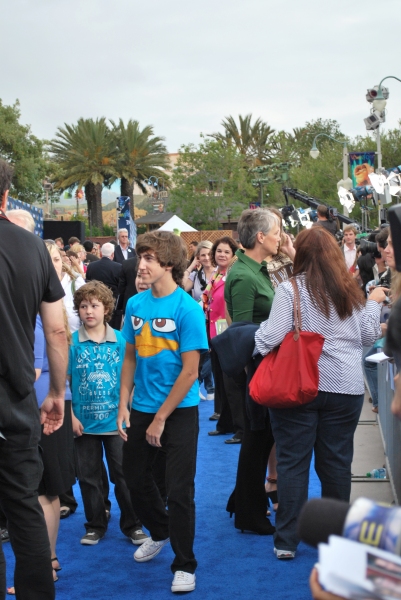 Nolan Gould, Vincent Martella, Jamie Lee Curtis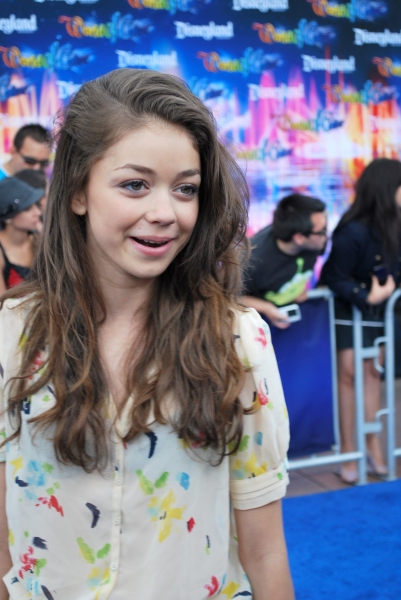 Modern Family's Sarah Hyland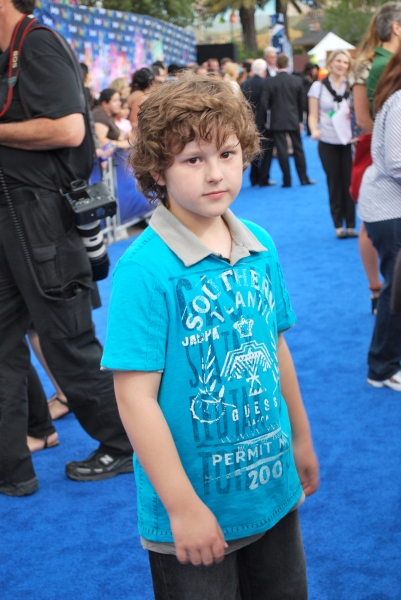 Modern Family's Nolan Gould

Modern Family's Rico Rodriguez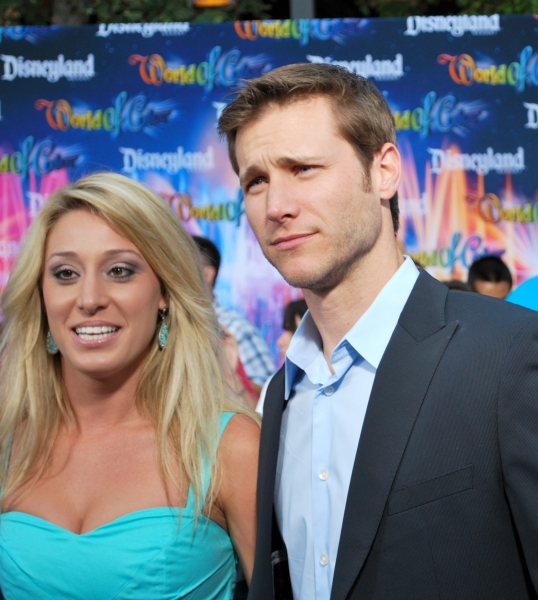 The Bachelor's Jake Pavelka and Vienna Girardi

Dancing with the Stars' Chelsea Hightower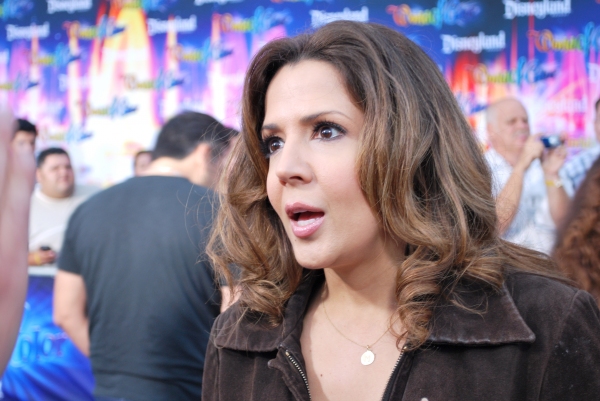 Wizards of Waverly Place's Maria Canals Barrera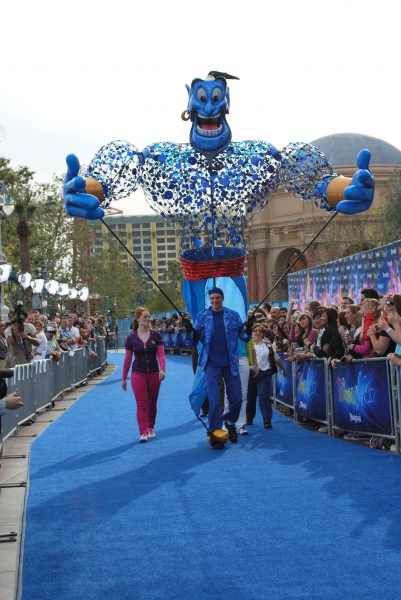 The Genie from Aladdin on the blue carpet

Jodi Benson

90210's Diego Boneta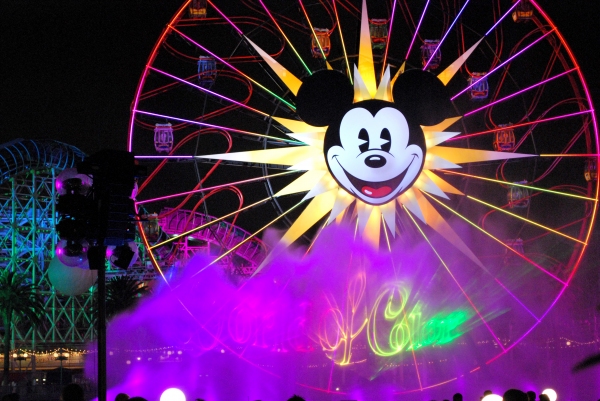 The World of Color Finale