Photo Coverage: 2,4,6,0...1! Countdown to Les Misérables in
With first week rehearsals freshly behind them, the cast and creative members of the highly anticipated Les Miserables in Concert now head into the final stages of bringing this classic tale to the Hollywood Bowl stage. The second week of rehearsal finds the entire company, under the watchful eye of director Richard Jay-Alexander, heading towards Opening Night.

It will be a week of intense technical work as the staging moves from its first week home at Hollywood's United Methodist Church, to the Walt Disney Concert Hall for the thrill of the sitzprobe conducted by musical director and conductor Kevin Stites. There will also be lighting, sound and sound cue rehearsals for this lavish production and then on to the emotional final dress on the stage of the Hollywood Bowl itself. If you happen to be a resident of the Los Angeles area, the final dress rehearsal, which takes place on Friday, August 8th at 10am is, and has always been, open to the public for free.
All this leads up to the exciting Opening Night performance which takes place Friday, August 8th 2008.
BroadwayWorld.com will be there every step of the way with exclusive behind the scenes coverage from Los Angeles featuring first week rehearsal photos taken by Melora Hardin, star of The Office and the Hollywood Bowl concert's Fantine. BWW TV will feature in-depth segments including backstage at this week rehearsals, interviews with the acclaimed cast, including Tony winners John Lloyd Young and Brian Stokes Mitchell, Broadway favorites Ruth Williamson, Michael McCormick, J. Mark McVey, Lea Michelle, UK stage star Tom Lowe and more along with performance footage from the concert itself.
The world's most beloved musical comes to the famed Hollywood Bowl in an extraordinary, once-in-a-lifetime, staged concert adaptation, directed by Richard Jay-Alexander. This unique production came about by a very special agreement that The Hollywood Bowl has made with Music Theatre International and Cameron Mackintosh, the musical world's most successful Producer. It boasts an all star cast featuring Broadway's J. Mark McVey as "Jean Valjean"; Brian Stokes Mitchell as "Javert"; John Lloyd Young as "Marius", Lea Michele as "Eponine", Melora Hardin as "Fantine", Michael McCormick as "Thenardier", Tom Lowe as "Enjolras", Michele Maika as "Cosette" and Ruth Williamson as "Madame Thenardier"
Performing in the ensemble will be Barbara Chiofalo, Natalie Daradich, Travis Davidson, Joshua Finkel, Stephen Full, Julie Garnye, Joel Gelman, Sue Goodman, Daniel Guzman, Wayne Hu, Jennifer Naimo, Steve Mazurek, Lesley McKinnel, Weston Wells Olson, Ethan Le Phong, Patrick Reese, Eddy Rioseco, Tristan Rumery, Allyson Tucker, and Darlene Williams along with students Sergio Pasquarielo, Frankie Kane Kraft, Anton M. Garsola, Andrew Karl and Christopher Karl.
The concert celebrates the timeless tale of passion and redemption and the glorious Claude-Michel Schonberg / Alain Boublil score of Les Miserables as it has never seen or heard it before and undoubtedly never will again. This concert adaptation of the eight-time Tony Award-winning musical features the 55 member Hollywood Bowl Orchestra conducted by Kevin Stites. The production also features local high school students, adding a dash of home-grown talent. During this one-of-a-kind production, audiences will be transported to post-Revolutionary France while basking in the beautiful California night.
All photos courtesy of Melora Hardin and Amy Shaughnessy

The hottest ticket in town!

Lea Michele and John Lloyd Young

Ruth Williamson and Michael McCormick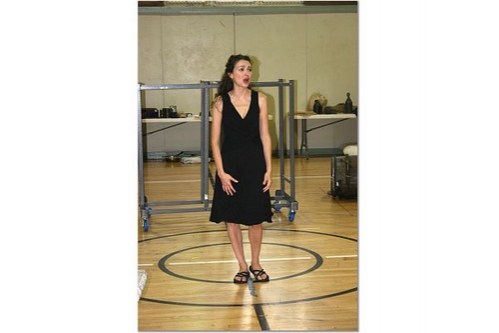 Michele Maika

Richard Jay-Alexander directs the cast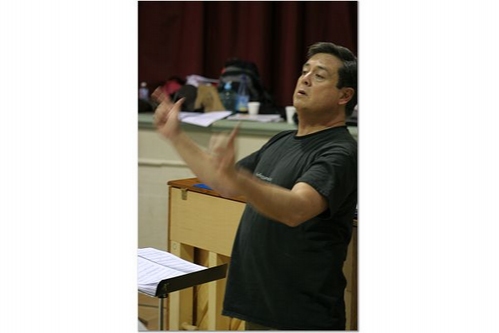 Musical Director and Conductor Kevin Stites

Joshua Finkel and John Lloyd Young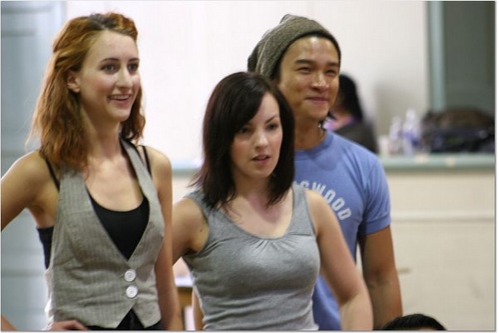 Ensemble

Enjolras and Marius unite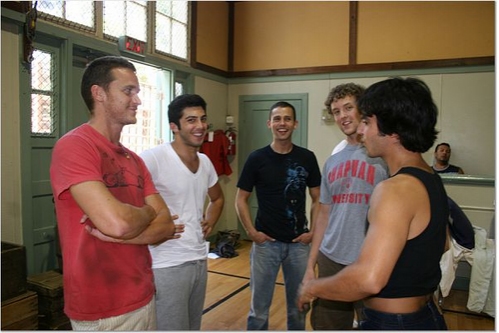 Tom Lowe relaxes with the students of the ABC Cafe

The Students of the ABC Cafe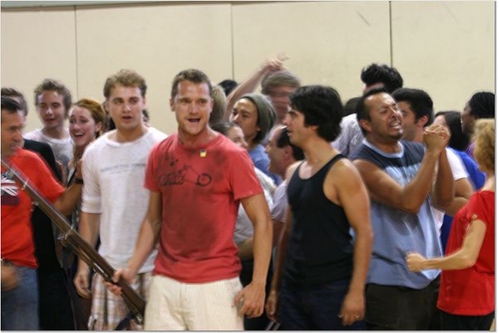 Do You Hear The People Sing?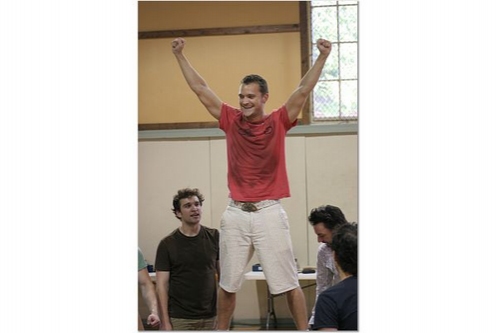 Tom Lowe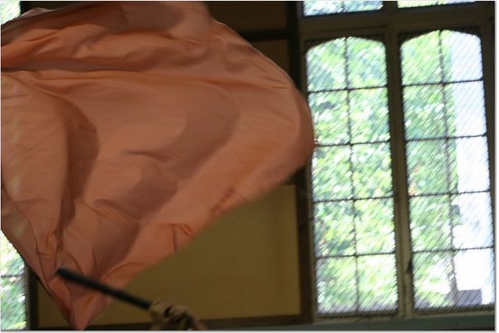 The flag is flown

J. Mark McVey and Melora Hardin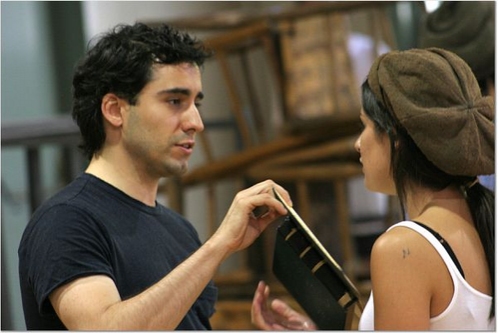 John Lloyd Young and Lea Michele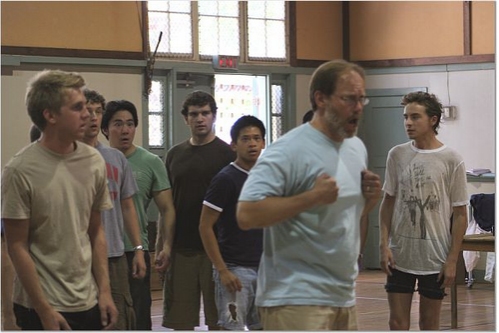 J. Mark McVey and Ensemble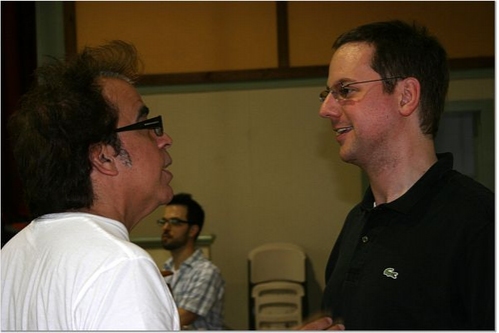 Richard Jay-Alexander confers with Brian Grohl

Michael McCormick and Assistant Director Marybeth Abel


Joel Gelman

Samantha Rey, Melora Hardin and Amy Shaughnessy

Michele Maika and Richard Jay-Alexander

Michele Maika and John Lloyd Young

Natalie Daradich and Travis Davidson

Julie Garnye and Daniel Guzman


The Students of the ABC Cafe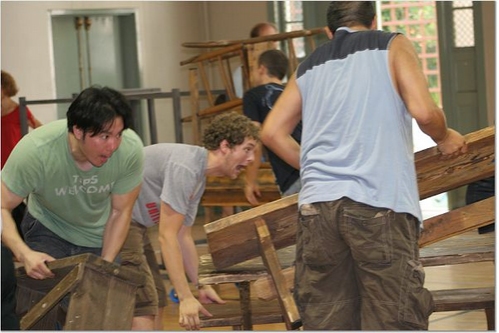 Male Ensemble prepare the barricades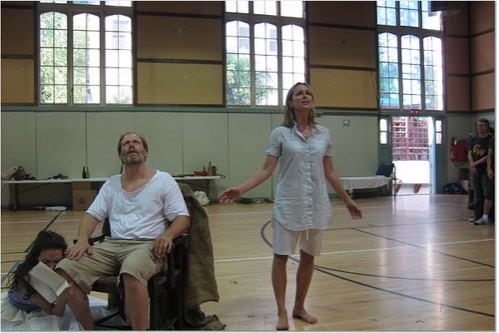 J. Mark McVey and Melora Hardin

J. Mark McVey and Melora Hardin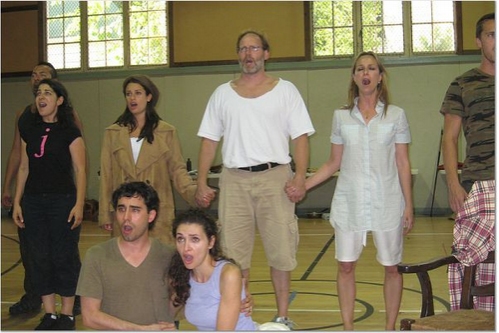 Julie Garnye, Lea Michele, J. Mark McVey, Melora Hardin, John Lloyd Young and Michele Maika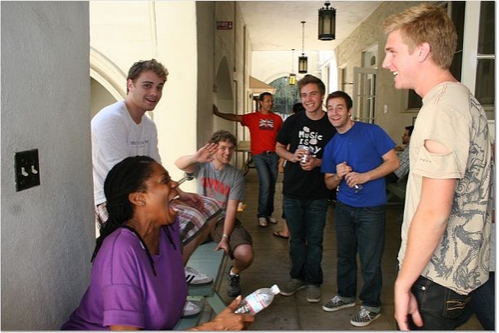 The cast takes a rehearsal break

Stephen Full and Matt Rocheleau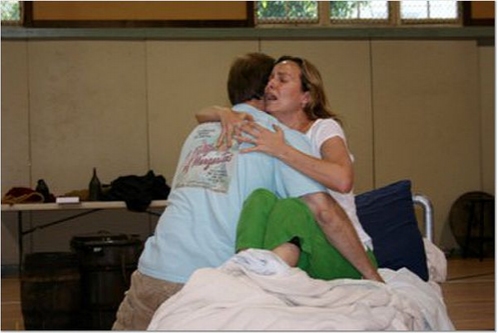 J. Mark McVey and Melora Hardin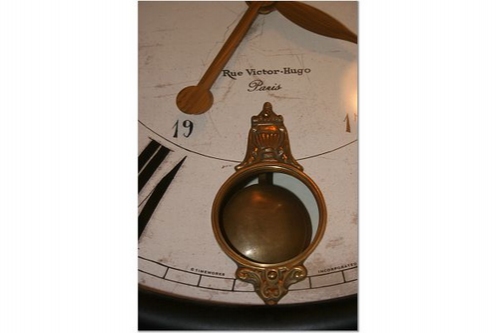 The "Victor Hugo" clock keeps the rehearsals on time!

Producers Brian Grohl and Steve Linder


The students of the ABC Cafe prepare for battle!