Natasha Leggero and Moshe Kasher to Perform at Flappers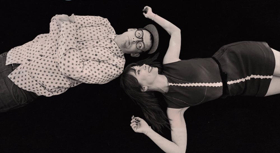 In a run-up to their Netflix Stand-Up Special Taping, Natasha Leggero and husband Moshe Kasher will perform a one-night only show at Flappers Comedy Club Burbank on Thursday, November 9 at 8:00 PM. Tickets are $20 and are available at www.flapperscomedy.com
Celebrated actress, comedian, and female, Natasha Leggero rose to notoriety after appearing as the host of MTV's The 70s House, and for her tenure as a regular roundtable panelist on Chelsea Lately. Her comedy has been characterized as observational and noted by critics for her use of satire on such themes as celebrity culture and class. Her stand-up television appearances include The Tonight Show with Jay Leno, The Late Late Show with Craig Ferguson, Last Call with Carson Daly, and The Tonight Show Starring Jimmy Fallon. In 2015, she co-created the sitcom Another Period for Comedy Central, in which she stars alongside co-creator Riki Lindhome.
Moshe Kasher is a stand-up comedian and author of the acclaimed memoir Kasher in the Rye: The True Tale of a White Boy from Oakland Who Became a Drug Addict, Criminal, Mental Patient, and Then Turned 16. His comedy album Everyone You Know Is Going to Die was ranked in the top 20 on iTunes. He was named "Comic to Watch" by Punchline Magazine and has been featured on Chelsea Lately, Late Night with Jimmy Fallon, Comedy Central's Drunk History, @midnight, Conan, Last Call with Carson Daly, Showtime's Shameless, and more. Described as "smart, dirty, sharp, self-deprecating and ultimately hilarious" by the Denver Post, Kasher is currently co-host of The Champs podcast.
WHEN:
Thursday, November 9 at 8:00 PM.
WHERE:
Flappers Comedy Club & Restaurant, 102 Magnolia Boulevard, Burbank, CA 91502.
TICKETS:
$20, plus two-item minimum per person - any combination of food and beverage.
ONLINE PURCHASE: