Long Beach Opera Presents THE CONSUL at the Centinela Center for the Performing Arts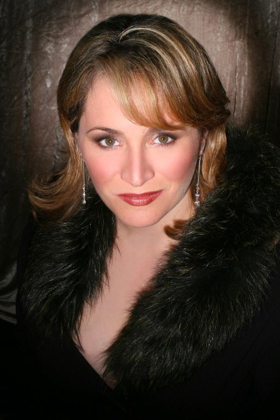 On October 14, 20 and 22, Long Beach Opera (LBO) will present three performances of The Consul with music and libretto by Gian Carlo Menotti, and starring Patricia Racette, making her Long Beach Opera debut at the Centinela Valley Center for the Arts, Lawndale.
The Long Beach Opera production is directed by LBO Artistic Director Andreas Mitisek and conducted by Kristof Van Grysperre, with sets designed by Alan E. Muroka. Racette, one of the great singing actresses of our time, stars as Magda Sorel in this politically charged refugee thriller. In The Consul, which was originally presented on Broadway in 1950 winning the New York Drama Critics Award for Best Musical and the Pulitzer Prize, Magda is pleading for a visa to save her persecuted family, but is confronted with a soul-destroying consular bureaucracy where "your name is a number," and "your story is a case." Taking place in an anonymous European totalitarian state, Menotti dramatized the despair of immigrants who risked and lost everything. This suspenseful drama tells a chilling story about the world. The cast also includes
Justin Ryan
as John Sorel, Audrey Babock as The Secretary,
Victoria Livengood
as The Mother, Cedrick Berry as the Secret Police Agent, Nathan Granner as The Magician, Zefflin Quinn Hollis as Mr. Kofner, Jamie Chamberlain as The Foreign Woman, Laia Ruyan as Anna Gomez, and
Kira Dills-DeSurra
as Vera Boronel. Gian Carlo Menotti is most known for The Medium (1946) and The Telephone (1947) - presented to acclaim on Broadway as a double bill, and later The Saint of Bleecker Street (Pulitzer Prize winner), Goya (1980) for
Placido Domingo
, and his most popular opera, the 1951 Amahl and the Night Visitors, which was the first opera written for television, and for a time had an annual broadcast on NBC. Soprano
Patricia Racette
has appeared regularly at the Metropolitan Opera, San Francisco Opera, Lyric Opera of Chicago, Canadian Opera Company, Royal Opera House, La Scala, Paris Opera, and the Bayerische Staatsoper in critically acclaimed performances of the title roles of Salome, Lady Macbeth of Mtsenk, Madama Butterfly, Tosca, Jenufa, Kátya Kabanova; all three lead soprano roles in Il Trittico, Minnie in La Fancuilla del West, and Elle in La voix humaine. She originated the roles of Leslie Crosbie in Paul Moravec's The Letter (Santa Fe Opera); Roberta Alden in Tobias Picker's An American Tragedy (Metropolitan Opera), the title role in Tobias Picker's Emmeline (Santa Fe Opera), Love Simpson in Carlisle Floyd's Cold Sassy Tree (
Houston Grand Opera
), and the title role in Tobias Picker's Dolores Claiborne (San Francisco Opera). Tickets for The Consul range from $49 to $150, and can be purchased either by calling the LBO Box Office at 562.470.SING (7464) or by going online to
longbeachopera.org.
Student Rush tickets for $15 will be available space permitting. For information, please visit
longbeachopera.org
Coincidence and Cinema There are two Long Beach Opera Coincidence and Cinema events at the
Art Theatre
,
2025 E. 4
th Street, in Long Beach, 90814. The LBO Coincidence is a talk from Gregorio Luke, which asks the question, are we "A Nation of Immigrants or a Closed Society?" Saturday, September 23 at 11:00am. Luke was the First Secretary of the Embassy of Mexico in Washington D.C. and former Consul of Cultural Affairs of Mexico in Los Angeles. He is a KCET Local Hero honoree. "I cannot think of a more timely subject," said Luke. "What's at stake in the opera and today is not only the fate of millions immigrants, but also the future of our nation." The event will include a performance of the signature aria from The Consul by Lara Ryan, soprano, an overview of the opera by LBO Artistic Director Andreas Mitisek, and a post-lecture audience dialogue. The LBO Cinema is screening The Immigrant (2013) on Saturday September 30 at 11:00am. Directed by
James Gray
, and starring
Marion Cotillard
,
Joaquin Phoenix
, and
Jeremy Renner
, The Immigrant was nominated for the Palme d'Or at the 2013 Cannes Film Festival. It tells of innocent immigrants trying to find their way in a new country, a woman is tricked into a life of burlesque and vaudeville until a dazzling magician tries to save her and reunite her with her sister who is being held in the confines of Ellis Island. Tickets for the LBO Coincidence feature talk by Gregorio Luke, and the film The Immigrant are $10 and are available online at
wwww.ArtTheaterLongBeach.org
or at the door. The events are free of admission to LBO A+ subscribers and Art Theater members; purchase of ticket can be also be applied to discount tickets to The Consul.
Photo credit: Devon Cass