Fountain Theatre Holds Free Screening of BRIEF ENCOUNTER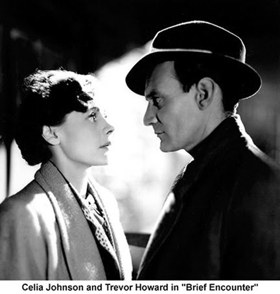 In conjunction with its current hit production of Arrival & Departure, the Fountain Theatre will present a free screening of the 1945 classic romantic film Brief Encounteron Saturday, September 22 at4:30 p.m.

Directed by David Lean and starring Celia Johnson and Trevor Howard, Brief Encounteris a passionate film about a chance meeting, forbidden love and finding one's soul mate. Laura, a married woman with children, meets a stranger, a doctor named Alec, in the tea room of a London railway station. They continue to bump into one another every week when Laura goes to London to shop, and a friendship develops. Soon, the weekly meetings become an arranged rendezvous. Finally, they confess that they are deeply, overwhelmingly in love.

With its evocatively fog-enshrouded setting, swooning Rachmaninoff score and pair of remarkable performances (Johnson was nominated for an Oscar), the film explores the thrill, pain and tenderness of an illicit romance, and has influenced many a cinematic brief encounter since its release. It was named "the most romantic film ever made" by 101 industry experts polled by Time Out London. The Film Society of Lincoln Center named it "one of the most achingly romantic films ever made."

Sachs' play, Arrival & Departure, puts a modern new spin on the story: the London train station has become a New York subway station; the tea room is a Dunkin' Donuts; and Laura and Alec have been reimagined as the hard of hearing Emily (played by Deanne Bray) and Sam (Troy Kotsur), who is Deaf. The play is performed by Hearing and Deaf actors in a fully integrated, unique blend of open captioning, American Sign Language and spoken English.

"I was looking for a love story to inspire my new play," explains Sachs. "When I thought of Brief Encounter, with its journey of two strangers travelling from friendship into love, I knew I had found what I was looking for."

The Fountain screening of Brief Encounter will be fully captioned so that it is accessible to both Hearing and Deaf audiences.

The screening of Brief Encounter will take place on Saturday, July 22 at 4:30 p.m. Admission is free, Seating is limited; reservations necessary. For reservations and information, call (323) 663-1525 or go to www.FountainTheatre.com.

The Fountain Theatre is located at 5060 Fountain Avenue (at Normandie) in Los Angeles.Secure, on-site parking is available for $5.

Related Articles View More Los Angeles

Stories

Shows
More Hot Stories For You