Bucket List Theatre Presents Third Installment of BUCKET LIST CABARET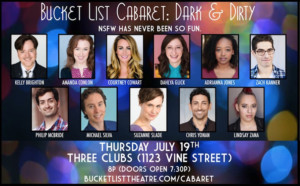 Bucket List Theatre presents the third installment of their new cabaret series, Bucket List Cabaret.
Bucket List's previous two cabarets enjoyed sold out engagements at Bar Fedora and will be premiering "Bucket List Cabaret: Dark & Dirty" on Thursday, July 19th at Three Clubs.
The show will contain an eclectic mix of "dark and dirty" show tunes and comedy songs..."NSFW has never been so fun".
Featuring Kelly Brighton, Amanda Conlon, Courtney Cowart, Dahlya Glick, Adrianna Jones, Zach Kanner, Philip McBride, Michael Silva, Suzanne Slade, Chris Yonan and Lindsay Zana.
Directed by Amanda Conlon with musical direction by Chris Yonan. Tickets and more info can be found at www.bucketlisttheatre.com/cabaret