Beethoven Meets Kanye in Young Musicians Foundation's YEETHOVEN II in L.A. and NYC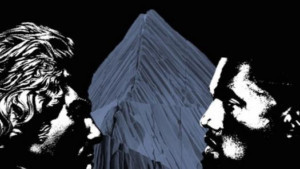 Beethoven + Kanye West = Yeethoven. Two eras, one radical spirit. The musical mash-up that no one expected, but critics and audiences raved about, is back, and this time it's bicoastal.
The Young Musicians Foundation (YMF) in Los Angeles will present Yeethoven II, featuring separate concerts in L.A. (Dec. 14, 2017, at the Belasco Theater) and in New York as part of Lincoln Center's Young Patrons Series (Jan. 18, 2018, at Alice Tully Hall).
As with the original 2016 Yeethoven concert in L.A. by YMF's Debut Chamber Orchestra (DCO), developed by DCO conductor Yuga Cohler and composer-arranger Johan, the performances will feature works by Beethoven and West juxtaposed, developed, varied and spliced together by a full orchestra. Mr. Cohler will again conduct in L.A. and New York.
West's critically acclaimed album Yeezus (2013) marked a dramatic turn for the musical artist. Abandoning the verse-chorus format found in his previous albums, West created a new sound that was more reminiscent of symphonic music - with a complex, constantly evolving trajectory. He developed this approach further in his subsequent album, The Life of Pablo (2016).
"If West's dramatic and formal language evokes any orchestral composer's work, it is Beethoven," Mr. Cohler said. "Like West, Beethoven was controversial in his era. He wrought havoc on existing compositional forms, alienated many, and changed the course of musical history."
Yeethoven II explores these similarities by juxtaposing the music of the two iconoclasts. "We cannot predict how Kanye West's work will be judged far in the future, but we think it undeniable that his impact on the music of our times has been as significant as Beethoven's was in his," Johan said.
Yeethoven II builds on its predecessor by incorporating several tracks from West's most recent album, The Life of Pablo. The formal innovations that West realized in this album parallel the structural complexities of Beethoven's later compositions, and these similarities will serve as a point of comparison.
The overwhelming response garnered by the DCO's 2016 performance of Yeethoven demonstrated the broad appeal of the concept. Yeethoven was featured in media outlets as influential and varied as Rolling Stone, Billboard, Huffington Post, Pitchfork, Los Angeles Times, The Independent (UK),CCTV (China) and many more.
"One of the biggest joys of that experience was observing the sheer diversity of the audience: Fans of every age and every type of music came together to appreciate the common greatness of Ludwig van Beethoven and Kanye West," Mr. Cohler said. "The atmosphere in the concert hall was electric, with audience members cheering for their favorite passages."
At the 2016 Yeethoven concert, YMF had to deny more than 1,000 people admission because the concert sold out so rapidly. "Our hope is that those who missed the first version can come to see Yeethoven II, so that our musical vision can reach an even greater audience," Johan said.
---
Yeethoven II
Los Angeles
Presented by Young Musicians Foundation
Who: Debut Chamber Orchestra, led by Lawrence N. Field Conductor-in-Residence Yuga Cohler; plus a performance by Los Angeles producerMNDSGN with special guests
When: Doors open 7 p.m. Thursday, December 14, 2017; concert at 8 p.m.
Where: The Historic Belasco Theater, 1050 S. Hill St., Los Angeles, CA 90015
Cost: $35 general admission in advance, $50 day of the show. $250 VIP admission (reservations required). VIP tickets include a pre-concert reception at 6 p.m. with a hosted bar, VIP event seating and meet-the-artist opportunities.
Tickets and information: yeethoven.org
New York
Presented by Lincoln Center Young Patrons
When: 8 p.m. Thursday, January 18, 2018
Where: Lincoln Center, Alice Tully Hall, New York City
Cost: $25 to $125
Tickets and information: Tickets go on sale to the public November 3 at 10 a.m. EDT at yeethoven.org. The event will include an interactive performance; $125 ticket holders can attend a post-show party inspired by Ludwig van Beethoven and Kanye West.
---
In New York, Yeethoven II will be presented as part of Lincoln Center Young Patrons 101 Series, where young patrons and members of the public have the opportunity to explore performing arts from an insider's perspective, while supporting Lincoln Center's arts education and audience development initiatives. Combining illuminating talks with behind-the-scenes access that members can't experience anywhere else, 101 Series events are among the Young Patrons group's most popular. Through this series, Young Patrons have had a chance to experience the orchestra from the inside (Listening 101 with the Experiential Orchestra), explore the craftsmanship and sound of fine violins (Fine Instruments 101 at Tarisio Fine Instruments and Bows), immerse themselves in the world of flamenco with Noche Flamenca and Spanish art at the Hispanic Society (Flamenco 101), and delve into Balanchine's choreographic language with three of the most famous ballet companies in the world (Ballet 101). Yeethoven II: A Lincoln Center Young Patrons 101 Event will include an onstage conversation and an after-party inspired by Ludwig van Beethoven and Kanye West.
Now celebrating its 63rd season, the Debut Chamber Orchestra (DCO) is one of the oldest pre-professional training orchestras in the country. Composed of approximately 70 talented musicians ages 15-25 from across the Los Angeles area, the orchestra hones the skills of students who are on the cusp of professional careers. Members are selected each year through blind auditions adjudicated by eminent Los Angeles-based musicians, and alumni of the orchestra perform today in virtually every major symphony orchestra in the country. Currently led by Lawrence N. Field Conductor-in-Residence Yuga Cohler, the orchestra also remains one of a few programs in the country that gives talented young conductors the opportunity to plan, rehearse and conduct a full orchestra season.
Young Musicians Foundation (YMF) believes that youth of all social and cultural backgrounds should have access to exceptional music education and classical music experiences. Through our Teaching Artist Program (TAP) we currently serve over 1,400 elementary, middle and high school students at schools and sites throughout the Los Angeles area. From TAP to the Debut Chamber Orchestra, our interconnected programs are designed to foster, encourage and prepare young musicians at every stage of their development as both artists and individuals.
Yuga Cohler, 28, is an internationally renowned orchestral conductor and cultural innovator. Appointed music director of the Young Musicians Foundation (YMF) Debut Chamber Orchestra in 2015, he came to national attention with his creation of The Great Music Series, a concert series that explores the elements common to massively popular music and works from the classical canon.
Mr. Cohler enjoys a close relationship with the Tokyo Philharmonic Orchestra, with whom he has appeared in concert on Japanese national television. He recently completed a sold-out international tour with them featuring the international rockstar Yoshiki, which concluded with two performances in Carnegie Hall. Mr. Cohler has additionally appeared as a guest conductor with the Juilliard, Ridgefield, and New Amsterdam Symphony Orchestras, and served as cover conductor for the Los Angeles Philharmonic and New Jersey Symphony Orchestra.
As a recipient of the Bruno Walter Memorial Scholarship, Mr. Cohler studied with New York Philharmonic Music Director Alan Gilbert at the Juilliard School. He is currently among the top four candidates of the Toscanini International Conducting Competition, and will return to Italy in the fall to conduct the Filharmonica Toscanini in concert for the final rounds. Among the other accolades granted to Mr. Cohler are the Career Assistance Award from the Solti Foundation U.S., the Ansbacher Fellowship from the American Austrian Foundation, the Charles Schiff Conducting Award from the Juilliard School, and the David McCord Prize for Artistic Excellence from Harvard University. He has been awarded fellowships to some of the most prestigious musical institutions in the country, including the Aspen Music Festival and the Cabrillo Festival of Contemporary Music, and has additionally studied at the Tanglewood Music Center.
A skilled interpreter of modern music, Mr. Cohler was selected by composer John Adams to perform a program of modern American orchestral music at Carnegie Hall, where The New York Times lauded his "strong rendition" of Elliott Carter's Double Concerto. Currently a Director of the Asia / America New Music Institute, Mr. Cohler has performed world premieres at the Beijing Modern Music Festival, the Asian Composer's League in Seoul, the Okinawa University for the Arts, and the Peabody Essex Museum.
Mr. Cohler is a summa cum laude graduate of Harvard College, where he studied computer science. His senior thesis, Optimal Envy-Free Cake-Cutting, has been cited by over 50 articles in the academic literature. As an advocate for the integration of art music into mainstream culture, Mr. Cohler runs State of Art, a blog about American music without preconceptions of genre or quality. Instagram: @yugaconducts | Twitter: @yugacohler | Facebook: www.facebook.com/ycohler
Johan (born Stephen Feigenbaum) is a singer, producer and composer who works in a variety of genres, including pop, classical and musical theater. His songs have been heard millions of times on Spotify and featured in music publications including Pigeons and Planes and The Fader. As a producer and arranger, he has worked closely with artists including Vic Mensa, Alessia Cara, Rufus Wainwright, Trinidad James and Mr. Hudson, as well as producer No I.D.
Many of Johan's projects are driven by a passion for turning mainstream audiences into fans of classical music. He was a creator and the sole arranger of Yeethoven, a 2016 orchestral concert in Los Angeles in which the music of Kanye West and Beethoven were interwoven and compared. The program was widely recognized in publications ranging from Pitchfork to Rolling Stone and USA Today. Johan's project Doctrine, created in 2017 with San Diego choir Sacra / Profana, presented traditional choral textures in an indie-pop format and ascended to the Top 5 in the Hype Machine charts for music blog buzz, an unheard-of feat for a choral work.
Johan's classical music has been performed and recorded by the Cincinnati Pops, Albany Symphony Orchestra, Boston Children's Chorus, contemporary music pianists Lisa Moore and Vicky Chow, and the string quartet Ethel in venues including Boston's Symphony Hall and New York's Alice Tully Hall. He has won two ASCAP Morton Gould Young Composer Awards and a 2013 Charles Ives award from the American Academy of Arts and Letters. Johan's Off-Broadway folk-rock musical Independents, written under his given name, was named a New York Times Critic's Pick and one of the Huffington Post's 10 best plays of 2012. He also did music preparation for the score to the Oscar-winning movie The Revenant.
A native of Winchester, Massachusetts, Johan holds undergraduate and graduate degrees in music composition from Yale, where he studied with Pulitzer Prize winner David Lang and received instruction in musical theater composition from Fun Home composer Jeanine Tesori. Instagram: @isitjohan | Twitter: @isitjohan | Facebook: www.facebook.com/isitjohan
Featured BroadwayWorld Events
Check out these concerts...

More Hot Stories For You