Review: Spectacular SEUSSICAL Takes Audiences on Flights of Fancy at the Morgan-Wixson Theatre!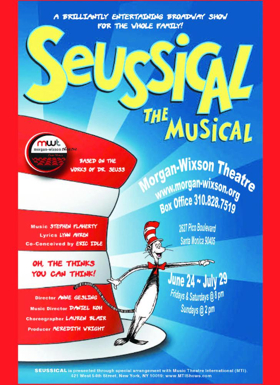 Have you been waiting for the perfect musical extravaganza to which you can take your entire family, from the youngest to oldest member? Now is your chance by experiencing SEUSSICAL the musical at the Morgan-Wixson Theatre in Santa Monica. It is such a fabulous production from its perfect cast, direction, lighting, set, and more incredible costumes than you can count, I guarantee you will walk out thinking just "How Lucky You Are" to have seen it.
I attended the first Sunday matinee and was totally surprised at the number of young children who were attending with their parents. But as soon as the show started, it became clear to me why the performance had sold out. Even 3-year old Lev, who was sitting in front of me with his parents, was having trouble controlling his excitement at seeing Horton the Elephant on the stage and eagerly ran through the list with me all the Dr. Seuss characters he already knows and loves. He sat in rapt attention through the entire production, a real triumph for a show lasting more than two hours (with one intermission),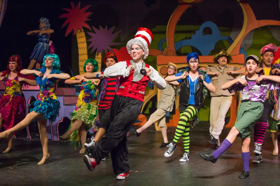 thanks to the talents of director Anne Gesling, musical director Daniel Koh, choreographer Lauren Blair, costumer Kristie Rutledge, whimsical set designed by Tristan Griffin, wondrously colorful lighting by Bill Wilday, all held together by producer MerEdith Wright.
SEUSSICAL is a fantastical, magical, musical extravaganza by Tony winners Lynn Ahrens and Stephen Flaherty, Co-Conceived by Eric Idle based on the works of Dr. Seuss. The trio who have lovingly brought to life all of our favorite Dr. Seuss characters, including The Cat in the Hat (Chris Tiernan, a real triple-threat entertainer who will hold your attention from start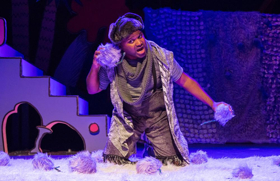 to finish as he cavorts and sings his way through the show); Horton, the elephant (Steven Flowers who adds the perfect touch of innocence to the good-natured pachyderm) who discovers a speck of dust containing the Whos, vowing to protect them from naysayers and dangers; the irresponsible, beautiful but lazy Mayzie (Amy Coles, perfectly cast in the "flighty" role when she sings "Amayzing Mayzie");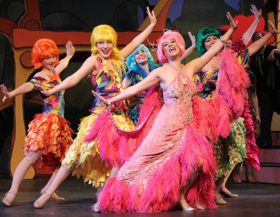 the intrepid Gertrude McFuzz (Annie Claire Hudson, displaying her triple-threat skills performing "The One Feather Tail of Miss Gertrude McFuzz"); and Jojo, a Who child sent off to military school for thinking too many "thinks" (young and enthusiastic Nicholas Vizzi who shines during "It's Possible" and in his duet "Alone in the Universe" with Flowers, as Horton, leading the way).
These colorful characters transport us from the Jungle of Nool to the Circus McGurkus to the invisible world of the Whos, led by
Mr. Mayor (Daniel Koh) and Mrs. Mayor (Fiona Porter) who share "How to Raise a Child" and are then put upon by the menacing General Schmitz (Spencer Johnson who manages to channel every military despot you have ever known).
The somewhat darker Seuss characters also come into play, such as the Wickersham trio of hoodlums (Daniel Gaitan, Lauren Blair, and Niko Montelibano who show us how to "Monkey Around"), the darkest of blackbirds Vlad Vladikoff (Hollister Starrett who flits around as if he owns the stage, which he does),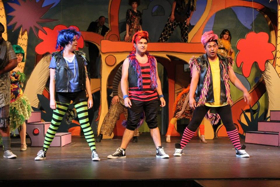 the Sour Kangaroo (Alicia Luoma who can belt with the best of them, sharing the role with Zoe D'Andrea), and The Grinch (Niko Montelibano). Roy Okida comically holds court as the judge at Horton's trial, which ultimately allows the powers of friendship, loyalty, family, and community to be challenged and emerge triumphant.
The only improvement I can suggest would be to add headset microphones to the lead characters so their words may be understood better over the pre-recorded music soundtrack, which often drowned them out from where I was sitting in the second row, perhaps a bit too close to the overhead speakers.
No doubt all of us have read at least 5 Dr. Seuss books and shared them will the generations following us, making these beloved characters part of all our childhoods. So treat yourself and your family away from the harsh realities of life and enjoy a fantastical trip back to the wonders of the imagination by seeing SEUSSICAL through July 29, 2017 on Fridays and Saturdays at 8pm and Sundays at 2pm at the Morgan-Wixson Theatre, 2627 Pico Blvd. in Santa Monica, CA 90405. Reserved seats start at $23 online at www.morgan-wixson.org or call the theatre box office at 310-828-7519. Don't wait until it's too late and all the shows have sold out as no doubt they will once word gets out about how fabulous this production is!
Production photos by JDC Photography
And in case you are wondering just who is wearing all those fabulous costumes, here is the complete cast list (in alphabetical order):
Daisy Billington - Who, Jungle creature, Lucky tap
Lauren Blair - Wickersham #2
Mirai Booth-Ong - Bird Girl
Erika Brauer - Jungle Creature, Elephant hunter
Amy Coles - Mayzie
Zoe D'Andrea - Sour Kangaroo
Sadie Fisher - Who, Who cadet
Steven Flowers - Horton
Danny Gaitan - Wickersham #1, Who
Tess Hubbard - Who, Who cadet
Annie Claire Hudson - Gertrude
Spencer Johnson - General Schmitz, jungle creature, Elephant Hunter
Daniel Koh - Mr. Mayor
Thea Lawson - Who, Who cadet
Alicia Luoma - Sour Kangaroo
Dana Mazarin - Bird Girl
Niko Montelibano - Wickersham #3, Grinch
Milla Moretti - Who, Who cadet
Rosey Murah - Bird Girl
Chanelle Nibbelink - Bird Girl
Eileen O'Donnell - Bird Girl
Fiona Okida - Who, Who cadet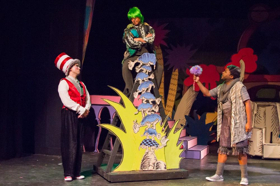 Roy Okida - Who, Jungle Creature, Yertle
Fiona Porter - Mrs. Mayor, Stilt walker
Hollister Starrett - Jungle Creature, Elephant Hunger, Vlad Vladikoff
Lucy Tate - Who, Who cadet
Chris Tiernan - The Cat In the Hat
Nicholas Vizzi - JoJo
Ella Ward - Who, Jungle Creature, Lucky tap