Review: ROPE Fascinates at Actors Co-op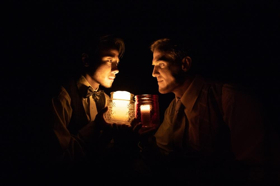 ROPE/by Patrick Hamilton/directed by Ken Sawyer/Actors Co-op - Crossley Theatre/through October 28
In 1948 Alfred Hitchcock directed the film Rope based on Patrick Hamilton's 1929 play. Its setting was switched from London to New York, and at least for me, the psychological crime story played out in a very talky, uninteresting manner. The stage play, by the way, is rarely produced. Currently onstage at Actors Co-op, Rope is a fun, delightful romp through a game of murder that perks attention from the moment it starts, and thanks to brilliant director Ken Sawyer and his outstanding cast, it's a riveting and enjoyable evening in the theatre, far, far ahead of that Hitchcock movie.
I hate the word psychological, because it's often used to describe an actionless plotline. Rather than pull you in and grab hold of you, it gradually sinks into words and more meaningless words, nothing else. Hamilton's Rope, however, offers much more. It begins with a murder in the dark, with only candles to light the action of killers Wyndham Brandon (Burt Grinstead) and Charles Granillo (David Huynh) (pictured above). The lights flash on and off and we, the audience, witness the senseless strangulation murder of young Kentley, heir to his father's fortune. Sir Johnstone Kentley (Carl Johnson) is in fact invited to a party scheduled to take place only minutes away in the two killers' London apartment, in the guise of presenting and gifting a library of rare books.
Brandon and Granillo have carefully planned the whole evening beginning with the son's kidnapping, the murder, depositing his body in a chest, upon which the party's food will be served....and finally the party. Attending will not only be the boy's father, but also his sister Leila Arden (Heidi Palomino), an old college chum Kenneth Raglan (Kyle Anderson), fascinating author/friend Rupert Cadell (Donnie Smith) and the father's guest Mrs. Debenham (Elizabeth Herron). Rounding out the ensemble is French maid Sabot (Deborah Marlowe). All of these people joke about the chest used as a serving table and even propose wild imaginings like rotting human bones are concealed inside. Brandon laughs nervously; Granillo cringes. It's their funeral. As planned, they asked for it ... An adventure in vanity to perk up an otherwise unbearably dull lifestyle!
I will not divulge any more of the party's discussion except to point out that Rupert has a curious attraction to crime and murder as well as an affection for the boy and Brandon and Granillo. It was too early to openly explore gay themes in the 20s and 40s, but the sensuality is apparent from the characters' glances and other sensory behavior.
Under Sawyer's detailed direction, via which he manages effectively to pull out every ounce of humor, the cast give tremendously engaging performances. Grinstead and Huynh hit the mark from the top. Smith as Rupert has perhaps the most arduous role with his discussion of the lack of logic in murder and war but then, like Inspector Hercule Poirot in Murder on the Orient Express, he spectacularly uncovers the deviousness of the night's behavior and becomes the champion and star. Johnson as always gives a winning look at an aging, lonely old man. Herron is a marvel. With Sawyer's added reactions, she brings an otherwise nothing role to vibrant life. Another scene stealer is Palomino as Leila, who screams at the top of her lungs at every clap of thunder. Anderson's Raglan is jovial and Marlowe is delightful in her few entrances and exits as Sabot.
As to the creative team, Hellen Harwell has designed a wonderful set, with special thanks to David Burnham for his lovely painting job in lurid red. Matthew Richter's lighting is spot on as is Adam R. Macias' very even sound design. Paula Higgins' period costumes are mostly pleasant to look at.
Don't miss this rarely produced production of Rope! Sawyer has taken the three acts and come up with this 90-minute version that titillates and keeps you right on the edge of your seat.
(photo credit: Larry Sandez)