Review: Poignant Play CRY IT OUT Spotlights Modern Motherhood at OC's Chance Theater
Playwright Molly Smith Metzler's engaging play is at times bitingly funny and at other times, achingly bittersweet
If you were one of the multitudes (like myself) who instantly binge-watched the riveting limited series Maid on Netflix, then you've already been exposed to the exceptional work of playwright Molly Smith Metzler, who created and adapted this mesmerizing 10-episode drama that chronicles the struggles of a young single mom employed as a low-wage house cleaner.
As witnessed in the writing and directing of that show---as well as her past credits that include Showtime's Shameless, Hulu's Casual, and Netflix's Orange Is The New Black---Metzler is particularly equipped with a keen sensitivity for female-centered stories that straddle wit and sorrow. My first stage experience of her work was in the 2012 West Coast premiere production of her play ELEMENO PEA at South Coast Repertory, which also features a significant female point-of-view.
So, of course, it is not surprising then that her most recent work also places such reverence center-stage.
At times bitingly funny and at other times, achingly bittersweet, Metzler's play CRY IT OUT---now having its Orange County premiere performances at Chance Theater in Anaheim through May 1, 2022---is a poignant slice-of-life that takes an eavesdropper's look at the hopes, fears, and lessons that come with new motherhood in our current times, and just how different each new mother chooses to handle the balancing act.
Set all the way back in pre-pandemic 2019---back when daily close human contact between neighbors was still nonchalantly possible without cautionary measures---the play focuses on the perspectives of three very economically-diverse women (and, in a way, one very confounded man) specifically bubbled within a mixed microcosm in Long Island, New York---the kind of neighborhood where the rich and comfortable can somehow reside geographically close (though perched high above) to those living paycheck-to-paycheck. It is this forced juxtaposition that helps jumpstart the unlikely friendship that blossoms between a likable pair of backyard-facing neighbors-turned-close confidantes, who discover---despite coming from opposing sides of the tracks---a mutually-beneficial kinship through their daily chats rooted in the joys and, yep, the horrors of new motherhood.
On one side of the fence is working-class Lina (Amanda Zarr), a hilariously feisty nurse with a thick Long-uh Eye-lund accent, whose slim bank account has forced her family to move in with the mother of her baby's daddy. While she appreciates the financial arrangement at the moment, she worries about the impending day when she must return to work, a prospect that is simply non-negotiable for someone in her economic tier. But going back means leaving her newborn baby under the care of her boyfriend's mom---whom she suspects might be an undiagnosed drunk.
Meanwhile, her neighbor and new coffee buddy Jessie (Aubrey Saverino)---who before giving birth spent her days as a successful, well-to-do lawyer---is still debating whether she wants to go back to the office after her scheduled maternity leave expires. On one hand, being a permanent stay-at-home mom means she doesn't have to miss any of her baby's firsts; but on the other hand, the exhausting routine of little sleep and being forever tethered to a baby monitor fills her with some trepidation. Money isn't much of a concern since her husband---though somewhat unhelpful in the child-rearing department---has a good, stable job (and she's not doing bad financially herself). Still, she also seems lonely, even with a husband, a new baby, and a new ally across the yard.
With their chats filled with confessionals, empathy, and, yes, lots of laughter, it is clearly evident that their instant bond provides a welcoming outlet to not only openly express their similar anxieties and frustrations, but to also seek advice and understanding (save for a few hiccups of misunderstanding here and there).
Things take a turn, however, when the two women become unexpectedly entangled with a married couple---new parents themselves---who have been curiously observing the palpable joy the gal pals exude from a short, elevated distance.
Residing up higher in a much grander house overlooking the two mothers' backyards, their even wealthier neighbor Mitchell (Seyto James) shows up unannounced to introduce himself. Mitchell---played by James, who is Panamanian-American---is, sadly, initially met with the kind of automatically "Karen"-esque, highly unnecessary white panic/suspicion from a very confrontational Lina that, frankly, could have gone much worse. But, eventually, the much calmer Jessie allows the poshly-dressed stranger who arrived in a fancy car to introduce himself properly as their neighbor, who tells them that, out of piqued fascination, he found himself "looking down" on them---perhaps an unintentionally loaded turn of phrase describing the location of his mansion.
In a bold and unusual request, Mitchell---after watching the two moms' daily gabfest---has asked if it would be okay for the two women to include his wife Adrienne (Angel Dumapias), a rather world-famous jewelry designer who also just had a baby, into one of their upcoming daily meetings. He explains that his wife---whose journey to motherhood has been a rather difficult one, and is possibly still affecting her current behavior---may need some friendly guidance on being a new mother, and that she could probably benefit from conversing with and enjoying the same camaraderie that Jessie and Lina share as seemingly "satisfied" new moms, as he's observed from afar.
Sensing Mitchell's melancholy and weariness, Jessie takes pity on him agrees to meet.
When the women do finally meet the very cold, seemingly career-focused Adrienne---who clearly doesn't want to be there and is only reluctantly agreeing to the meet-up to pacify her husband's worries---their once harmonious coffee-and-chat bubble begins to burst from the new tensions and realizations unveiled as all three women try to figure out whether it really is possible to, as they say, "have it all"... where one finds a comfortable balance between enjoying the fulfillment and joy of motherhood and immersing oneself in the satisfying pleasures of a successful career---without jeopardizing the achievement of either.
The idea of achieving equal balance between personal career growth and fulfilling the demands (and rewards) of direct, first-person caregiving has long been a hovering issue for mothers long before the dawn of our current century, and in CRY IT OUT---deftly directed with care for the material by Elina de Santos---this theme is further explored to include not only the expected personal and societal obligations, but also its ties to class and economic disparities, our evolving 21st Century modern thinking, and, of course, one's cultural and geographic background.
CRY IT OUT gets its title from the baby-rearing methodology that says parents should just let a screaming, weeping child "cry it out" in their crib alone, rather than getting tended to and rescued by a doting, affectionate parent. Is this training method an early lesson for babies to fend for themselves and to not rely on someone else, or is it a cruel, unkind, and, some say, unfairly torturous treatment that very young, helpless children do not deserve?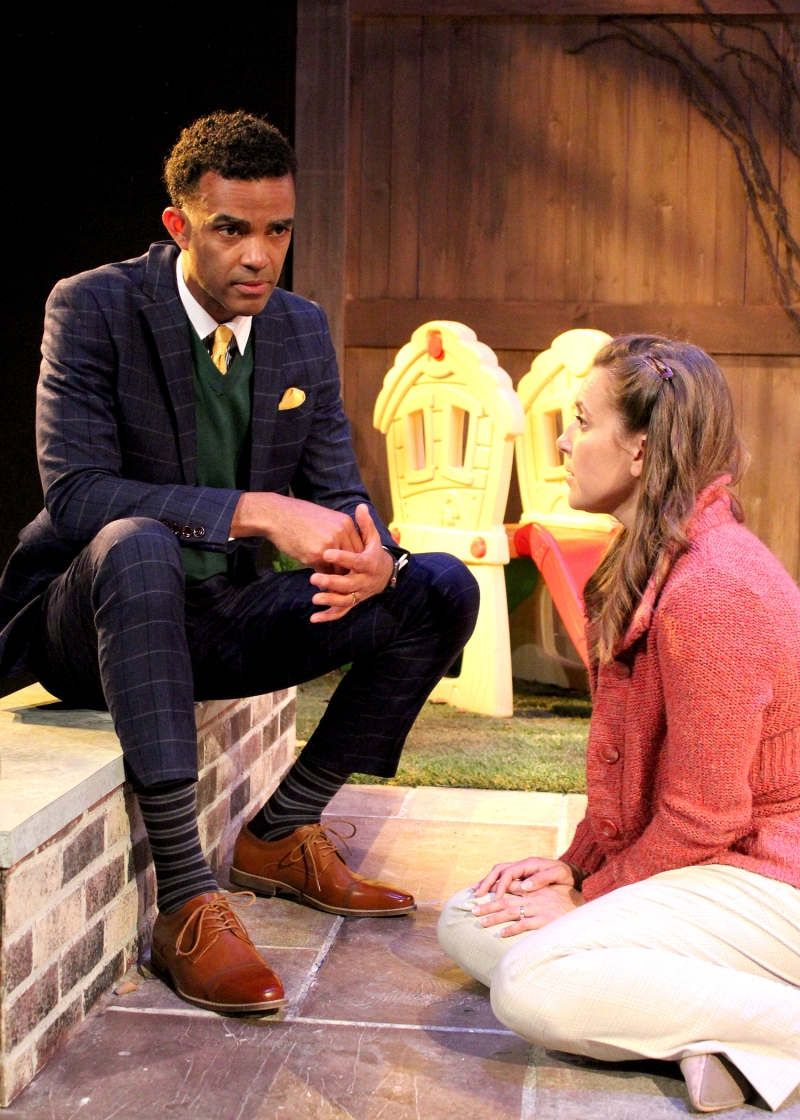 Motherhood's ups and downs, as we see argued in the play, isn't necessarily taken on with a singular, pre-planned path meant to work for all women---but, rather, it is more and more individualized and nuanced as our thinking and our behaviors change with the times and environments we live in.
Entertaining and thought-provoking in equal measure, CRY IT OUT has plenty to laugh about, but also has moments that are inquisitive and even heart-wrenching. Metzler clearly has an affinity for providing a bullhorn for women's feelings with truth and tenacity, but also---via the character of Mitchell---allows one particular man to display a vulnerability that fatherhood in the modern era now includes.
And while each character initially displays an adherence to expected personality types, the actors tasked to bring them to life provide more depth and inner complexities to come out. As Lina and Jessie respectively, Zarr and Saverino display believable chemistry as sister-like friends, but also provide excellent individualized portraits of relatable female archetypes. Zarr's foul-mouth delivery is often hilarious and deliciously fierce, while Saverino occasionally allows open windows to her character's soul. Dumapias is rather memorable for putting up a seemingly impenetrable wall of bitterness that soon comes crashing spectacularly down as her character's true feelings and vulnerabilities escape. And I appreciate and understand James' more controlled and subdued performance as Mitchell, which, more than anything, allows for a nice contrast to the ladies' performances he's here to support.
Also helping to aid in the effective storytelling is the work of scenic designer Bruce Goodrich, whose main backyard set straddling modernity and economics provide a shared yet still separated common center neutral space where all characters eventually converge. Costume designer Adriana Lámbarri smartly dresses both Jessie and Lina in similar color-punctuated loungewear, equalizing the two stay-at-home women and allowing them to (temporarily and visually) shed their different economic backgrounds while conversing about very similar struggles; while Adrienne, with her tightly sculpted hair bun and tailored, dark-hued girl-boss threads, effectively keeps her feelings tightly packed inside her sharp "armor." It's a disguise that says, despite just giving birth to a child, it's back to business as usual.
Filled with humor and drama that examines both the internal and societal tug-of-war thrust onto new moms in our current times, CRY IT OUT proves itself to be a truly engaging piece of theater that deserves your attention.
Follow this reviewer on Twitter: @cre8iveMLQ.
Photos from Chance Theater's production of CRY IT OUT by Camryn Long.
(Editorial Note: This review was updated with a requested correction from the production)
-------
Chance Theater's Production of Molly Smith Metzler's CRY IT OUT continues on the Cripe Stage through May 1, 2022. Directed by Elina de Santos.
Chance Theater is located in the Bette Aitken Theater Arts Center at 5522 E. La Palma Ave., Anaheim, CA 92807. For more information or to purchase tickets, call (714) 777-3033 or visit www.ChanceTheater.com.