BWW Review: MAGIC MONDAY Welcomes Awe Inspiring Magicians to the Santa Monica Playhouse
Albie Selznick, life-time member of the Magic Castle and creator/performer of the hit theatrical magic show Smoke and Mirrors, returns to the Santa Monica Playhouse with his trademark MAGIC MONDAY show, every Monday evening through the end of August. Each week will feature a new and different lineup of world-class, award-winning magicians and outstanding variety acts from The Magic Castle, America's Got Talent, Penn & Teller: Fool Us, Masters of Illusion, and Wizard Wars, promising an unforgettable season of show-stopping feats including sleight of hand, interactive parlor magic, and mind-blowing illusions.
Each week,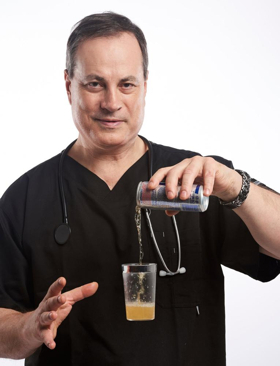 the first entertainer begins the evening at 7:30pm in the outdoor patio prior to the 8pm show inside the Playhouse's main stage theater. Be sure to fill out a raffle ticket as passes are given out to the Magic Castle for those lucky enough to be picked. Performances are open to all, although recommended for ages 8 and up, and run about 75 minutes.
On the night I attended, all four of the MAGIC MONDAY magicians created incredible sleight of hand magic that amazed all of us in the audience. Arriving just after 7:30pm, Doctor John was regaling the audience with his close-up, sleight of hand playing card magic, asking audience members to select and sign cards which then changed color when returned to the deck, among other fascinating feats of wonder. Doctor John photo by Christopher Violette.
After warming up the audience,
Selznick introduced self-professed witch Krystyn Lambert, one of the most recognized females in magic with her own solo act in Criss Angel's "MindFreak" Vegas show. Her mind-reading act featured an assist with an earth worm named Jeremy, and ended with the name of someone's first love appearing on her arm. Gasps from the audience cemented her joy of performing the unbelievable, which continued when she selected a newly married couple, asked them to close their eyes, and then proceeded to have the wife respond to commands given to her husband. Finally, her straw doll Agnes was revealed, from which needles were pulled - which Lambert then swallowed. And as if that was not enough, after swallowing a piece of thread, Lambert pulled it from her mouth with each of the needles attached. Even seated as close as I was, I have no idea how this illusion was created. Krysten Lambert photo courtesy of Magic Monday.
Siegfried Tieber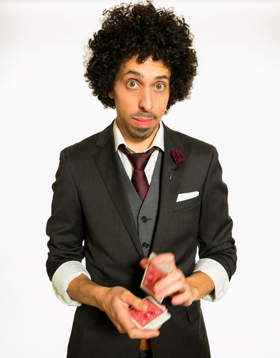 stepped up to the stage next, his strong accent attributed to growing up in Ecuador. Having seen his amazing sleight of hand skill with a desk of playing cards before, I was pleasantly surprised when he called up audience members to assist with his magic illusions. The most spectacular occurred at the end when Julia, an audience member, somehow managed to match a total of four audience members with four different flowers, each with a note on it denoting who would be selected to receive it. The thunderous applause he received at t the end of his act cemented his skill at fooling audiences, just as he has done on Penn & Teller: Fool Us. Siegfried Tieber photo by Dustin Pearlman
Last up was Pop Haydn, seven-time Magic Castle "Magician of the Year."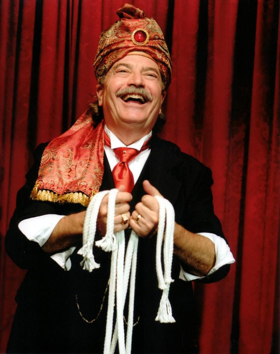 Dressed as if he was a charlatan selling potions from a wagon in the Wild West, Haydn made playing cards appear and disappear with his "Six Card Trick" and ending with his famous Tantalus Tubes, revealing and then transforming bottles and glasses from within each of them, ending with three times as many as he had in the beginning. Pop Haydn photo courtesy of MagicMania.
And as I said, I was sitting within 5 feet of the performers and never saw any hint of how each illusion was created! Such is the excitement you can expect to experience at any of the MAGIC MONDAY evenings you choose to attend. Or is your appearance really just a matter of pre-destined fate? I leave that up to you to decide!
There are more than 100 different magicians who will be appearing during Monday night events this year, with a different line-up every week. To assist in your decision on when to attend, weekly line-ups are available in advance at
www.MagicMondayLA.com

.
Albie Selznick's MAGIC MONDAY
shows continue through August 30, 2019, beginning with pre-show entertainment at 7:30pm prior to the main show at 8pm, at the Santa Monica Playhouse, 1211 Fourth Street in Santa Monica, CA 90401. There is street parking in the area (read the signs), or park in the Santa Monica city parking lot directly across the street form the venue. Tickets are $40 with weekly discounts, season passes, and more information available at www.MagicMondayLA.com. Questions? Call (310) 586-1166. MAGIC MONDAY information is also available on Facebook, Twitter, Instagram, and You Tube.