Review: LITTLE SHOP OF HORRORS Rises Above the Initial Controversy and Rocks the Morgan Wixson
When the initial cast announcement was made for LITTLE SHOP OF HORRORS at the Morgan Wixson in Santa Monica, controversy erupted on social media about the miscasting of the trio of Skid Row urchins as the scripts calls for the roles to be played by African-Americans. Certainly the names of the characters (Ronette, Crystal and Chiffon) pay tribute to 50s rock and roll girl groups these three characters represent through their song stylings. And fortunately, the show's producer Spencer Johnson listened and set about to make things right, hiring a new director, D'Shaun A. Booker, who set out to find the perfect trio of gifted singers to breathe life back into the show. And boy did she succeed!
LITTLE SHOP OF HORRORS was written in the '80s based on a movie from the '60s
about a hapless Skid Row flower shop worker who discovers a strange plant and goes on to achieve the sort of media fame he never imagined possible as well as winning the affection of his dream girl. But at what cost? Director Booker shares, "Little Shop takes us on the universal journey of coming of age. And what is really fascinating to me is following a person who starts out in a place of innocence and discovery but then finds himself crossing the line into corruption."
With a score that is part rock and roll, part doo-wop, and part Motown, the deviously delicious off-Broadway smash musical with book and lyrics by Howard Ashman, music by Alan Menken, based on the film by Roger Corman with screenplay by Charles Griffith,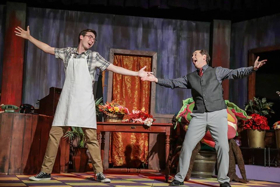 tells the story of Seymour (Patrick Olsen), a shy and love-struck florist's assistant who finds fame, fortune and a whole lot more when he nurtures a strange little plant he found growing after a total eclipse of the Sun. Unable to identify its genus,
Seymour convinces the shop's owner Mr. Mushnik (Marc Ostroff) to display the plant in the front window, hoping it will bring in new customers, allowing the shop to stay open and secure his employment there - as well as that of his ditzy blonder co-worker Audrey (Jess LaFever) whose bad choice of boyfriend angers both men.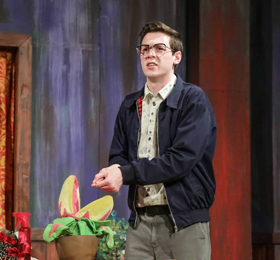 But Seymour soon discovers his plant has a thirst for human blood and finds he must decide on how to keep it alive and his new fame and fortune intact when just a few drops of blood from his fingers no longer fills the belly of this mean, green outer space alien out to multiply and overtake the planet. But how can Seymour possibly keep it fed without sacrificing his own morals, as well as the other people who he decides would be better off as plant food?
As the love story between Audrey and Seymour develops, the tale is fast forwarded through song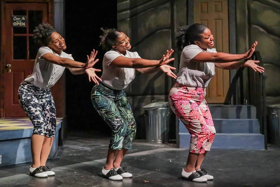 by the marvelous trio brought in to the production, Brayon Rollison as Chiffon, FreXinet as Ronette, and Tyra "Tyralucia" Dennis as Crystal. These three talented singers, costumed to perfection by Chris Tiernan and so entertainingly choreographed by Mori Edwards, steal the show every time they take the stage, or stoop for that matter. Acting as the show's Greek Chorus, these girls are out to make sure Seymour and Audrey get together, especially after meeting her abusive boyfriend Orin (the amazing
Brian O'Sullivan who portrays 9 characters in the show) and realizing he is the one giving her black eyes and a sprained wrist. Perhaps the most fun numbers in the show belong to O'Sullivan during which he promotes Orin's successful career as a dentist, able to utilize his love of inflicting pain on others in any way possible while getting paid to do so.
But this show could not succeed without the talents of puppeteer Matthew Artson and soulful voice of Steven Flowers as the voice of Audrey II, Seymour's chosen name for his new plant. Artson and Flowers, along with music director Esin Aydingoz, have solidly created a believable monster with every movement of Audrey II's
impressive onstage body perfectly timed to the song stylings of Flowers offstage.
The show's set design by Tom Brown features two front door stoops on either side with Muchnik's flower shop in the middle, sufficiently large enough to house the over-sized Audrey II puppet by Swazzle, with a drop-down Skid Row street scene utilized when the action shifted outdoors. But in all honesty, after the "Closed for Renovations" song, the shop should appear totally re-decorated, which was not the case in this production. William Wilday's lighting design favored green and red highlights during many songs,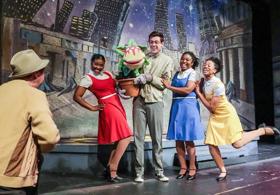 especially during Audrey II's feeding sequences.
Kudos to the entire team for rising above the ashes to create such a wonderfully entertaining musical production, although perhaps young children may have nightmares about man-eating plants afterwards! Of course, utilizing a live band rather than pre-recorded tracks would have lent more in-the-moment action to the story, but given the caliber of talent in the show, you may never even notice the difference.
Ms. Booker believes that this show has had an enduring appeal because both young and old can relate to the characters. "Every person in the story has their own desires, and at some point,
pursuing those desires become dangerous. Audrey desires to stay in an abusive relationship, Mushnik desires success at any cost, and of course Seymour becomes overwhelmed by his desire to be loved by both of them." In 2019, this story's search for answers feels especially urgent. "Who is to blame for what happens to Seymour and to Audrey? Where do we place the blame when people make decisions that are unhealthy? Heredity, society, or ourselves?"
This unique musical that swept the Off-Broadway awards when it premiered, ran for over five years, enjoyed numerous revivals, and has continued to be a crowd favorite internationally ever since. No doubt that will be the case for this wonderful production at the Morgan-Wixson Theatre,
located at 2627 Pico Blvd. in Santa Monica, CA 90405, which proves to all of us that "the show must go on." Free parking is available at the Venice Family Clinic at 2509 Pico Blvd. LITTLE SHOP OF HORRORS continues through April 13, 2019 on Fridays and Saturdays at 8pm, Sundays at 2pm. Tickets are Adults $28, Students and Seniors $23, available by phone at (310) 828-7519, online at www.morgan-wixson.org or via email to mwtboxoffice@gmail.com
Parents should note that Little Shop is a musical comedy with plenty of humor and high-energy songs, but is
ultimately about a large plant who consumes human blood. The show contains dark themes and special effects which might be disturbing to young children or very sensitive viewers. Therefore, it is recommended for ages 12 and up.
Photos by JDCPhotography