Review: Kristin Chenoweth Brings Girl-Powered Concert Tour to OC's Segerstrom Center
In top, fine form as usual, the Tony and Emmy Award-winning petite powerhouse slays with her solo concert return to Costa Mesa.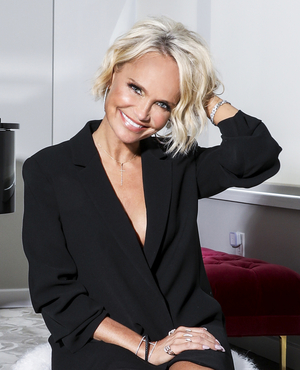 It's not a stretch to say that it was quite a treat to witness the undeniable talents of Broadway superstar Kristin Chenoweth live and in-person again at Orange County's Segerstrom Center for the Arts in Costa Mesa, CA for a one-night-only concert on October 23, 2021 in support of her most recent studio album For The Girls---a tribute to some of her favorite female singers that ranged from Judy Garland and Linda Ronstadt, to Dolly Parton and Barbra Streisand.
Her hit album spawned a limited series of well-received sold-out shows on Broadway. A shortened concert tour version of that lauded NYC show was set to launch in the Spring of 2020, but was, of course, sidelined by... well, we all know what happened.
Fast forward to Fall of 2021 and Chenoweth is now back out on the road again to relaunch this long-awaited tour just as theaters are slowly re-opening, albeit with safety protocols and mandates in place for everyone's safety (whew). As with most of her concerts, she was also accompanied here by a small house band, fronted by her frequent musical director Mary-Mitchell Campbell behind the piano.
And, more significantly, Chenoweth's concert---part of SCFTA's 2021-2022 Cabaret Series---also happened to be, by sheer coincidence, my first time back to seeing a live show at Costa Mesa's largest indoor venue since March of 2020, and I... well... I couldn't be happier (Sorry, I couldn't resist).
In front of a full, packed house of masked and (hopefully, thoroughly screened) vaccinated audience members, the Tony and Emmy-winning star of stage and screen (most recently seen in AppleTV+'s cheeky musical comedy Schmigadoon!) sang, belted, and entertained with a solid, uninterrupted 90-minute concert set filled with familiar, Girl-powered favorites, sprinkled with plenty of wit, humor, and heart in between. While these are certainly the normal expectations of her popular, well-attended shows (she last appeared on this stage in 2018, and even repeated a few tunes here from that same concert), each new subsequent show she presents still feels remarkably fresh and uniquely attuned to the current moment.
The global shuttering of performance venues, naturally, was top-of-mind on the on-set of the show, particularly for those in the audience whose presence at Chenoweth's concert this evening marks their first time sitting elbow-to-elbow with strangers inside a darkened theater again. "Hope," in a way, became a de-facto repeated theme that hovered throughout the show.
Also making a repeat appearance right at the top of the show was, of course, her running gag of drinking out of a large cup from So. Cal fast-food staple In-N-Out, with Chenoweth claiming she just "had to have it" whenever she's visiting California. She similarly name-checked other OC-centric things like the Daily Grill (her lunch spot earlier that day), Disneyland (check her Instagram post!) and Chapman University (which she visited earlier that week to meet and mentor students now under the tutelage of her former music teacher, Dr. Stephen Coker), reminding us all that she was not just passing through town without venturing beyond the plane and the venue. Loved that!
Dressed in a cute sparkly outfit (armed with an equally bedazzled microphone), Chenoweth emerged from the wings beaming to thunderous applause. She kicked things off with a spunky version of Lieber and Stoller's "I'm A Woman" joined by her two outstanding back-up vocalists Nikki Kimbrough and Marissa Rosen---two incredible singers in their own right.
Her well-paced concert offered a vibrant mix of touching, tender moments (Trisha Yearwood's "The Song Remembers When" and Streisand's "The Way We Were") and fun, genre-crossing tunes like Lesley Gore's defiant "You Don't Own Me," a jazzy Judy Garland tribute in "Zing! Went the Strings of My Heart," and an inspired mash-up of Willie Nelson's "You Are Always On My Mind" and Stephen Sondheim's "Losing My Mind" from the musical FOLLIES. The latter---my absolute favorite number from this and her 2018 concert---was a perfect hybrid that displayed the singer's roots in both country music and musical theater.
Musical theater royalty Julie Andrews was also honored with a nod to her role in MY FAIR LADY in her euphoric take on "I Could Have Danced All Night," which gave Chenoweth the chance to show off her operatic, high soprano prowess. She introduced the song while recalling the humorous moment when Ms. Andrews visited her backstage on Broadway. And Garland gets another tribute later in the evening with a show-stopping rendition of "Over the Rainbow," which she dedicated to her philanthropist friend Julia Argyros (whose last name is synonymous for being one of the OC's most active patrons). The stunning song was understandably greeted with a mid-show standing ovation.
The audience also got an early Christmas holiday treat in the form of her lively mashup of "(Everybody's Waitin' For) The Man With The Bag" and "Jingle Bell Rock" taken straight out of her second Holiday album, Happiness is...Christmas, which coincidentally just released the day before... and just happened to be available for purchase in the lobby. Ha!
Along with other humorous recollections from her life that touched on everything from growing up in Oklahoma to her work on Broadway; from suffering through "Pandemic PTSD" to binge-watching true crime and reality shows (she said at one point that she missed The Real Housewives of Orange County now that the original franchise-launcher is off the air), Chenoweth also fashioned a "surprise reveal" moment that punctuated an otherwise subdued, no-frills acoustic rendition of the Eagles' hit "Desperado," a song---she purposely pointed out---is sung mostly by men, but that she wanted to deliver from a female perspective that fit the female-centric vibe of her show (and, of course, the album).
During the unplugged performance, guitarist Josh Bryant joined Chenoweth center-stage to play during the somber song. After the song finishes, Chenoweth and Bryant share a rather passionate kiss to the "oohs" and "aahs" of the giddy audience---prompting her to reveal that Bryant is, in fact, her real-life boyfriend. And, yes, she delightedly declared that he is much younger than she is and that she's loving that very fact about it. (Fun fact: I actually recognized Bryant from several of the couple's online concert appearances throughout the pandemic as he walked up from the back of the stage to join Chenoweth out front. As he started strumming, I turned to my friend and whispered "Ohmigod, I think that's her boyfriend!")
Other standout moments included her slow-burning, emotionally-wrenching rendition of "Bring Him Home" from the LES MISERABLES (a repeat from her previous concert, which still packs an awe-struck wallop) and her still-cheeky "Popular" a song she made, well, popular while originating the role of Galinda/Glinda in the hit Broadway musical WICKED---which, Sweet Oz, debuted almost 20 (!) years ago. This time around, she prefaced the song by saying she was quite invested in the plight of poor Britney Spears, whose current fight to win independence from conservatorship has produced several in-depth documentaries that had her glued to her TV. This prompted Chenoweth to offer the song as "advice." Yep, still cute and still slaps---even though she repurposed this punchline/set-up from her previous concert that had her offering this same "advice" to Mariah Carey, who, at the time, was going through a PR crisis.
Chenoweth, as talented as she is, also loves to celebrate other people's talent when she encounters it. She spoke several times during the evening directly to the Chapman University students she mentored earlier (who were seated at the back of the theater) about technique and powering through "mistakes," while also bringing up her cherished work with kids in her own summertime Broadway Boot Camp.
But her best non-singing moment has to be when she giddily celebrated and cheered on her back-up singers Kimbrough and Rosen with the pride of a Mama Rose-like stage mother when the two spectacularly talented women took turns expelling divalicious riffs on their stand-alone rendition of the Aretha Franklin/Carole King classic "Natural Woman." Though Chenoweth was the headliner, that one number was one of the concert's most memorable moments.
She then closed out the show with a trio of uplifting, optimistic songs to send her audience home with more hope and less doom and gloom: the Carpenters' lovely "Yesterday Once More," followed by the inspirational "Reasons for Hope," co-written by Mary-Mitchell Campbell and Crystal Monee Hall which she also sang as the last official song of her 2018 concert at the Center.
Her final "encore" number is also a repeat of her magical final machination from her 2018 concert at the Center: singing without a microphone. She admitted that she loved singing at the Segerstrom Center stage because it offered the kind of purposely built-in acoustics that would allow her singing to be heard even without amplification. This time around, though, she did it with the Charlie Chaplin-penned standard "Smile" and the results were exquisite and moving in its quiet, un-amplified grace---a fitting auditory embrace from an artist that's brimming with talent and personality and genuine love. With this concert, Kristin Chenoweth gave us the perfect welcome mat back into the theater.
** Follow this reviewer on Twitter: @cre8iveMLQ **
Photo by Krista Schlueter courtesy of Segerstrom Center for the Arts.
----
Segerstrom Center for the Arts' 2021-2022 Cabaret Series continues with Laura Benanti on November 11-13, 2021. Tickets can be purchased online at www.SCFTA.org, by phone at 714-556-2787 or in person at the SCFTA box office (open daily at 10 am) located at 600 Town Center Drive in Costa Mesa. For tickets or more information, visit SCFTA.org.