BWW Review: History Revisited in THE VIEW UPSTAIRS
THE VIEW UPSTAIRS/book, music & lyrics by Max Vernon/directed by Michael A. Shepperd/Celebration Theatre @ the Lex/thru October 29, 2017
The west coast premiere of THE VIEW UPSTAIRS bursts with a high-energied hodge-podge of some great vocals, charming performances and wonderfully executed choreography.
Playwright Max Vernon, through the eyes of a present-day electronically dependent fashion designer, retells the stories of victims of a fire by arson at the gay bar UpStairs Lounge in New Orleans back in June of 1973. The budding designer Wes has just signed the lease on the now run-down shell that used to be UpStairs Lounge. But before Wes formulates his plans to raze the entire structure, a coke-fueled episode takes him back to 1973 where he meets the closeted patrons that hung out there. The narratives of the original 32 have been condensed into eight characters.
Matthew Hancock inhabits his character of Wes, an ambitious entrepreneur who envisions converting what used to be the View UpStairs into his flagship store with his branding of couture. His many present-day slang and references get met with blank looks from the 1973 destined-to-be fire victims. Though his clean spins and dance moves receive appreciation from both club go-ers and the Celebration audience.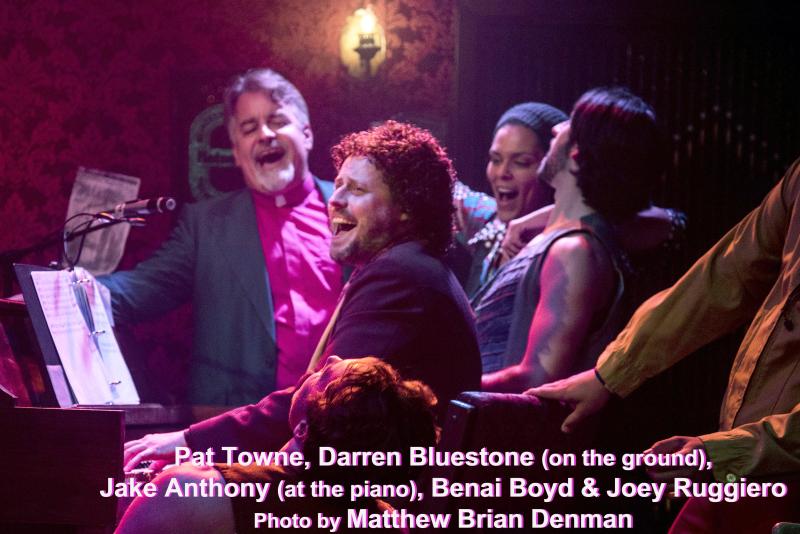 THE VIEW UPSTAIRS starts most promisingly with the sharp vocals and piano ivories-tinklings of Jake Anthony as Buddy, the closeted family man (doubling as the show's musical director) in "Some Kind of Paradise."
The bar denizens get introduced in "Lost or Found?"
Two hustlers frequent the View UpStairs, Dale and Patrick. Joey Ruggiero showcases his character Dale's insecurities, while sulking of being mostly ignored by the others. Clever bit of Ruggiero singing "Better Than Silence" as the others interact all around and through him.
The charismatic Darren Bluestone owns his role as the confident Patrick. Bluestone's stage presence, vocal chops and easy dance moves become quite evident in his first solo, "What I Did Today." Bluestone's Patrick and Hancock's Wes' initial flirtation scene very convincingly HOT!
Pip Lilly as Freddy exhibits his sharp comic timing, later receiving the chance to show off his gorgeous pipes in "Theme Song."
Rehyan Rivera's secret weapon ability avails itself as his ordinary-ish Freddy transforms into his drag persona Aurora Whorealis and accomplishes first, a full split, and then a cartwheel, in a number appropriated titled "Sex on Legs."
Chala Savino shines as Freddy's mosT Loving, most understanding mother Inez, hitting a very strong hiiigh note, while most agile on her dancing feet in "Most Important Thing."
Pat Towne's strong and forceful as the sermon-spouting preacher Richard. (Gay clubs had to have a legitimate reason for a group of people to gather. View UpStairs day-moonlighting as a church.)
Benai Boyd and Travis York makes their individual, indelible marks as bar owner Henri and Cop, respectively.
Just love Cate Caplin's choreography throughout the show, especially the group dance number in "World Outside These Walls."
Kudos to props designer Michael O'Hara's 1970's tchotchkes and memorabilia (especially a blow-up of Burt Reynolds' Cosmopolitan centerfold) vividly dressing scenic designer Alex Calle's functional 1970's nightclub set.
Along with Anthony ably backing the performers, Johanna Chase on bass and Max Wagner on guitar. A major technical misstep has the Nicole Marcus' drums undampen, drowning out a majority of Vernon's lyrics.
Michael A. Shepperd most reverently directs Vernon's sprawling historical piece, surely meant to draw similarities of 1973 to our current political times.

Related Articles View More Los Angeles

Stories

Shows
From This Author Gil Kaan
Gil Kaan, a former Managing Editor of the now-defunct Genre magazine, has had the privilege of photographing and interviewing some major divas of film, television, (read more...)