BWW Review: Geffen's Incredible CHRISTMAS CAROL Is Not To Be Missed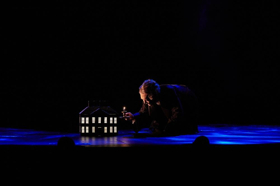 A Christmas Carol/by Charles Dickens/adapted by Jefferson Mays, Susan Lyons, Michael Arden/directed by Michael Arden/Geffen Playhouse/Gil Cates Theater/through December 16
Another version of A Christmas Carol you moan? Well, take my word for it, you have never seen a production of the Dickensian classic quite like the world premiere currently onstage at the Geffen Playhouse mainstage Gil Cates Theater. Adapted by the brilliant actor playing every role Jefferson Mays, Susan Lyons and brilliant director Michael Arden, A Christmas Carol becomes the perfect transition from Halloween, Dia de los Muertos to the Christmas holiday season. How is this possible?
Charles Dickens depicted the suffering life of Ebenezer Scrooge and Jacob Marley in a horrifying way in old 19th century London, England with shabby buildinga full of creaky doors and staircases, streets filled with vermin and people of varioui ages dressed in rags and living in excessive poverty. The surrounding conditions that we meet in A Tale of Two Cities as well, in fact in every Dickens novel, are at the core, but the deplorable attitudes of Scrooge and Marley as they live their miserly lives pinching pennies and denying everyone around them any type of good will, is inexplicable and incapable of forgiveness. Scrooge's treatment of his nephew and his clerk Bob Crachet makes him one of the most disgusting creatures alive. No one likes him, as he had selfishly dismissed any opportunity in his past life for true happiness for himself or others.
Most have read the book, or seen one of the films, or heard in great detail about A Christmas Carol. Jefferson Mays is an astounding actor who can rivet one's attention every second that he is onstage. With his uniquely distinctive speaking voice and nonstop energetic movements, he could carry off the story on a bare stage. However, in this fresh take on the plotline, special effects and amazing creative accomplishments in set, sound and lighting put the production far and above the ordinary and serve to enhance his performance one hundred fold.
Dane Laffrey has designed the revolving set which displays Scrooge's dingy chamber, Cratchit's dilapidated house and exteriors like the dark streets and eerie graveyard. Projection design by Lucy Mackinnon shows the Fezziwig party behind a screen. You would swear that what you are seeing is a real crowd of people but one actor Matt Wool is credited for spectral visualization. He creates the people and of course, the ghost of Christmas Future in all of its overblown and scary, gory presentation. Joshua D. Reid's sound design - like the steady clanging of Marley's chains or the squeaky stairs or even intermittent music - is incredible. Even when Mays' voice timber changes from one character to the next, the sound design assists him in creating much more amplitude and many more shrieking vibrations than he is capable of putting out on his own. Equally brilliant is Ben Stanton's lighting. Mays as Scrooge and the other characters is in the dark much of the time - and so are we. The stage lights up just a little for some scenes and fully for others. The glow that comes from the fireplace, the exterior daylight or moonlight through the windows and many frightening torrents of light that push through the projections engage you from moment to moment throughout.
This is one of the very best productions of Dickens that I have ever seen, barnone. Thanks to Mays' performance, Arden's direction and the adaptation by both men and Susan Lyons, we come away entertained and throroughly ecstatic about the unbelievable possibilities that an enriching theatre experience has to offer. Don't miss it!
(photo credit: Chris Whitaker)