Click Here for More Articles on OPERA - LOS ANGELES
BWW Review: CARMEN at Dorothy Chandler Pavilion
CARMEN, the title character Georges Bizet's opera is a young woman who wants the social freedoms nineteenth century men simply took for granted. Sung magnificently by Ana MariA Martinez, Carmen is suave and self-confident, but enroute to certain destruction. Although family audiences found the work shocking at its Paris premiere, CARMEN has fascinated the public since it's premiere in 1875.
On September 9, 2017, Los Angeles Opera opened its 2017-2018 season with Georges Bizet's tale of the Spanish Gypsy and her lovers. Although Martinez is a soprano, she has a sonorous, resonant middle register that makes her an excellent choice for CARMEN. Best of all, she is a credible actress who has the wild eyes described by novella author Prosper Merimée, and can express even her innermost thoughts with the colors in her voice.
CARMEN sings one aria after another and on this occasion Martinez gave us a potpourri of aural delights. Her "Habanera" was delicious and her "Seguidilla" seductive. In the second act she created an ambiance of exoticism and in the Smuggling Scene she stopped our hearts for a beat or two as she foretold her death with resounding low notes.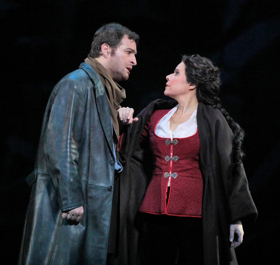 Ron Daniels' production of CARMEN was originally staged at the Teatro Real in Madrid and the Los Angeles Opera audience had seen it earlier as well. That did not in the least detract from its ability to charm California audiences. An extra performance has already been added to the Los Angeles run. Although moments of poor character coordination and an occasional immobile choral scene dulled a few of the opera's dramatic moments, Daniels handled most of the staging with skill and refinement. His intimate scenes between Carmen and Don José were particularly heart rending.
Gerald Trotti's scenery was logical and created a memorable background for the story with stone walls that spoke of Spain's long history. For this production's 2017 outing, some of Jesus del Pozo's original costumes were replaced with Denitsa Bliznakova's practical, late nineteenth century outfits for the country and her spectacularly styled traditional formal wear for the final bullfight. Duane Schuler's lighting suggested the heat of Spanish sunlight for the opening scene and the bullring. He offered cooler tones for Lillas Pastia's Inn and mysterious shadows for the moonless night in the Act III mountain pass.
Many modern productions of CARMEN omit dance, but this rendition was thoroughly infused with the crisp rhythms of smartly performed Flamenco as choreographed by Nuria Castejon. Solo dancers Manuel Gutierrez Cabello and Oscar Valero charmed spectators with their command of the spirit of Flamenco. Female dancers wearing red, orange, and yellow gowns evoked the mystique of the dance with twisting fans. Grant Gershon's chorus sang in smooth harmony as they portrayed the townspeople of Seville, while Anne Tomlinson's Los AngeLes Children's Chorus brought smiles to many in the audience.
Italian tenor Riccardo Massi was a credible Don José who never accepted the fact that Carmen had moved on and preferred a new lover. Vocally, he was slightly hesitant at first, but soon became at home on the Chandler Pavilion stage. His "Flower Song" was lyrical, sensuous, and imbued with the intensity of a fanatic.
Amanda Woodbury was a full-blooded Micaela who thought she was engaged to Don Jose when she braved the terrors of night in the mountains. She sang her aria with expressive tones that foretell a fine career. Another soprano who made an excellent impression was the Frasquita, Liv Redpath. Her sweet toned but powerful high notes embellished every ensemble with silver.
Alexander Vinogradov was a most interesting Escamillo. This energetic matador leapt onto a table at Pastia's from which he sang his aria with strikingly resonant sounds. Philip Cocorinos was a commanding Zuniga and Kelley O'Connor was a dutiful Mercédès who cared for Carmen's welfare. Juan Carlos Heredia, a member of the Domingo-Colburn-Stein Young Artist Program, was a stalwart, bronze-voicEd Moralès. Tenor Brian Michael Moore and baritone Theo Hoffman, also from the young artist program, were vocally pleasing and dramatically alert as Le Remendado and Le Dancaïre.
No matter how many times I listen to CARMEN, when I hear James Conlon conduct it I find something new. In this performance he allowed the characters to feel the nuances of the music as he unveiled hidden gems among the free-flowing melodies. Leading the orchestra with with rhythmic verve, he brought out the composer's exquisite musical colors. Angelinos should not miss L A Opera's excellent performance of this beloved opera.
Photo: Ken Howard for Los Angeles Opera