BWW Review: American Premiere of OPPENHEIMER Initiates Rogue Machine Move to Venice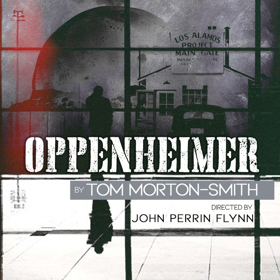 Those who lived through the World War II years will certainly recognize the name of ambitious and charismatic J. Robert Oppenheimer, the Berkeley-trained scientist who found himself called upon to spearhead the largest scientific undertaking in all of human history: the Manhattan Project and the creation of the Atomic bomb which the United States government believed would bring about a swift end to World War II. And although it did that, what was the cost on those involved with the project or subjected to its first tests without proper protection from the released radiation, as well as those in Hiroshima and Nagasaki when the bombs were exploded over those cities. Was it even wise to develop the ability to split atoms given how the world has changed
since then or the threat of total annihilation which hangs over us daily?
That history-making time is the plot in the American premiere of OPPENHEIMER, written by Tom Morton-Smith and directed by John Perrin Flynn, being presented by Rogue Machine as their inaugural production at their new home theater, the Electric Lodge at 1416 Electric Ave. in Venice, CA 90291 through December 30, 2018.
Taking place between the years of 1939-1945 in various classrooms, offices, homes, bars, army bases, nuclear test sites, and other locations where the real events occurred,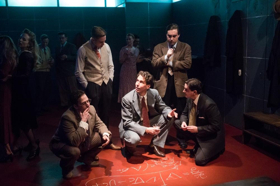 OPPENHEIMER begins at a party where young scientists are gathered to raise funds to fight the spread of Fascism across Europe in 1939 after Franco marched on Barcelona. Socialism and communism are supported by many in the group, who soon discuss how two German chemists have discovered the processes of atomic fission. Incredibly detailed discussion take place in Berkeley, California, as theoretical physicists recognize the horrendous potential of this new science: a weapon that draws its power from the very building blocks of the universe.
And while a lot of the scientific language during the 3-hour play is daunting at best to fully comprehend,
we are forewarned at the beginning by Oppenheimer himself, expertly portrayed by James Liebman, that he will be able to "make it clearer, but not simpler" to understand. The play is brutally intense at times and highly entertaining at others, with playwright Tom Morton-Smith explaining, "Anyone who knows anything about the Manhattan Project or Oppenheimer has an opinion on it, and him. I wanted to show you the other side... to take a character who seemed so aloof in the history books and show him as a human being. His journey from idealism to cynicism...eventually kind of betraying his younger self."
Directed at a pace that will have your head spinning at times with all the information being presented, director John Perrin Flynn,
who has been directing new plays to much critical acclaim as the founding Artistic Director of Rogue Machine who had produced all of the group's main stage productions, explains his decision to bring OPPENHEIMER to an American audience: "As the political situation darkens, Tom Morton-Smith's new play takes us into the heart of the Manhattan Project and explores the tension between the scientific advances that will shape our understanding of the fabric of the universe, and the justification of their use during wartime, revealing the personal cost of making history."
Rogue's next production running in rep is Joe Gilford's FINKS, opening November 10, which examines the fallout of the 1950s House Un-American Activities Committee. Both plays are timely selections given those who do not pay attention to history are doomed to repeat it, often with disastrous results.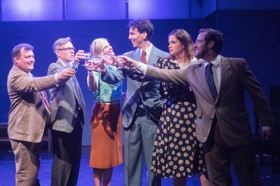 In fact, Oppenheimer's final comment in the play, "I feel like left a loaded gun on the playground," rings way too true in today's violence-prone society.
OPPENHEIMER's incredibly talented cast includes James Leibman, Ryan Brophy, Jason Chiumento, Kenny Selvey, Mark Jacobson, Miranda Wynne, Kirsten Kollander, Brewster Parsons, Zach Grant, Scott Victor Nelson, Jen Pollono, Rachel Avery, Michael Redfield, Dan Via, Ron Bottitta, Brendon Farrel, Landon Tavernier, Brady Richards, Daniel Shawn Miller, Rick Garrison, Marwa Bernstein, and Sophie Pollono, all of whom are dressed beautifully to historical perfection by Dianne K. Graebner.
Technical credits, as always, are top notch from Stephanie Kerley Schwartz's scenic design,
lighting design by Matt Richter (just wait until the bomb's blinding white light shocks your senses), sound design by Christopher Moscatiello, projection design by Nicholas E. Santiago which often includes mathematical computations and bomb design drawings, with piano selections added by music director Michael Redfield who portrays German scientist Hans Bethe who you never know whether or not to trust with the bomb's secrets.
OPPENHEIMER performances take place at 8pm Saturdays and Mondays, 3pm Sundays through December 30, 2018 (no performances on 10/8, 11/12, 11/17, 11/26, 12/1, 12/2, 12/8, 12/9, 12/10, 12/24) with added performances on 10/12, 10/26, 11/2, at the Electric Lodge, 1416 Electric Avenue in Venice, CA 90291. Tickets are $40. Reservations: 855-585-5185 or at www.roguemachinetheatre.com
Photo credit: John Perrin Flynn