Review: 5-Star Theatricals' HUNCHBACK On Top of the World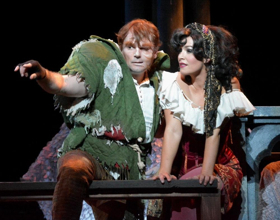 The Hunchback of Notre Dame/book by Peter Parnell/lyrics by Stephen Schwartz/music by Alan Menken/directed by Misti B. Wills/choreographed by Michelle Elkin/musical director: Dan Redfeld/5-Star Theatricals (formerly Cabrillo Music Theatre), Civic Arts Plaza, Thousand Oaks/through April 29 ONLY
Victor Hugo's monumental romantic/gothic novel The Hunchback of Notre Dame, published in 1831, centers in, around and on top of Notre Dame Cathedral in Paris, France. The musical of the same name written by Peter Parnell, Stephen Schwartz and Alan Menken, a regional production at 5-Star Theatricals in Thousand Oaks, presents the cathedral interior and exterior with the belltower and bells dominating the scene. This touring set represents the entire world of bellringer Quasimodo (Will North), who lives like a prisoner, confined within its walls.
Based as well on the 1996 Walt Disney animated film of the same name, Hunchback has the film's lush score by Stephen Schwartz (lyrics) and Alan Menken (music). A 16-member choir is onstage throughout on stages left and right facing center, providing backup and superior interludes of religious music in the score. Will North leads the cast in the demanding role of Quasimodo. Also on hand under Misti B. Wills' smooth and evenly paced direction are Gregory North as Frollo and beautiful Cassandra Marie Murphy as the enchanting gypsy temptress Esmeralda.
Hunchback is a feast for the eyes ears and - soul. Sticking to the darker emotions of the novel, and keeping plot details to a minimum book writer Peter Parnell relies on intense characterization to keep the story riveting. No cardboard cutouts are Quasimodo, Frollo, Esmeralda or Captain Phoebus (Adam Hollick). They are real flesh and blood human beings experiencing the pain and humiliation of each moment. Quasimodo's world of isolation is governed every step of the way by Frollo whose philandering alcoholic brother Jehan (Trevor Shor) left the sanctuary of the church, contracted the pox and with his gypsy girlfriend gave birth to the deformed child. Frollo, now archdeacon of Notre Dame, takes the baby and vows to bring him up righteous and pure, which by his standards means keeping him in the bell tower forever isolated from the hostile world below. When Quasimodo escapes by his own volition on the Day of the Feast of Fools in 1482, he encounters a gypsy caravan performing in the square. He is quickly bullied and ridiculed by the lot, and only dancer Esmeralda takes pity on him, giving him water and taking the time to comfort him. Frollo sends him back to the tower and invites Esmeralda into the church on the pretense of nurturing her soul with spirituality. In reality, he lusts longingly for her, mocking his sacred vows as a priest of God. Of course, Esmeralda denies him, so Frollo condemns her and has her sought out as a criminal by King Louis XI.
It is Frollo's unrelenting evil in his treatment of Esmeralda, who is decried for 'witchcraft' by a sanctimonious Catholic Church, and also of Quasimodo that brings about the downfall of all three. The Middle Ages were on the brink of change; the Renaissance was at hand; and Christianity is displayed here at its lowest level of hypocrisy. Frollo teaches Quasimodo about Saint Aphrodisius (L. Michael Wells), who trusted the people and ended up beheaded by a band of pagans. This is meant as one of his 'lessons to be learned', but actually the beheading is classified mere legend, proving Frollo once more a defiler of truth.
Meticulously staged by Wills with fast-paced choreography from Michelle Elkin, Hunchback's outstanding ensemble of Will North, Gregory North and Murphy make these legendary tragic characters come to life quite believably. Will North creates a very likable oaf of deep feeling who, in spite of his entrapment, understands the true meaning of love and is not afraid to seek it out, defending his birthright. Gregory North makes Frollo cold and selfish, a pillar of evil, but relies quite heavily on his voice to carry him through the role in Act One; I wanted to feel more of the sexual tension, but didn't see it until later in Act Two, where he offers Esmeralda a chance to save her life. Murphy brings beauty, honesty and bravery to Esmeralda. She is a true triple threat performer with a richly gorgeous singing voice. Hollick is also formidably brave and stands tall as Phoebus, and let's not forget Justin Michael Wilcox as Clopin Trouillefou, the singing narrator, also a triple threat performer. The entire 30-member ensemble work tremendously well as a unit. With the chorus strategically placed on stage left and right, their lovely sound becomes a steady evocation of the voice of God in all its joy and sorrow, as witness to all the errant behavior. If the walls of Notre Dame Cathedral could talk, this is what we would hear. The place is thus in reality another main character of the play.
We must also lend praise to Beth Glasner's fine period costumes, Jose Santiago's eerily dark/glaringly bright lighting design and Jonathan Burke's great sound design. and to Dan Redfeld who conducts the terrific orchestra.
See The Hunchback of Notre Dame through next weekend only! The experience is emotionally solid, guaranteeing the show a commercial success. It is a tremendous achievement for 5-Star Theatricals and its artistic director Will North who makes a wonderful debut on this stage as Quasimodo.
(photo credit: Ed Krieger)