Click Here for More Articles on THE BOOK OF MORMON
BWW Review: 10 Reasons Why THE BOOK OF MORMON Tour at Segerstrom Arts Is Still a Hella Funny, Hella Good Show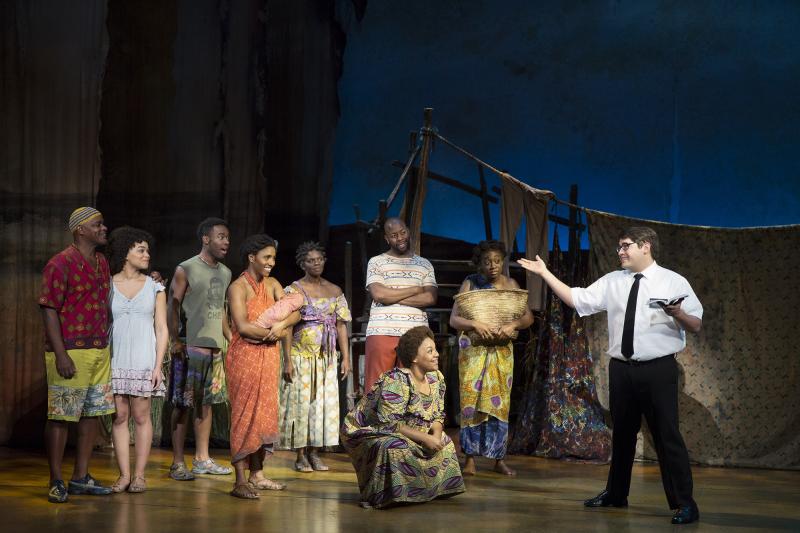 The very first time the hit Tony Award-winning musical comedy THE BOOK OF MORMON came to Orange County's Segerstrom Center for the Arts in Costa Mesa oh-so-many missions ago, an alarming amount of audience members actually got up right after the hilarious (and blasphemously shocking) song "Hasa Diga Eebowai" and left the show extremely angry and deeply offended. And many more left at intermission never to return to their seats.
In the infamously conservative, mega-church lovin' OC, such a strong reaction back then wasn't too much of a surprise. But... oh my, how times have changed---well, at least as far as audiences for the show.
I am ecstatic to report that during the national tour's recent return trip to the OC---which continues performances through (ha!) Easter Sunday, April 1---I didn't see a single person get up and leave near me during that uproarious song that so nonchalantly cursed the Big Guy in the sky. And as far as I observed, every person in my periphery came back after intermission, and some even came back with Mormon merch from the lobby.
One thing is for certain: this memorable, whip-smart, and downright gut-busting Broadway musical is still one of the funniest---if not the funniest---musical ever to exist in the 21st Century. Of course, to enjoy it is to go in with an open mind, a tolerance for expletives and (borderline) offensive humor, and a willingness to look past its over-the-top-ness to see a musical about a couple of young, well-meaning people just wanting to spread some joy and good in the world.
The brilliant brainchild of South Park satirists Trey Parker and Matt Stone and AVENUE Q co-creator Robert Lopez (who also co-wrote the music for Frozen and Coco that have earned him Oscars), THE BOOK MORMON---co-directed by Parker and Casey Nicholaw---presents the story of an over-confident superstar Mormon missionary Elder Price (the terrific Kevin Clay) who gets paired up with a not-so-savvy sci-fi nerd, Elder Cunningham (the incredible Conner Peirson) for a two-year mission in Uganda in Africa. Elder Price is understandably shook by this, as he was praying to be sent to Orlando.
Once the mismatched (but oh so adorable) pair arrive in the extremely satirized version of Uganda---a harsh land where its villagers are threatened daily by disease, famine, and murderous warlords---the two try to make good on their task: to recruit as many Africans into the church. It's a tough task that many past missionaries have failed to accomplish, mostly because the teachings they espouse just aren't, well, holding their attention.
In an unexpected twist, the untrained and compulsive liar Elder Cunningham---who hasn't even bothered to crack open the actual Book of Mormon---manages to be the one to win over the villagers, by, um, embellishing the book's stories just a tad. As expected, hilarity ensues.
So how does the show hold up after multiple viewings? How is it in its current touring iteration? Well, let me count the ways....
1. The current lead actors---Kevin Clay, Conner Peirson, and Kayla Pecchioni are fantastic.
After seeing the show multiple times and seeing multiple actors take on the lead roles, I am still impressed at the talent pool that has come into the show's touring productions. As Elder Price, Clay has an extraordinary singing voice and I just absolutely love seeing and hearing Pecchioni as Nabulungi. And as Elder Cunningham, the show's awesome center, Peirson, I have to say has become my most favorite actor to do this role thus far. Impressive comic timing, a sweet yet sassy singing voice, and instant likability, the actor is positively beaming in this role.
2. The current ensemble is a wonderful, talented bunch.
They had us at "Hello." From the opening number featuring a cavalcade of distinct personalities essayed by several different actors to the all-out party of "Hasa Diga Eebowai" and the clever musical-within-a-musical "Joseph Smith, American Moses," the current cast of THE BOOK OF MORMON are all triple threat phenoms. Standouts include Eric Huffman as scene-stealing and not-so-closeted Elder McKinley; Kolby Kindle as Nubulungi's dad Mafala; and Corey Jones as the evil General threatening to circumsize all women.
And on a side note, if you recently caught the viral video of cast member John Pinto, Jr. doing his jaw-dropping cover of "Never Enough" (from The Greatest Showman), then you will be delighted by his small (but significant) feature solo in the encore of the show where he riffs a few stratospheric notes that's the envy of all countertenors worldwide (including, ahem, myself). Overall, this new batch of actors are just a joy to watch.
3. The musical's witty book and cleverly amusing lyrics are still a laugh riot.
Parker, Stone, and Lopez pepper the show with strategically crafted and winningly placed humor in almost every single second of the show. The songs---arranged by Stephen Oremus---are so memorable, they become instant ear worms even before you leave the theater. Even better... time hasn't diminished any of their comedic power. And although Parker and Stone are known mostly for South Park, you don't have to be a fan of that show to appreciate THE BOOK OF MORMON (though it doesn't hurt, either). It's audaciously offensive in a surprisingly intelligent way... and the jokes in the show still work, even years later.
4. Though it's an intelligent satire, the musical is not really---I repeat, not really---making fun of the Mormon Church.
Well... okay, maybe indirectly. But as the missionaries sing of their beliefs (involving planets, angels, etc.) the remarkable thing about THE BOOK OF MORMON is that it lays out the church's beliefs exactly as they are. All those points brought up about the origins of the church---from Jesus appearing in America to the discovery (and destruction) of those sacred golden plates---are all taken directly from the stories of their little black book. So, uh, yeah... Ancient Jews apparently built boats then sailed to America. Yes, the Mormon founder Joseph Smith allegedly dug up these golden plates from his own backyard! And, yep... Mormons believe God lives on a planet called Kolob.
The show doesn't poke fun of the religion, per say. It merely presents the MORMON beliefs just as they are believed by its followers. Even the Mormons themselves get the joke (well, in a way) by advertising their own church right in the program for the show!
If anything, the country of Uganda is probably the one thing that doesn't come off in quite a flattering light in this musical.
5. THE BOOK OF MORMON has lots of musical theater Easter eggs musical fans will savor!
One of the many awesome ways the musical gets its laughs (besides its songs and dialogue) is how much the songs remind you of a previously-staged musical number---either from the stage or from a famous movie musical. Pay close attention and you'll see and hear homages to many shows like BYE BYE BIRDIE, THE MUSIC MAN, LITTLE SHOP OF HORRORS, WICKED, THE SOUND OF MUSIC, THE LION KING (of course), and, most memorably, THE KING AND I (as in the Ugandan's version of the Story of Joseph Smith and how the Mormons ended up in Salt Lake City).
6. Visually, the musical reminds you of what great design can achieve in the long run.
As this is now the show's second national tour, the show's visual elements, as expected, get ravaged by the wear and tear of normal usage. But good design is good design---which makes this show's creative components still look well-made and purposeful. Ann Roth's costumes are still magnificent, as is Scott Pash's scenic design for the Utah and Ugandan sets. There's nothing a good steam iron can fix, though.
7. It's cheesy to point out, but the sole villain of the show: deviating from one's true calling
Don't be confused by the Devil's appearance (and his minions Jeffrey Dahmer, Hitler, and Johnny Cochrane) in Elder Price's dream. The only true villain in the show is the idea of self doubt. It's the bug that burrows itself in the brains of Elder Cunningham, Elder Price, and Nubulungi. Once they shed it, they begin to see their true worth and become better people for it.
8. If adult, raunchy language in comedy is your thing, congratulations!
Yes, there's lots and lots of cussing, but it's not gratuitous. Though the F-bombs and C-bombs and D-bombs come flying out every which way---their main purpose, I believe, is to throw these Mormons away from their comfort zones and into the harshest environment possible for some world experience, which includes unabashedly verbal folks with lots of F's left to give. It's also a funny contrast to the more subdued language of the Mormons---so that when a taboo word is utter, you can almost see them quiver in discomfort. Funny stuff!
In the end, the show's expletive-heavy lyrics and dialogue are perfectly balanced by the show's big heart and likable characters anyway.
9. The musical shows a refreshing new spin on the "Odd Couple" Trope.
You've seen opposites before---but never as funny as this. What starts out as a situation Elder Price had to endure ends up becoming [SPOILER ALERT!] a forever treasured friendship he can rely on for the rest of his life. Even during what was initially a one-sided friendship (Elder Cunningham seemed more invested---and, dare I say, obsessed), it was still intriguing to watch. Peirson is sooo good in this that his obsessiveness with keeping Elder Price as his mission companion transcends hilarity... revealing a tinge of pathos in its wake.
10. You're seeing a touring production of a musical that is still playing on Broadway.
A sign of a musical's enduring longevity is that its touring iteration continues to exist alongside the original Tony Award-winning sit-down production on Broadway. This means seeing this production on the road guarantees a certain quality of product based on and almost equal in size and scope to the original. How awesome is that?
So hurry and see this now and laugh yourself silly! Laughter, after all, is a great way to escape the shit storm of real life and THE BOOK OF MORMON continues to be guaranteed funny show.
** Follow this reviewer on Twitter: @cre8iveMLQ **
Photos from the National Tour of THE BOOK OF MORMON by Julieta Cervantes, courtesy of Segerstrom Center for the Arts.
----
Performances of the National Tour of THE BOOK OF MORMON at Segerstrom Center for the Arts continue through Sunday, April 1, 2018. Tickets can be purchased online at www.SCFTA.org, by phone at 714-556-2787 or in person at the SCFTA box office (open daily at 10 am). Segerstrom Center for the Arts is located at 600 Town Center Drive in Costa Mesa. For tickets or more information, visit SCFTA.org.
Related Articles
A So. Cal. Contributing Editor since 2009, Michael Lawrence Quintos is a talented, mild-mannered Designer by day. But as night falls, he regularly performs on (read more...)