Interview: Eric B. Anthony Tackles the World of the Wild West in Skylight Theatre's BRONCO BILLY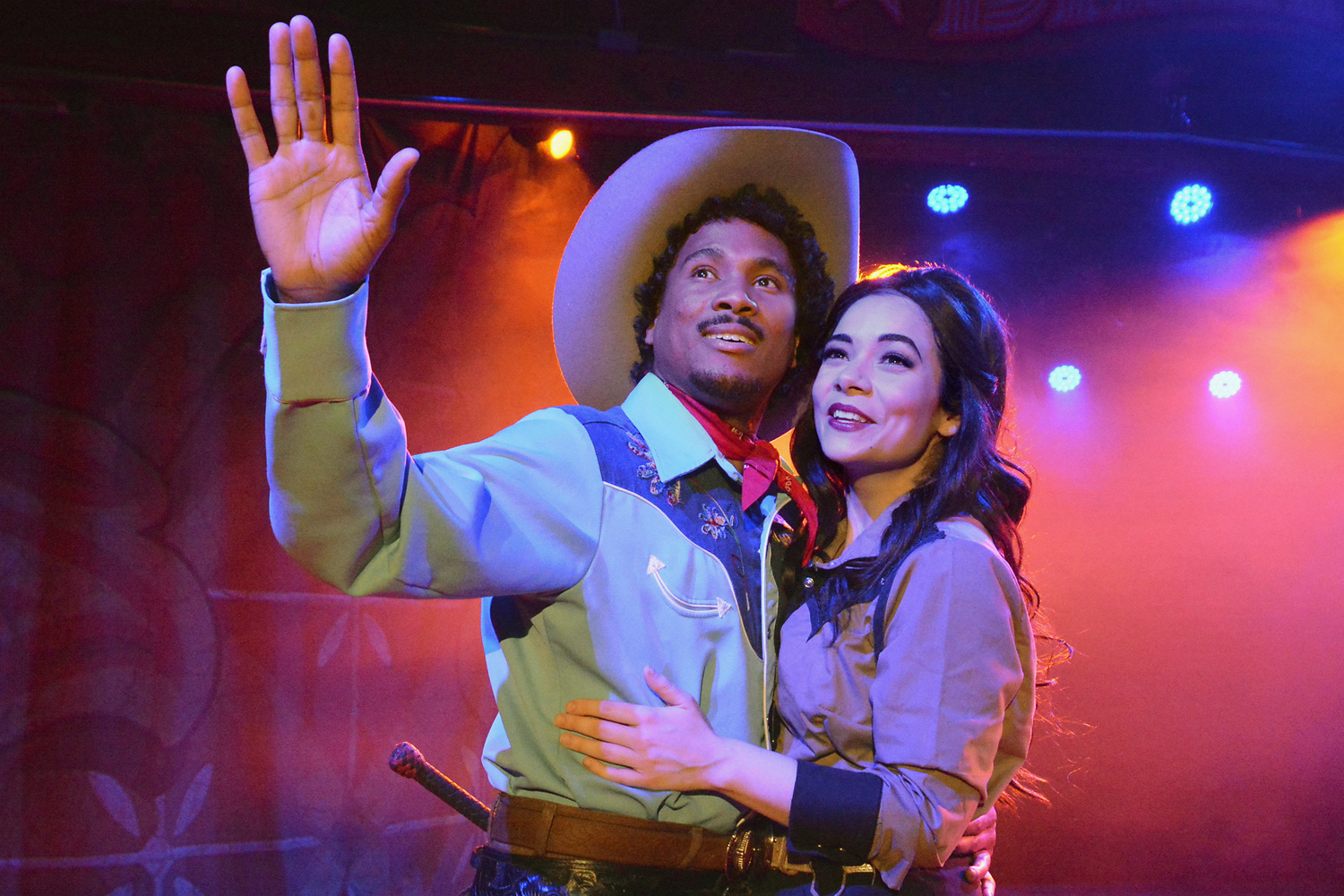 Are you lookin' to go back to the days of the Wild West? Then head on down to the Skylight Theatre In Los Angeles for a rowdy and riveting good time at Bronco Billy! This spirited and spectacular musical, based on the film starring and directed by Clint Eastwood, lassos audiences into the life of cowboy showman, Bronco Billy. BroadwayWorld's Maeve Riley had the chance to chat with the star of the show, Eric B. Anthony, who spoke about his journey as Bronco Billy, and how important being your true self is... both onstage and off.
You are the heart and soul of this show. Tell us about the story of Bronco Billy, and what it means to you.
Gary Grossman, the producing artistic director of Skylight, knew Chip Rosenbloom, one of our composers. Chip worked with Dennis Hackin, the book writer of our show and the screenwriter of the Bronco Billy film that Clint Eastwood directed and starred in. Dennis also wrote a Bronco Billy novel. All these stories are based off the life story of Dennis' parents. Bronco Billy and Antoinette Lilly are based on his mother and father, who lived in Chicago and migrated to a ranch in Arizona. I am playing the role that Clint Eastwood made famous because of Dennis Hackin's daddy!
This story is about daring to dream, to believe, to love, and finding an identity within yourself that you can project to the world. That way, people receive you the way you want to be received. This musical also shows that family is who YOU choose to have in your life. You can be born into a family, and those people can be loving and supportive. If that is not the case, though, you can find your family in the world that you choose to be part of. Those people will stand beside you through thick and thin and help you fight for your dreams. Sometimes those dreams can even lead your chosen family to a destination that is full of excitement, promise, potential, and reward.
How does it feel to be originating a musical role in Los Angeles? How does it differ from the roles you originated on Broadway?
I'm particularly proud of the Skylight Theatre. In their thirty-five years of existence, this is their first musical that they're producing. Moving to LA from New York, I find that theatre is alive and thriving in this city. The difference lies within the attention, support, and, unfortunately, the value that is placed upon theatre from an industry perspective. A lot of theatre happens here. This is the second world premiere musical I've done in Los Angeles. I wish theatre was more of a supported entity here, and I wish the Los Angeles entertainment industry cared more about the shows that are being created in this city... Great theatre is happening, and great theatrical artists are working here in LA.
Something that Wild West filmmakers have continually ignored over time is the fact that one in four cowboys were black. How does it feel to be able to bring this accurate representation of black cowboys in America to the stage?
Living in America and being an African-American person, I recognize that we are quite often erased from this country's history. That's, unfortunately, the way it is. When someone like me gets to be a voice and vessel for ancestors who came before, and to be able to pay homage to the lives that they lived, it's an honor.
The title of "cowboy" wouldn't exist if it weren't for black people who handled the horses and cattle. "Cowhands" was the name of the job, and "boy" was a term used to address black men who worked on farms and in fields. "Cowboy" is what they called black "cowhands". A "cowhand" doesn't sound as cool as a "cowboy," so "cowboy" eventually evolved into this heroic term.
There was a member of the cast who was enthusiastic about the choice to cast a black cowboy, but was curious as to what the motivation was behind this decision. I really feel that this musical isn't about the struggle of being a black cowboy. It's about family, self-identity, love, belief, and having the audacity and courage to give yourself the life that you want and envision. It just so happened that the casting and creative team had the vision to cast this African-American man in the role to tell this story. All of a sudden, it turned into this piece about everything I just said, and we get to see it through the eyes of a person that we forgot existed, because history told us we didn't. I'm so grateful for that. I'm definitely fighting for the culture in everything that I do, specifically in my artistic work. Growing up and not seeing images of black men who did more than rob, steal, kill, and sell drugs... I think it's my duty to be a face for every young African-American boy who will see my work or hear about what I did, and say, "Wow. I can do that."
What has your journey been like while becoming Bronco Billy?
From the very beginning, this process has been constantly evolving. I initially submitted for the character of Doc, because the breakdown called for an African-American man, and the other characters were open to all ethnicities. I submitted for Doc, even though I felt I was wrong for it age wise... but as an African-American man, I'm going to submit for the African-American role. I sang and did the sides for Doc, and right after I was asked to look at the sides for Billy. I hadn't seen the material before and had no attachment to the role, so I just wanted to go in and do good work. It's so important to do your best in those situations, because it's not always about that one job. It's about winning the room, and letting the team know that even though you might not be the right fit for a role, you're a talented actor. As an artist, I took charge of the short time I had in the room, and felt great after the audition. A few days later, I got a phone call from Michael Donovan (CD) saying they wanted me for Bronco Billy, and I said, "Great!"
I thought they were just talking about the show. Then, he said, "NO. They want you for the ROLE of Bronco Billy."
I was so excited. Once rehearsals started, we got the script and worked diligently to craft a story that we could be proud of when audiences came to see it. Everyone in the cast, crew, and creative team put their hearts and souls into making a beautiful piece of theatre that would matter in 2019.
What do you want audiences to walk away with after they see this show?
I'm inviting everyone to escape into joy and bliss for a few hours. I want everyone to hear the beautiful songs, watch this love led story, and transport themselves into a world where acceptance is the rule.
BRONCO BILLY - THE MUSICAL Skylight Theatre's first world premiere musical production. The new musical, based on the Warner Bros. film Bronco Billy, features a book by Dennis Hackin, lyrics and music by Chip Rosenbloom and John Torres, with additional lyrics by Michele Brourman. Hunter Birdwill direct. The limited engagement plays through June 30 at the Skylight Theatre, located at 1816 ½ North Vermont in Los Feliz, Ca. Tickets are now on sale now at http://www.SkylightTix.com.
In Bronco Billy - The Musical,the country's going crazy; partisan politics, civil rights threatened, technology exploding. That's right, it's 1979! Somewhere in America's heartland, with more heart than sense, Bronco Billy struggles to keep his traveling wild west show alive. But when Billy and his ragtag troupe of misfits meet Antoinette, a Manhattan heiress on-the-run, the ride gets even wilder as she turns Billy's world upside down.
For over 30 years Skylight Theatre Company has been a leading figure in the Los Angeles intimate theatre scene. Known for developing original plays and new playwrights, Bronco Billy - The Musicalmarks STC's first musical production.
"We've always wanted to start developing musicals. A couple of years ago Dennis Hackin, Chip Rosenbloom, and John Torres approached us about teaming up to create a fresh approach to the 1980's film," says Skylight's artistic director Gary Grossman. "We're grateful it all came together so beautifully, and that Warner Bros. entrusted us with their project."
"This is exactly the type of organization that we had hoped would take the lead in the development of Bronco Billy - The Musical," explains co-composer Chip Rosenbloom." Skylight's Gary and Tony have been intuitive and very nurturing throughout the entire process.
"Bronco Billy is about living your passion. About being part of a family even if you have to create your own," says writer Dennis Hackin. "I'm really looking forward to Bronco Billy's new journey with my new musical family."
Hunter Bird directs (Roundabout Theatre, Ars Nova,Lincoln Center Education,59E59, La Mama, and The Getty Villa) with Anthony Luccaas Musical Director (Mutt Houseat the Kirk Douglas Theatre, Cult of Loveat IAMA) for David O'sarrangements/orchestrations, and Janet Roston choreographing (The Boy From Oz - Ovation Award & LADCC Award; The Color Purple - Ovation Award, NAACP Award, LA Weekly & LADCC Nom. at Celebration Theater; Mutt Houseat the Kirk Douglas Theater).
The cast features Eric B. Anthony as "Bronco Billy" (Broadway - The Lion King, Mary Poppins, Hairspray; Recorded In Hollywood at Kirk Douglas Theatre, Rent at the Hollywood Bowl) and Amanda Leigh Jerry as "Antoinette" (Mutt House at Kirk Douglas Theatre, Once at South Coast Rep). Rounding out the cast are Michelle Azar, Benai Alicia Boyd, Marc Cardiff, Randy Charleville, Fatima El-Bashir, Kyle Frattini, Bella Hicks, Chris M. Kauffmann, Anthony Marciona, Jamie Mills, Pat Towne, and Michael Uribe.
Director Hunter Bird, in discussing what drew him to the show, said "Bronco Billy is so much about identity. Rather than accepting the roles we're given, we always have the ability to create our own realities, our own families, and our own identities. While the show takes place in 1979, I think our audiences will appreciate this upbeat musical about reinvention, identity, and living your passion. We're so lucky to have this powerfully talented cast of fourteen to bring it to life for the first time."
To help STC on their inaugural musical journey Skylight enlisted the talents ofJohn Iacovelli (Scenic Design), Anne Closs-Farley (Costume Design). Brian Gale (Lighting Design), Cricket S. Meyersand Daniel Tator (Sound Design), David Murakami (Projection Design), Kevin Williams(Properties Design), and Michael Donovan (Casting), and Associate Producer Danny Hackin. Gary Grossman and Tony Abatemarco produce.
Musical Director is Anthony Lucca(Mutt Houseat the Kirk Douglas Theatre, Cult of Loveat IAMA,), Choreographer isJanet Roston(The Boy From Oz - Ovation Award & LADCC Award; The Color Purple - Ovation Award) with Arrangements/Orchestrations by David O(Soft Power- Ahmanson Theatre, 13, and Wild Party- Mark Taper Forum).
Dennis Hackin(Book) wrote the novel and the film version of Bronco Billy, co-produced with Neal Dobrofsky. The story was created in homage to his parents who wanted to be cowboys and moved their city slicker family from Chicago to Arizona to live out their dreams. The film was released by Warner Bros. Additional novels include Star Boy, Android Roy The Paranoid Android,and H: Forbidden Love. He is founder of The Invisible Theatre in Tucson, AZ.
Chip Rosenbloom (Music & Lyrics) has composed songs recorded by artists such as Sheena Easton, Rita Coolidge, Dayna Lane, John Torres, and the Jones Project. He has twice earned a place on the Oscars Best Original Song shortlist ("Saving Shiloh," and "Fame High"). In 2019, the Budapest Symphony recorded an album of Chip's instrumental compositions for a new project called "Artstra."
John Torres (Music & Lyrics) has had his music featured in The Real World and Alias, earned a John Lennon Songwriting Award, American Independent Music Award nomination, and was on the short-list with the Academy of Motion Picture Arts and Sciences for "Fame High." As a vocalist, he originated the lead roles of Peter in Bare: A Pop Opera, and Drew in Rock of Ages and has performed at venues such as Disney Concert Hall and Dodger Stadium.
Michele Brourman (Additional Lyrics) composed the music for several theatre scores including The Belle of Tombstonewith lyricist Sheilah Rae (Off-Broadway) and the musical Dangerous Beautywith collaborator Amanda McBroom (Pasadena Playhouse). With McBroom, she's written the songs for 18 animated features for Universal Studios, including the beloved "Land Before Time" series, writing for Reba McIntyre, Donny Osmond, Olivia Newton-John, and a host of other singer/actors. Her song "My Favorite Year" (lyrics by Karen Gottlieb) has become a cabaret standard, with recordings by Michael Feinstein, Margaret Whiting, and Dame Cleo Laine.
Hunter Bird (Director)is a recipient of Manhattan Theatre Club's Jonathan Alper Directing Fellow (2017 & 2019). He has directed and developed work at stages such as Roundabout Theatre, Ars Nova, Lincoln Center Education, 59E59, La Mama, and The Getty Villa. Upcoming: XY(Chicago Shakespeare Theatre Workshop, Village Theatre Workshop, NAMT). Accolades include The UCLA Emerging Director Award (2011), Gilbert Cates Fellowship (2009).
SKYLIGHT THEATRE COMPANY is honored to be presenting their multi-award winning production of Rotterdamat Center Theatre Group's Block Partyat the Kirk Douglas Theatre March/April 2019. The production won the Los Angeles Drama Critics Circle Award in 2018 for Best Production. Additional LADCC awards for Rotterdaminclude Writing and Lead Actress. It also received top honors at the 2018 Stage Raw Awards, winning Production of the Year and Leading Actress awards. Recognized as a "powerhouse of new play development" by Dramatist Magazine, many of Skylight's World Premieres have gone on to be performed nationally and internationally; Church & Stateopened Off Broadway in 2017, has had 33 productions with 14 more scheduled; Dontrell, Who Kissed The Sea(a co-production with Lower Depth Theatre Ensemble) received the prestigious Steinberg American Theatre Critics Association Citation. Skylight's resident writers PlayLAb, helmed by Pulitzer Prize Finalist and Tony Award nominee Lee Blessing, includes alumni that have enjoyed productions nationwide, the prestigious USA Ford Fellowship in Theater and Performance (Sigrid Gilmer, 2014), and a winner in the Humanitas/CTG Playwriting Prize winner (Louisa Hill, 2015 - Lord of the Underworld's Home for Unwed Mothers).
Bronco Billy - The Musical opens at 8:30pm on Saturday, May 18, and runs at 8:30pm Fridays and Saturdays, 2:00pm Saturdays and Sundays through June 30, 2019. Skylight Theatre is located at 1816 1/2 N. Vermont Ave, LA, 90027. Tickets are $29 - $55, except opening night, $75. Information and reservations: (213) 761-7061 or (866) 811-4111. Online ticketing: http://SkylightTix.org